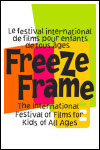 Freeze Frame 2006
| | |
| --- | --- |
| Release | March 10, 2006 (Winnipeg) |
| Cast | Various |
| Voices | Various |
| Director | Various |
| Writer | Various |
| Genres | Film Festival |
| Studio | n/a |
| Website | www.freezeframeonline.org |
Synopsis
Celebrate 10 years of great films and fun workshops for kids and teens at Freeze Frame 2006.
Freeze Frame: The International Festival of Films for Kids of All Ages showcases international independent films and videos for young audiences and their families. Living in a global society that depends heavily on the images of television and film to learn about our world, Freeze Frame offers a unique opportunity to see the world through different eyes.
The festival is taking place March 10th through 18th at various locations inside Portage Place Mall, including the IMAX Theatre, the Globe Cinema, and the Prairie Theatre Exchange.
Movie Releases by Year
2024 • 2023 • 2022 • 2021 • 2020 • 2019 • 2018 • 2017 • 2016 • 2015 • 2014 • 2013 • 2012 • 2011 • 2010 • 2009 • 2008 • 2007 • 2006 • 2005 • 2004
Search SBM Archives