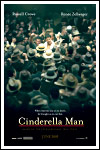 Cinderella Man
| | |
| --- | --- |
| Release | June 3, 2005 (Wide) |
| Cast | Russell Crowe, Renée Zellweger, Paul Giamatti, Craig Bierko, Bruce McGill, Paddy Considine, Rosemarie DeWitt, Connor Price, Patrick Louis, Ariel Waller, Nicholas Campbell |
| Director | Ron Howard |
| Writer | Cliff Hollingsworth, C. Gaby Mitchell, Akiva Goldsman |
| Genres | Drama, Romance, Sports |
| Studio | Universal Pictures |
| Length | 144 mins. |
| Website | www.cinderellamanmovie.com |
Synopsis
Cinderella Man is inspired by the life of legendary athlete Jim Braddock, a once-promising light heavyweight boxer forced into retirement after a string of losses in the ring. As the nation enters the darkest years of the Great Depression, Braddock (Crowe) accepts a string of dead-end jobs to support his wife, Mae (Zellweger), and their children, while never totally abandoning his dream of boxing again.
Thanks to a last-minute cancellation, Braddock finds himself back in the ring against the second-ranked world heavyweight contender – and to everyone's amazement, Braddock wins. Despite being pounds lighter than his opponents and sustaining repeated injuries to his hands, Braddock continues to fight against challengers and win.
Carrying on his shoulders the hopes and dreams of the disenfranchised masses, Braddock – dubbed the "Cinderella Man" – faces his toughest challenger in Max Baer (Bierko), the heavyweight champion of the world, renowned for having killed two men in the ring.
Related Posts
Movie Releases by Year
2024 • 2023 • 2022 • 2021 • 2020 • 2019 • 2018 • 2017 • 2016 • 2015 • 2014 • 2013 • 2012 • 2011 • 2010 • 2009 • 2008 • 2007 • 2006 • 2005 • 2004
Search SBM Archives