2012 Winnipeg Folk Festival: Friday Photo Gallery & Round-Up
Filed under: Festivals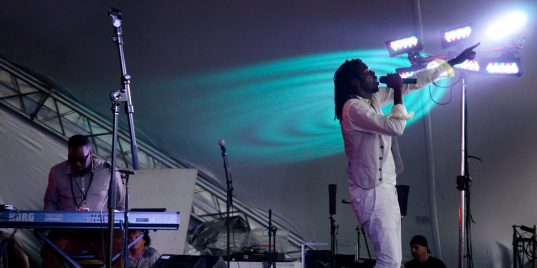 Friday at the Winnipeg Folk Festival is always the first full day, with daytime workshops and concerts taking place at the various smaller stages throughout the festival grounds. While the workshop idea isn't completely unique to Winnipeg, for many artists, it's not only a new idea but in some cases, even intimidating. James Vincent McMorrow, for example, wasn't sure how he would fit with the often jam-friendly sessions sharing the stage with other festival musicians. During the "Your Indie Hart" workshop, which McMorrow hosted, he told the crowd that being someone who doesn't collaborate well made him nervous about the experience, but that sharing the stage earlier in the day with Royal Wood, Beth Orton, and Martyn Joseph completely alleviated those worries. He then went onto play a wonderful cover of The National.
The other artists on the "Indie" workshop, Snowblink and Good Old War, didn't disappoint either. While each of the three artists have a different sound, the fact that all three were independent artists/bands was enough to tie them all together, with Daniela Gesundheit of Snowblink at one point trying to not only hock their CDs, but the other groups on stage, too. Like the best workshops, the artists often jumped in on each others' tunes, making the performances that much more special.
The other daytime workshop we caught on Friday was "Guitar Club for Men", featuring Kim Churchill, Doug Paisley, Justin Rutledge, and Dustin Bentall. Australia's Churchill, who also hosted, was the hightlight. Besides his crazy-good skills on the guitar -- which include several percussive additions unique to him -- he also somehow manages to convey a lot of passion and soul through his voice, something unexpected given his youth. The others in the group, all skilled folk singer/songwriters in their own right, weren't exactly slouches either, making for a relaxing and enjoyable afternoon in the sun.
Friday night also marks the start of the Big Blue @ Night series, which is more youth-oriented and runs at the same time as the main stage on the other side of the Folk Fest grounds. Chic Gamine of Winnipeg, Emmanuel Jal, and Besh O DroM lead a crowd of dance-hungry folkies through sets of rootsy soul, world, and straight-up gypsy music, respectively. Emmanuel Jai was a definite stand-out of the bunch, though picking a favourite from three incredibly high-energy acts is an unenviable task!
The main stage on Friday featured quite the variety of acts. From the quiet folk songs of Beth Orton to the wailing guitar and horns of the Tedeschi Trucks Band, there was definitely something for everyone -- even those who wandered over from Big Blue after tiring themselves out from all the dancing. One of the surprises (having not caught his earlier workshop appearance) was bluesman Matt Anderson out of New Brunswick, whose guitar skills and ridiculously soulful voice and lyrics had the large crowd at the main stage at times captivated and others hopping.
It would be remiss of us not to mention our friends hosting the main stage for the first of three night: Aisha Alpha, who handled the first half of the night, and legendary improv troupe CRUMBS, who tackled second-half hosting duties. Both were equally funny and efficient, exactly what you want out of a main stage music festival host. (And also note that we'll be interviewing CRUMBS here at the Winnipeg Folk Festival to talk about their upcoming Winnipeg Fringe Festival appearance, which we're pretty sure is their 47th go round.)
A Friday photo gallery will show up below -- and continue to expand -- as photos are processed and uploaded from the campground.
Tags: Winnipeg Folk Festival, Beth Orton, Kim Churchill, Matt Anderson, Emmanuel Jal, James Vincent McMorrow, Tedeschi Trucks Band, folk, music festival, WFF2012
Related Posts
CanadaMovies.net launched in September of 2001 as a movie information hub. Since re-branding as ShowbizMonkeys.com in 2007, coverage expanded beyond film to music, comedy, and television.
Comments Posted ()
Search SBM Archives