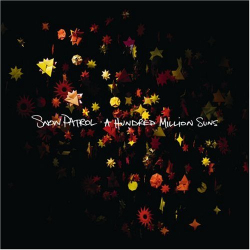 New Music Releases: October 28th, 2008
This Tuesday is particularly busy for New Music Releases, probably because everyone knows that nobody will be buying any new music next Tuesday, because they will be glued to CNN or their election coverage network of choice. So strap on your headphones, fire up your iTunes, here we go...
Snow Patrol A Hundred Million Suns (Amazon)
This is the first new album from Snow Patrol since 2005's Eyes Open, which included their smash-hit 'Chasing Cars'(you may remember it from the second season finale of Grey's Anatomy and the Spiderman 3 soundtrack). You can expect lots more anthemic pop-rock from these Scottish masters of the slow build, on this new album. You can check out the video for the first single, 'Take Back the City' on Youtube.
Ryan Adams & The Cardinals Cardinology (Amazon)
This is Ryan Adams third album with his backing band The Cardinals, a follow up to 2005's Cold Roses and Jacksonville City Nights. Although Adams' last album, Easy Tiger was released as a solo album, The Cardinals played on most of the tracks for that album. They can also be heard as the backing band on Willie Nelson's Songbird.
John Legend Evolver (Amazon)
This third album from the R&B soul singer features guest performances by Kanye West, Andre 3000, Estelle and Brandy.
P!nk Funhouse (Amazon)
The fifth studio album from the rocker/master of subtleties P!nk and her first post-breakup with Carey Hart, Funhouse features the hit single 'So What'.
Queen + Paul Rodgers The Cosmos Rocks (Amazon)
The Cosmos Rocks is the first album of new material from original Queen members Brian May and Roger Taylor, and former Bad Company lead singers Paul Rodgers, who have been touring together since May of 2004. They have previously released a live CD and concert DVD.
Also being released this week...
Bloc Party Intimacy (Amazon)
The Cure Dream 4.13 (Amazon)
Deerhunter Microcastle (Amazon)
Kaiser Chiefs Off With Their Heads (Amazon)
Toby Keith That Don't Make Me a Bad Guy (Amazon)
Lovedrug The Sucker Punch Show (Amazon)
Original Comments Posted (4)
Ariana says...
I quite love that Snow Patrol song. Two thumbs up. Incidentally, somehow I missed that they're Scottish until just now.
Oct 28, 2008 1:02am
metal2000 says...
If I'm not mistaken, they're from Northern Ireland VIA Scotland (apparently there wasn't much of a music scene in Belfast back in the day, so they went to Scotland to develop as a band or something). Anyway, one listen through the new album so far, and it's pretty good.
Oct 28, 2008 8:52am
Sarahm says...
Yeah...I did read that they are Irish but they are now based out of Glasgow or something. So I went with Scottish. And from what I've heard the new album is v. good!
Plus: Ryan Adams!!! Two thumbs up!
Oct 28, 2008 1:13pm
mandi says...
I definitely impulse bought the new Snow Patrol already.
Oct 28, 2008 9:59pm
Comments Posted ()
Search SBM Archives