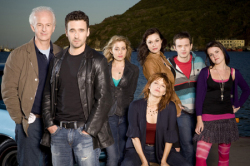 What's On Tonight: Wednesday, January 12
Check in with us daily to see what's new tonight on TV (all times Eastern/Pacific).
Tonight's pick: The Republic of Doyle (9pm, CBC)
The super fun series with the retro feel returns to the CBC tonight for its second season premiere. For those unaware, The Republic of Doyle follows P.I. Jake Doyle around the picturesque streets of St. John's, Newfoundland, and Jake is as adept to getting beaten up as he is solving crimes for hire. The premiere not only sees Jake on a new case while trying to distance himself from his ex-wife, but it also deals with the aftermath of Mal's massive heart-attack in last spring's season 1 finale. There isn't a lot of pure fun on TV anymore, but The Republic of Doyle definitely qualifies -- there are car chases, bar brawls, smart-ass remarks, and the kind of melodrama that reminds you of the great action shows of the 70s.
8:00 PM
CBS / CTV Live to Dance
ABC The Middle
FOX / A Human Target
NBC / CITY Minute to Win It
CBC Dragon's Den
GLOBAL Raising Hope
PBS American Masters: Jeff Bridges
8:30 PM
ABC Better with You
GLOBAL Raising Hope

9:00 PM
CBS Criminal Minds
ABC / CITY Modern Family
FOX / GLOBAL Glee
NBC Chase
CBC The Republic of Doyle (Season Premiere)
DIRECTV Friday Night Lights
TBS Tyler Perry's House of Payne
BBC AMERICA I'll Do Anything (Season Finale)
A&E Dog the Bounty Hunter
TRAVEL Man vs. Food
SYFY Ghost Hunters International

9:30 PM
ABC / CITY Cougar Town
TBS Tyler Perry's House of Payne

10:00 PM
CBS / CTV The Defenders
ABC / GLOBAL Off the Map (Series Premiere)
NBC Law & Order: SVU
CITY Chase
A Criminal Minds
TBS Are We There Yet?
BRAVO Top Chef

10:30 PM
TBS Are We There Yet?
Tags: The Republic of Doyle
Paul Little is the founder and Managing Editor of ShowbizMonkeys.com. When not interviewing his favourite musicians and comedians, he can also be found putting on and promoting music and comedy events with The Purple Room in Winnipeg, or co-producing the live comedy game shows Pants on Fire and The Great Patio Showdown. (@comedygeek)
Comments Posted ()
Search SBM Archives