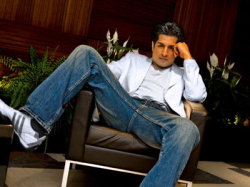 Interview: Stand-up comedian Sugar Sammy
Filed under: Interviews
Sugar Sammy likes to push the PC envelope in his stand-up set, but not in the ways you might think. When most people in North America see a comedian of colour, stereotypes come to mind, and there are automatically assumptions made about their brand of comedy. While occasionally those assumptions might prove true, they're completely thrown out the window with this young, rising comedian from Montréal.
He won't rely on his heritage to make his jokes funny, but he'll certainly use his unique cultural background -- Sugar Sammy is quadrilingual, speaking English, French, Hindi, and Punjabi -- to enhance a joke or bring it to a place you never even thought of. For instance, rarely do you see a comedian tell raunchy (yet quite clever) sex jokes in multiple languages in one set, but Sugar Sammy can do that and a whole lot more. And he's brought those jokes all over the world, having played across North America, Europe, South Africa, and Asia. He's opened for Dave Chappelle in Toronto and played the legendary Just for Laughs Comedy Festival in Montréal several times.
I recently had the chance to sit down with Sugar Sammy before a recent set here in Winnipeg, MB. He's currently in the middle of a cross-Canada tour to promote his brand new CD, Down with the Brown (currently available only at his live shows before a wide release later this year), with a string of dates in Edmonton, Calgary, Ottawa, Toronto, and Montréal still to come. Watch the video below to find out how he got his great name (and why it'll be even better when he's 50!), where he draws his influences from, and why he loves going back to his hometown of Montréal to play shows.
For more information on Sugar Sammy -- including video clips, ticket information for his Canadian tour, and info on his new CD -- visit www.sugarsammy.com.
Tags: Sugar Sammy, stand-up, comedian, Montreal, video
Related Posts
Paul Little is the founder and Managing Editor of ShowbizMonkeys.com. When not interviewing his favourite musicians and comedians, he can also be found putting on and promoting music and comedy events with The Purple Room in Winnipeg, or co-producing the live comedy game shows Pants on Fire and The Great Patio Showdown. (@comedygeek)
Comments Posted ()
Search SBM Archives