Interview: Conan graphic designer (and occasional on-screen performer) Pierre Bernard
Filed under: Interviews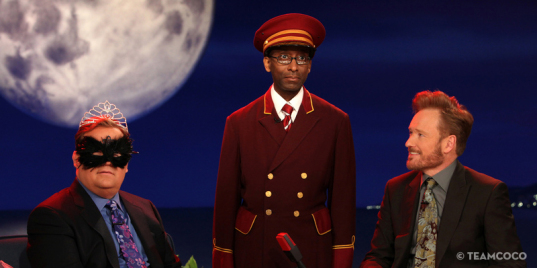 Getting into graphic design -- originally comic book lettering, and later television design -- Pierre Bernard had no aspirations to be a television performer. But a few years after starting at Late Night with Conan O'Brien in the early 90s, he made a random appearance on the show sparked by a design of his on a "New State Quarters" sketch, which was a huge hit. This lead to writer Brian Stack to come up with the idea for the hilarious and popular "Pierre Bernard's Recliner of Rage" bits, as well as countless other appearances by Pierre over the years.
In 2009, Pierre followed Conan and the rest of the Late Night staff to Los Angeles for the now-infamous 7-month Tonight Show run. But Conan and his staff, including Pierre, landed on their feet and now have a new show on TBS, Conan. And he's still making appearances on camera (a piece about Pierre's "enhancement" of classic female DC characters a couple months ago was inspired), which is something he's now embraced and learned to enjoy.
Pierre was kind enough to sit down with ShowbizMonkeys.com a little over a week ago on the legendary Warner Bros. lot in Burbank where Conan is filmed every Monday through Thursday. He spoke to us about his history in both graphic design and performing on the show, his appearances on various Stargate projects directly because of his "Recliner of Rage" segments, and what audiences should expect from Conan as the new TBS show moves forward.
Also of note is the fan campaign to get Pierre on The Big Bang Theory, which films right next door on the WB lot and would be a perfect fit for the sci-fi and fantasy fan. Be sure to join the campaign and lend your support on its Facebook page, and watch for his "Recliner of Rage"-esque declaration to America about the campaign in the interview below!
Tags: Pierre Bernard, Conan, graphic design, Recliner of Rage, Stargate SG-1, The Big Bang Theory, TBS, comedy, late night
Related Posts
Paul Little is the founder and Managing Editor of ShowbizMonkeys.com. When not interviewing his favourite musicians and comedians, he can also be found putting on and promoting music and comedy events with The Purple Room in Winnipeg, or co-producing the live comedy game shows Pants on Fire and The Great Patio Showdown. (@comedygeek)
Comments Posted ()
Search SBM Archives