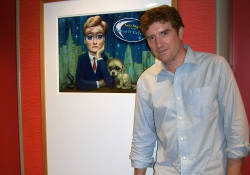 Interview: Late Night with Conan O'Brien writer/performer Brian Stack
Filed under: Interviews
I want to start by saying that I'm a big fan of Late Night with Conan O'Brien. I've been watching the show since its first episode (when I was probably too young to be watching late night TV at all) and I've been hooked ever since. Like any long-running show, there have been ups and downs, but Conan and his team of writers and performers have been bringing some of the best comedy of our generation to televisions everywhere.
So with that knowledge in mind, imagine how excited I was when I found out that on a recent trip to New York City, not only would I get to attend a taping of Late Night, but that I'd get to sit down with one if its writers for an interview at 30 Rockefeller Plaza. Writer Brian Stack -- who also regularly appears on the show in sketches, playing some of its most well-known characters including Frankenstein, The Interrupter, The Offensive Ghost Crooner, The Traveling Salesman, and the Local Sports Athlete -- graciously put up with my poor interview skills for a 20-minute interview.
Brian talks about his start in improv in Wisconsin and later with Second City in Chicago, his experiences working on Late Night for the last 10 years, and what the future might hold.
Tags: Late Night with Conan O'Brien, Brian Stack, Conan O'Brien, late night television, talk shows, The Second City, UCB, improv, sketch comedy
Related Posts
Paul Little is the founder and Managing Editor of ShowbizMonkeys.com. When not interviewing his favourite musicians and comedians, he can also be found putting on and promoting music and comedy events with The Purple Room in Winnipeg, or co-producing the live comedy game shows Pants on Fire and The Great Patio Showdown. (@comedygeek)
Comments Posted ()
Search SBM Archives