Derek Seguin, Steve Patterson, Hot Thespian Action, and other highlights from the 2010 Winnipeg Comedy Festival
Filed under: Reviews, Festivals
Last April, I was gearing up for the Winnipeg Comedy Festival. As a giant comedy nerd, any chance to see some of my favourites perform without me having to leave my hometown is a great thing. I received a Media Pass in order to cover the fest for ShowbizMonkeys.com, and was elated to find out one of my all-time favourite stand-ups, Mark Maron, was one of the comedians coming to town. On the Wednesday night to start the festival, I attended the Winnipeg Show, a collection of comics with local ties, and it was great. I thought nothing of the little cough I had that night. By the middle of the night, though, the cough had turned to a full-on flu of some kind, and I ended up spending the rest of the weekend lying in bed, wishing my face would stop emitting such strange-coloured fluids.
So when last week began with a sore throat and runny nose, I was terrified -- there was no way I was going to miss the festival again! Thank goodness Wednesday came along for this year's Winnipeg Show and I was already feeling a bit better, and I improved as the weekend went on. And what a great weekend of comedy it turned out to be. All told, I saw five shows: The Winnipeg Show, Hot Thespian Action (with Greg Morton), the Saturday Evening Gala, the Dark and Stormy Show, and the Best of the Fest Gala. I can honestly say that while a few of the individual comics weren't necessarily my cup of tea, as a whole, I really enjoyed all five shows.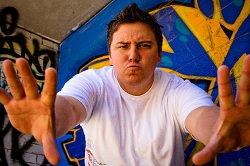 Beginning with the Winnipeg Show was a good warm-up for the festival, as many local comedians who I know and have seen before performed. Hosted by veteran Big Daddy Tazz and headlined by former Winnipegger Barry Kennedy, the show featured many stand-ups who can be seen around town at weekly shows at King's Head (Tuesdays), The Cavern (Sundays), and elsewhere. Besides the great storytelling style of Kennedy, other personal favourites were Ryan McMahon, John B. Duff, and Aaron Merke (a former Genius Monkey winner who has joined us at the Oscars the last couple years).
While there were some Thursday night shows I was interested in checking out, I was forced to stay in and work, knowing that I had a full weekend of shows ahead of me. (The Thursday Night "Edumacation" Gala hosted by Gerry Dee and featuring Jon Dore and Karen O'Keefe was especially disappointing to miss, though I was able to see the latter two later in the festival. I also heard that Aaron Berg's "Underbelly Diaries Redux" at the Gas Station Theatre was superb.)
Friday night featured the personal highlight of the fest for me, a performance by local sketch group Hot Thespian Action. This was my first time seeing them, despite wanting to for quite some time. Performing about a dozen sketches and a few original songs (including the show closer, "Every Girl Needs a Gay Best Friend"), one could tell that the fivesome (Shannon Guile, Jacqueline Loewen, Garth Merkeley, Ryan Miller, and Jane Testar) had been performing together for quite some time. While some sketches were stronger than others, every single one was funny, which is a pretty incredible feat -- and it's why their show was my fave of the fest.
Opening up for HTA was stand-up Greg Morton with a series of jokes and musical impressions that was definitely more broad in its style than what I'm usually interested in, but still very enjoyable none-the-less. A frequent performer in Las Vegas, as well as clubs across the U.S. and Canada, Greg's Star Wars and LOTR bits (click to watch them on YouTube) were his strongest. Apparently he's originally from Winnipeg, too (if I heard him correctly on stage), which is pretty neat given his international success.
Saturday was not only the busiest day on the festival schedule, but also my busiest day. I ended up catching 2 of the evening shows (the Early Gala, "True Story..." and The Dark and Stormy Show), missing out on Storytellers in the afternoon, a new series featuring both comic and serious performers. Storytellers this year featured, among others, Barry Kennedy, Bill Richardson, and one of the country's greatest actors, Gordon Pinsent, and I'm told it was very good, which of course made me even more disappointed I missed it. (I'll go next year for sure!)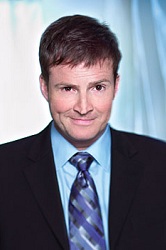 The Saturday Night Early Gala at the Pantages Theatre was the only TV taping I attended (all the themed galas at the festival are filmed and edited for the Winnipeg Comedy Festival TV show on CBC). Going to a TV taping is always an interesting experience, but having been to several of them at the WCF before -- not to mention about a dozen late night talk show tapings -- I was used to dealing with delays and re-shoots and coordinated applause, all three of which occurred on Saturday.
The gala was hosted by Steve Patterson of CBC Radio's The Debaters (several tapings of which also took place as part of the festival). Steve turned out to be of my favourite individual performers of the entire festival, even though I knew very little from him beforehand. Not only were his jokes funny, but when he was forced to kill time and improvise due to a few delays, he was absolutely on the ball. His vocal cadence just added to hilarity of his material. I'd definitely love to see him do a full set at some point. Other highlights from the gala were Brit John Moloney and the great Derek Edwards, who I was finally able to see live for the first time after many years of wanting to.
After zipping away to catch half a set from a Regina singer/songwriter who was in town that evening, I headed back downtown to the Garrick for the Dark and Stormy Show, which is basically a no-holds-barred comedy extravaganza that is 18+ and not for the thin-skinned comedy fan. While I was possibly expecting things to be even darker and cruder than they ultimately were, it was still a dirty little show that was consistently funny from start to finish. Boyd Banks handled the hosting duties, and was quite funny in between each act, but it was comics like Jon Dore, Karen O'Keefe, Ron Vaudry, and Derek Seguin who made this a show worth seeing..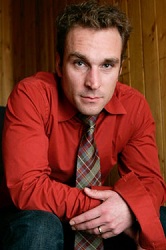 Jon Dore, a rising star on the L.A. indie comedy scene, is already known to most Canadians either from his work as comic relief on Canadian Idol or his Comedy Network show The Jon Dore Television Show, which now airs on IFC Channel in the U.S. I had been really looking forward to seeing him at the festival, but unfortunately this was the only show he was performing at that I was able to make it to, and his 6 or 7 minutes of dark, sarcastic material here just wasn't enough. He was funny, for sure, but I definitely need to see more of him in the future.
French-Canadian comic Derek Seguin seemed to have the crowd in the palm of his hand, rambling on about sex and genetalia and Swiffers. Combining his thick French-Canadian accent with an almost frustrated sound in his voice, Seguin was absolutely hilarious, and a big surprise for me, having never even heard of him prior to this festival.
Sunday featured the Best of the Fest Gala at Pantages, which included some of the top names in the festival, many who I had seen at previous festival shows. Hosted by Elvira Kurt, this was a good opportunity for the comics to let loose a little bit, as it's the only gala during the festival not taped for TV broadcast. Kurt seemed to be friendly with most or all of the comics on the bill, which made her the perfect person to introduce the comedians, because not only was her own material funny in between each set, but her introductions and post-set comments were hilarious!
Barry Kennedy and Ron Vaudry performed sets that consisted mostly of material I had already seen, while Aaron Merke, Mike MacDonald, and Derek Edwards performed almost completely new sets. Those three all had stronger material at the Best of the Fest in my opinion, and I'm not sure if it was a conscious choice by the performers or just a personal preference to the jokes they decided to do. Sam Easton, who was also at the Dark and Stormy Show, performed a mix of material I had seen the night before and other jokes, and I actually preferred his Best of the Fest set, even though you could tell comparing his body language at each show that he preferred to be able to let go more in the late night, uncensored environment.
The festival's final night was rounded out by Dan Licoppe, a local comic who made it to the semi-finals of NBC's Last Comic Standing as Mel Silverback (the smart-ass in a gorilla suit), and David Hemstad. While I hadn't yet seen Licoppe at this festival, I had seen him do a full hour set before, so much of his material -- while strong -- was stuff I had seen before. Hemstad was completely new to me, but he turned out to be the perfect closing performer for the festival. His comedy seemed incredibly original, despite touching on relatable themes like his intense competitiveness. His last story, about being asked to a softball game that turns out to be a "'let's just play for fun" event, was the perfect setting for his hilariously frustrated and increasingly angry reactions to the looseness.
It was an uproarious end to a fantastic festival, one that I can't wait for next year. If I increase my show attendance next year by the same amount I did this year (5x as many), it looks like I'll be attending 25 shows next year! Wait, I don't think that's physically possible (they have less shows, many of which are at the same time). Regardless, I plan to check out a lot more, because I feel that even 5 wasn't nearly enough to scratch the surface of this festival, one which is becoming increasingly popular for the comics coming through (I overheard "most fun comedy festival in Canada" a couple times from comedians over the course of the weekend). And let me tell you: if the performers enjoy themselves, the audience will end up enjoying themselves even more!
Thanks to everyone at the festival for their wonderful co-operation this year, and be sure to pick your tickets EARLY next spring so that you don't miss out on any of the shows that will surely sell out quickly once again at
Keep checking out ShowbizMonkeys.com throughout the year for tons of comedy coverage, including working with the Winnipeg Comedy Festival year-round, great interviews with the top comedians from the United States and Canada.
HOT THESPIAN ACTION... IN ACTION:
Tags: Winnipeg Comedy Festival, comedy festival, Hot Thespian Action, Derek Edwards, Jon Dore, Derek Seguin, Steve Patterson, John Moloney, Elvira Kurt, Aaron Merke
Related Posts
Paul Little is the founder and Managing Editor of ShowbizMonkeys.com. When not interviewing his favourite musicians and comedians, he can also be found putting on and promoting music and comedy events with The Purple Room in Winnipeg, or co-producing the live comedy game shows Pants on Fire and The Great Patio Showdown. (@comedygeek)
Original Comments Posted (1)
gwardo says...
I caught the Underbelly Diaries Redux, the Thursday Night Gala - "The Edumacation Show" and the Saturday Late Night Gala - "The Obsessions Show".
I loved seeing the way Aaron Berg was able to adapt his experiences into both a compelling one man show and a great stand-up set.
Graham Clark's set was great but I'm very biased as I'm a huge fan of his podcast "Stop Podcasting Yourself".
Beard or no beard, Jon Dore had a great set and the crowd absolutely loved him.
As expected, John Wing delived a great performance.
Peter Keleghan was a great host and would love to see him perform live again.
Apr 16, 2010 3:34pm
Comments Posted ()
Search SBM Archives