2009 North American* Genius Monkey Comedy Award
Filed under: SBM Awards
The North American* Genius Monkey Comedy Award is given to a comedy writer/performer who is on his or her way up. Because comedy is not at all objective (despite how much we wish it was), ShowbizMonkeys.com figured that coming up with the absolute funniest comedian each year would be an impossible task. However, by selecting a rising writer/performer who already manages to make us laugh despite lacking years of experience in the business and the spotlight, we hope to bring to light someone who we feel will soon be at the top of the comedy game -- plus, we can kind of embrace the subjectivity of it all.
It's also been proven that the Genius Monkey is an award you want to receive! Look at 2008's winner, Aziz Ansari. Aziz, who at this time last year had two years of MTV's Human Giant under his belt and had toured a bit as a stand-up, went on to have a huge year: he starred in NBC's Parks & Recreation, which debuted last spring and was recently picked up for a third season; he had a supporting role in Judd Apatow's Funny People (as the party comedian Raaaaaandy), which directly led to he and writing partner Jason Woliner receiving a 3-picture development deal with Universal and Apatow; and he also just released a successful live DVD/CD of his recent Comedy Central special, Intimiate Moments for a Sensual Evening.
Deciding who would be the 2009 recipient of the North American* Genius Monkey Comedy Award turned out to not be very difficult. While this year's winner was already having a pretty great year in 2009 -- writing for an award-winning TV show, co-writing and starring in an indie comedy that played at Sundance, and winning over crowds performing stand-up, improv, and sketch comedy -- in September he showed up as a co-star on a new, critically-acclaimed network comedy. For an up-and-coming comedian, it was a year unlike many others.
The recipient of the 2009 North American* Genius Monkey Comedy Award is...
DONALD GLOVER
Contrary to internet reports, Donald Glover is not the son of Danny Glover. Nor is he the son of Crispin Glover or golfer (and 2009 U.S. Open champ) Lucas Glover. The Atlanta-raised comedian is, however, funnier than all three of them. But being the funniest Glover on the planet doesn't get you a Genius Monkey award. For that, you have to be a whole lot more, and Donald definitely is.
Attending New York University, Donald began making short comedy pieces with several fellow NYU students. Going by the name Derrick Comedy, the group (performers/writers Dominic Dierkes, DC Pierson, and Mr. Glover; director Dan Eckman; producer Meggie McFadden) began posting their videos on College Humor and YouTube. They videos took off, with the not-so-family-friendly -- but hilarious -- Blowjob Girl (starring Ellie Kemper, now Erin the secretary on The Office) and others being viewed by millions on YouTube. Personal favourites featuring Donald at his funniest include Opposite Day, Wink, Do You Like Hip Hop?, and Jazz Man.
At the same time, Donald studied improv at the Upright Citizens Brigade Theatre in NYC. He was a frequent sketch and improv performer at UCB alongside his Derrick Comedy cohorts, the award-winning Wicked Wicked Hammerkatz sketch group, as well as the likes of Amy Poehler and Horatio Sanz.
While continuing to make videos with Derrick and perform live, Donald graduated from NYU with a dramatic writing degree and almost immediately began writing for multi-Emmy-winning comedy series, 30 Rock. During his time on the show, he won 2 WGA writing awards along with his fellow writers, and the show itself cleaned up at the Emmys in almost every category (including Best Comedy and Best Writing).
Throughout all that time, Derrick Comedy also managed to film their first feature film, Mystery Team, completely financed on their own. Featuring Aubrey Plaza and Bobby Moynihan (along with Donald, Dominic, and DC, of course), the film received extremely favourable reviews at last year's Sundance Film Festival and eventually received a national distributor in Roadside Attractions. Opening in select cities in the fall, it has since been giving limit engagements around the U.S., and will be released to DVD in May (it can actually be pre-ordered on Amazon already). Check out the Green Band trailer embedded below.
Donald then moved out to Los Angeles, and grabbed a co-starring role on this season's funniest new comedy, Community. (Some people might say Modern Family is funnier. They'd be wrong.) Donald plays Troy, ex-high school quarterback and one of the less, um, "bright" members of the Spanish study group the show revolves around. Donald has been a scene-stealer during the show's first season, frequently sharing screen time with either Danny Pudi (in TV's new great bromance) or Chevy Chase (holding his own alongside the comedy icon). And while the entire show is brilliantly-written (the show's head writer and creator is Channel 101's co-founder Dan Harmon), the best part of each episode is often the "tag" at the end of the credits, which most of the time features some hilarious banter or bit with Troy and Abed.
Donald is also heavily involved in music. As a DJ, Donald remixes dance and electronic tunes, while under the name Childish Gambino, he gets to be more front and center as an emcee (and it's in those tracks that his comedic tendencies come out). All his mixtapes are available to listen to and download at mixtapemonkey.com. He also scored Mystery Team, if you're keeping track at home.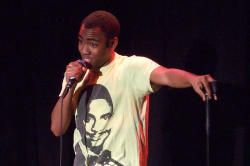 And as if all of that weren't enough, Donald is also a pretty darn good stand-up comic. From what I can gather, he's been performing stand-up for at least a couple of years, and you can find a bit of it online (such as this College Humor Live video of an earlier set of his). But his stand-up comedy will come to forefront on Friday, March 19, when his Comedy Central Presents special will air.
See? I wasn't kidding. This Donald Glover fellow is definitely going places! The combination of his award-winning writing, his sketch and improv prowess, his burgeoning stand-up career, and his hilarious acting on Community make Donald Glover the clear-cut choice for the 2009 North American* Genius Comedy Award.
* Note: Does not include Mexico
Tags: Genius Monkey, awards, Donald Glover, Community, Mystery Team, Derrick Comedy, 30 Rock, Upright Citizens Brigade, stand-up, improv
Related Posts
Paul Little is the founder and Managing Editor of ShowbizMonkeys.com. When not interviewing his favourite musicians and comedians, he can also be found putting on and promoting music and comedy events with The Purple Room in Winnipeg, or co-producing the live comedy game shows Pants on Fire and The Great Patio Showdown. (@comedygeek)
Comments Posted ()
Search SBM Archives