Interview: Meric Long and Logan Kroeber of San Fransisco indie alt-rock band The Dodos
Filed under: Interviews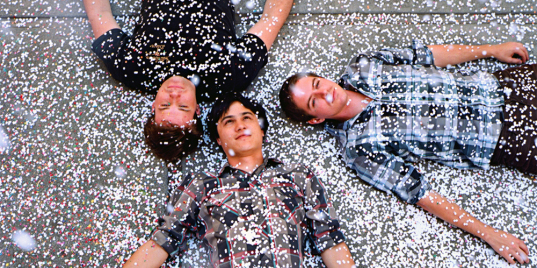 There are lots of bands and musicians out there who are really impressive recording artists, but maybe not the most exciting (or even very good) in a live setting. For some, it's just a case of utilizing a lot of great production that can't translate, while others are clearly aided in the studio and just can't cut it in on stage. On the flip side, however, realizing the reverse is quite a thrilling experience. The Dodos are one of those bands.
While their recordings have proven to be unique and interesting, and definitely worth picking up, the indie alt-rock that the Dodos specialize in -- which features Meric Long on vocals and often frenetic acoustic guitar, and Logan Kroeber on a drum kit featuring a unique mix of snares, toms, and cymbals, but no bass drum -- is astounding in a live setting. So while the pair are about to release their fourth full-length album since forming the band in 2005 (No Color, coming out this Tuesday, March 15th on Frenchkiss Records and heavily featuring the brilliant Neko Case), it's their album support tour that you really don't want to miss.
Last summer, as they were still touring off of their 2009 release Time to Die and working on new material in advance of entering the studio, they ventured into relatively unfamiliar territory by playing the Winnipeg Folk Festival. We got the chance to speak with these two dryly funny fellows that July weekend, and they talked about their early experiences in the folk fest setting, their unique band set-up, who was inspiring them musically at the time, and of course, what direction their new music was headed in advance of hitting the studio to record No Color.
If you're not listening to these guys yet, you really need to start, but most importantly, be sure to check them out live as they embark on a North American tour throughout March and early April, followed by a European tour at the end of April and into May. (Visit www.dodosmusic.net for a list of all tour dates, plus more information on the new record and where to pick it up.)
Tags: The Dodos, No Color, Meric Long, Logan Kroeber, San Fransisco, indie rock, acoustic, Winnipeg Folk Festival, Music Festival
Related Posts
Paul Little is the founder and Managing Editor of ShowbizMonkeys.com. When not interviewing his favourite musicians and comedians, he can also be found putting on and promoting music and comedy events with The Purple Room in Winnipeg, or co-producing the live comedy game shows Pants on Fire and The Great Patio Showdown. (@comedygeek)
Comments Posted ()
Search SBM Archives