Winnipeg Comedy Fest Interview: Young and versitile comedian John Hastings
Filed under: Interviews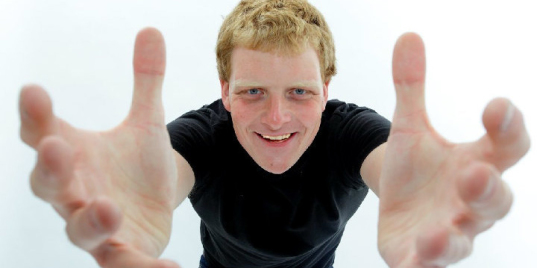 A short five years ago, John Hastings decided to enter the world of stand-up comedy, and he's already made quite the name for himself across Canada. While comedy was something he grew up enjoying, stand-up comedy wasn't something he pursued until he was told it might be a way to make some money. Of course, that's not exactly the case when just getting started, but he fell in love with it and hasn't looked back. Last year, he even won the Irwin Barker Award at the Just for Laughs Canadian Homegrown Comedy Competition -- a personal highlight for Hastings -- and was named as one of the five comics to watch in 2010 by The Comedy Network.
The man also keeps incredibly busy. Besides performing stand-up around the country and beyond, he also regularly does improv and sketch shows, and through all of that he's managed to record a new podcast six days a week for his website and appear in several videos -- including a "rant series" -- for WatchMojo.com. World domination is clearly next on the docket.
Hastings is making his first appearance at the Winnipeg Comedy Festival this year, performing a free noon-hour show today at the Millennium Library and then taking part in the "Misfortune Tellers" Friday Evening Gala. In advance of his visit to Winnipeg, I spoke with him about his start in comedy, his many influences, the role that the internet must play for today's comics, and why Canada is a good place to become a stand-up comic.
Tags: John Hastings, Winnipeg Comedy Festival, stand-up, improv, sketch, Irwin Barker Award, podcasts, festivals, comedy
Related Posts
Paul Little is the founder and Managing Editor of ShowbizMonkeys.com. When not interviewing his favourite musicians and comedians, he can also be found putting on and promoting music and comedy events with The Purple Room in Winnipeg, or co-producing the live comedy game shows Pants on Fire and The Great Patio Showdown. (@comedygeek)
Comments Posted ()
Search SBM Archives