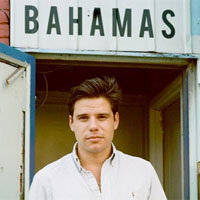 The Supporting Act Podcast Ep. #046 with Bahamas
Filed under: The Supporting Act
Bahamas is Afie Jurvanen, a Toronto, ON-based singer/songwriter raised in quiet-lake-surrounding city of Barrie. It was there that his industrious nature picked up a few tricks on the guitar. He adopted the moniker Bahamas for his 2009 debut record Pink Strat. The LP received nominations for both the Polaris Prize and 2010 Juno for "Roots & Traditional Album of the Year - Solo". His second album, Barchords, was released in 2012 through new-found friend Jack Johnson's record label, Brushfire Records. The record again received nominations for two Juno Awards and the coveted Polaris Prize. Bahamas' new record, Bahamas is Afie, was released August 19, and has already received praise from Exclaim!, American Songwriter, and Uncut.
Jurvanen joined me over the phone from the UMFM studio to discuss touring with talented friends and why people can't dance to his music.
Download the Podcast Episode (right click/save as)
Listen Now:

The Supporting Act is a podcast dedicated to shining a light on performers shy of the mainstream.
On a mostly-weekly basis, host Matt Moskal sits down with stand-up comics, musicians or artists that aren't quite household names. Guests range from seasoned veterans to green beginners.
Tags: Bahamas, Afie Jurvanen, Canada, Toronto, Winnipeg, The Supporting Act, UMFM, folk
Related Posts
Comments Posted ()
Search SBM Archives