Winnipeg Comedy Fest Interview: Veteran comedian Simon Rakoff talks of his growth as a comic and the struggle to fully succeed in Canada
Filed under: Interviews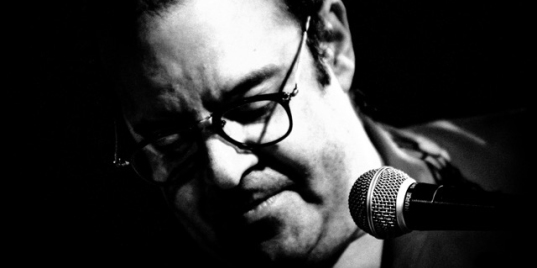 Simon Rakoff loves his job. Now to be fair, most stand-up comics who are able to make it their career don't take for granted how great a gig it is. But very few veteran comics approach stand-up comedy with the excitement and joy of someone new to the business. Rakoff, over 35 years into his career, is still incredibly excited about what he gets to do on stage for a living.
First hitting the stage in the late 70s, Rakoff has carved out a very successful and long-lasting career -- something even he admits is difficult to do while choosing to stay in Canada. During a recent chat ahead of his upcoming appearances at the Winnipeg Comedy Festival, Rakoff and I spoke about why humour is important in day-to-day life, his growth as a comedian during his incredible career, the state of the Canadian comedy world, and of course his past experiences at the Winnipeg Comedy Festival. (Not mentioned in the interview was the extremely rare dual bill alongside his brother, the late humourist David Rakoff, at the 2006 festival.)
Take a read below, and if you find yourself in Winnipeg next week, be sure to check out Simon Rakoff and the many other great performers at the 14th annual Winnipeg Comedy Festival.
Paul Little: You've talked in the past about how you and your family would use humour when you were growing up to sometimes get through certain things. Do you find your own family doing the same thing these days?
Simon Rakoff: Oh, absolutely! And in fact, now that I have a child, my daughter and I are like a comedy team. So much of our interaction is comedy. I mean, she's hilariously funny -- she's 14 now, but she's always been funny. This is just how we interact.
PL: Do you think, in general, it's important to use humour to deal with issues people have in their lives?
SR: Well, it works for me! I mean, I can't speak for anyone else, but I think it's a good way to show people points of view and build a bridge to a point of view they'd maybe not considered before. But getting a joke is like understand a point.
PL: Do you use those situations in your everyday life to get your material?
SR: Well that's where it comes from. I always say, comedy's not a job, it's a personality disorder -- it's a way of looking at everything. I mean, the world is funny. Things that don't even mean to be funny are very funny to me. I always think about when I'm on hold, and they say, "your call is important to us," that recording. And I just think to myself, you've actually bothered to record, "your call is important to us," but you don't have a person picking up the call! I find that ironic and funny.
PL: You've been in the business quite a long time -- since 1978, I think?
SR: Yep, it'll be 37 years (this month).
PL: That's incredible! Through that time, you've managed to stay fresh, and it doesn't feel like you've been in the business that long and doing the same thing.
SR: Yeah, I had way fewer ex-wife jokes at 17!
PL: *Laughs* Besides the obvious, how have you felt things have changed in your act over the years, and how has the development of jokes changed over that time?
SR: I think like any artist, as you work at it and as you change and grow, you become a little bit more (of an) expert at what works and doesn't work. So more to the point... If you think of a singer/songwriter, which I guess is the closest art form to a stand-up comic -- in that you write it and you do it -- you change a lot over your lifetime, so what you're expressing changes. The Beatles started with, "Yeah, yeah, yeah," but by the end they were expressing much deeper and more complex thoughts, because that's what happens to your brain as you get older.
PL: You've toured Canada and beyond, but you've stayed in Toronto and around the Toronto scene, and had an opportunity to see a lot of comics come through that scene. Over the last little while, have you noticed any comics come up through the scene that have caught your eye?
SR: Oh, there's so many funny people. It's one of these things when I'm always attending a show and going, "Wow, that was fun! That was such a funny show. Everybody was so good." For instance, Arthur Simeon had a CD launch, and he's hilarious. And Dave Merheje was on, and he's hilarious. These are all guys who started long after I did, but are such funny, funny guys. Sandra Battalini is a woman who's just, you know, always really funny. There's so many people who I think are great in the scene. I mean, there's obviously a lot of lousy comics out there, too, but there's really some very funny people working.
PL: Even after working at it this long, do you find seeing people of that calibre around you helps to re-invigorate the passion for comedy in you?
SR: Well I never have a problem in terms of my enjoyment of comedy. I'm not one of these people who feels either burned out or jaded or disenchanted. I mean, I love it. I think it's the most interesting kind of though process, is coming up with a new joke. Especially since people are so used to it, that there's still new jokes. 'Cause you know, the thing about comedy is you're sort of tricking people's brain into laughing. There's a surprise element that makes a laugh, and it's still possible to do it, no matter how much they know about comedy. I still find it constantly challenging and fun.
PL: Many comics have talked about it -- most recently, Mark Forward and Steve Patterson have been more vocal about it -- but there's a lack of support for Canadian comedy within Canada, specifically. Sometimes comics can go off to L.A. and get success there. But despite having some amazing comics continuing to work here, what are your thoughts on the lack of a Canadian "star system" for lack of a better term.
SR: Well, it's kind of ridiculous, but it's kind of the way it's always been, too. People have always had to leave this country if they want to make it in any ambitious way as celebrities or make real money at this. I've never been ambitious, personally, so it doesn't hurt me as badly as it does most. I mean, it's frustrating -- you would think there would be a little more respect for those of us who actually know what we're doing getting laughs. It's not as though I'm particularly surprised by it, but yeah, of course it's annoying.
In the real world of show business -- America, Britain -- you get a million laughs and then they let you make a show. Where as here, you go the the CBC, and it's like a government institution -- you may as well be in the building where you go to have your license renewed, as far as it feeling like show business. I mean, it feels more like a government office. And the people who run comedy tend to be people who have worked at CBC for a long time and move up in the ranks, as opposed to people who have ever actually made people laugh in their life. It's a bit of a backward way of doing things, but it's not a huge surprise either that it runs that way.
I mean, we've got a lot of ground to cover with very few people in Canada, so it creates a very different kind of situation. Except that now that the world is smaller, in the sense that you don't really need broadcasters in the way you used to. I mean, you're at ShowbizMonkeys.com -- you can be found from anywhere in the world that allows internet access. So all those old gatekeepers don't really have the same impact that they used to. I mean, if I chose to, I could put my act on the internet and be seen anywhere.
PL: Yeah, for sure. Are we perhaps then hitting the age -- especially with the rise of popularity of podcasting and things like that -- that we may finally level the playing field in terms of Canadian comedians?
SR: Absolutely! I think that's certainly something that's available in terms of getting the work out there. I'm not an expert in terms of how you get people to pay attention -- that's never been my thing, and I've never cared much. I do my thing, and hope that people who do see it enjoy it. Again, I would probably be doing better if I did care more about that, but at the same time I'm not going crazy because I'm frustrated.
PL: *Laughs* True. Can you talk about your experiences on your previous visits to the Winnipeg Comedy Festival?
SR: It's great. It's fun. The crowds are terrific, the venues are nice, the shows are always good. The whole organization of it is fantastic. You know, I've done a number of different festivals, and I'd say this is probably the most fun to do. You're really treated nicely, everyone's having a good time, it's well-organized, you're not standing around waiting to get to somewhere for an hour while they try to arrange the van to come pick you up -- which I've had with other festivals, where you just spend a lot of time waiting around wondering where you're supposed to be. And everyone's very friendly and the volunteers are happy to involved. And I've known Al Rae, who runs it, for a million years. I worked with Al a thousand times, back when he was an act with his buddy George. We're old friends, and that makes it nice, too. I'm really glad I'm going back this year.
PL: Can you talk a bit about the shows you're doing this festival -- I know you're doing Rumor's Comedy Club with Mark Forward.
SR: That'll be fun. It's nice to go the club -- I've actually never played Rumor's. I think I dropped in maybe to do a guest set once, but I've never been booked there, so this is a good chance to show them what I can do and maybe come out to Winnipeg when it's not the festival sometime. I believe I'm doing a roast of our buddy John Wing, who's been to (every Winnipeg Comedy Festival). I've known John forever -- I actually introduced him his first time ever being on stage. So I've him literally since his first-ever performance. And I'm going to be doing a gala for the internet about being middle-aged, so that'll be good.
PL: And then you're going to be hosting the inaugural awards ceremony -- The Mics.
SR: Oh good, so they're giving out awards, and I'll be the host of that. That sounds fun. Good! I've always wanted to host an awards show.
PL: It'll be fun!
SR: I'm glad you were here to tell me what I'm up to!
PL: *Laughs* I'm glad. So I'm curious what's on the horizon for you. You mentioned you're not overly ambitious --
SR: Well, old age and death. *Laughs* Or you meant more in my career?
PL: Yeah, maybe not that far ahead. Just the next little while -- where might people reading this who aren't in Winnipeg find you in the next few months?
SR: Well I'm going to Calgary in May -- I'm going to be playing a place called the Comedy Cave, which I've never been to but should be fun. I have a website, SimonRakoff.com, so people can look there. And I'm also encouraging people to buy my album. It's something I recorded just this year, and I'm very proud of. It's a very funny album, sort of in the old style of comedy albums. That was a nice achievement for me, because like I say, I'm not very -- I'm not driven. So for me to actually get it together to make something like that, it's good, and I was very happy with how it turned out.
The Winnipeg Comedy Festival is keeping Simon Rakoff busy this year. He's appearing Wednesday, April 8 at Rumor's Comedy Club alongside Sean Emeny and Mark Forward, Saturday, April 11 at the Pantages Playhouse Theatre as part of the Saturday Evening Gala, and Sunday, April 12 at the brand new Club Regent Event Centre hosting The Mics and roasting John Wing. Tickets are still available for all 3 shows.
Tags: Simon Rakoff, Winnipeg Comedy Festival, humour, stand-up, comedy, Toronto, Canada, John Wing, Al Rae
Related Posts
Paul Little is the founder and Managing Editor of ShowbizMonkeys.com. When not interviewing his favourite musicians and comedians, he can also be found putting on and promoting music and comedy events with The Purple Room in Winnipeg, or co-producing the live comedy game shows Pants on Fire and The Great Patio Showdown. (@comedygeek)
Comments Posted ()
Search SBM Archives