Interview: Comedian Sue Smith on her debut EP, Slutty Pretzel
Posted by: Tony Hinds // May 6, 2015 @ 6:38am
You may recognize Sue Smith from her hilarious spots on Best Week Ever, I Love the 2000s, and 40 Greatest Viral Videos on VH1. However, her true strengths come out on stage as a stand-up and sketch/improv performer.
Trained at the legendary Upright Citizens Brigade in New York City, Smith's already made a big splash on the comedy scene, having been named one of the Ten Funniest Women in New York by Time Out New York. She has also hosted the acclaimed Tits and Giggles, the podcast for women in comedy, since 2013.
Her debut album, Slutty Pretzel, is now available, and having heard it, I can verify its awesomeness. Smith brings the audience into her life and mind, packing an intimidating number of laughs into a short amount of time.
Tony Hinds: Congrats on the new album. How did the project come about? Have you been developing it long?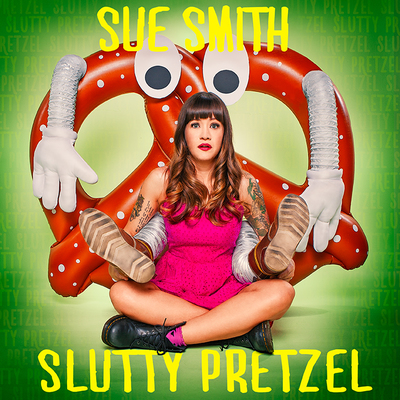 Sue Smith: It's material that I've worked on for a while and I'm really proud of it and how it turned out. I work with this company called The Experiment Comedy and they produce my podcast, and they've been recording a series of short albums for artists. We recorded it twice in New York, once in the fall and once in the winter. They offered to do the EP and mix it, and a friend of mine produced it.
TH: You started out doing more sketch performing, right?
SS: Yeah, I've been doing comedy since 2007. I started at the Upright Citizens Brigade in New York, doing impro. In 2011, I did a solo character show for a year at UCB in New York and LA. After that I started doing stand-up because I found I really liked performing on my own, having more control over the stage and what happened on the stage.
TH: Were you hesitant at first to try stand-up?
SS: I think it's hard to be on stage by yourself and so improv just gives you a buffer. You know, there's eight other people or six other people depending on how big your team is. When I did the character show, I'd had it in me for a while. "I need to do this solo show, I need to do this solo show..." I didn't quite realize I would be on the stage by myself for half an hour until I was on-stage doing it. I was like, "Woah, what am I doing?" It's crazy and nerve-wracking and very difficult because you're backstage by yourself and there's no one to calm you down. But I kinda just threw myself into the fire and I'm really glad I did.
TH: The atmosphere in the New York comedy scene must force you to maintain your A-game.
SS: Everyone that comes out of New York is so good because there are so many comedians that you really have to be at top of your game and writing smart jokes in order to succeed. Everyone coming out of here is really good, which I love. I love to watch it, it's such a delight to go to shows and be a part of shows. You have to be good in order for people to pay attention. Recently, I had someone on my show that was from Rochester in upstate New York and I could tell she was from out of town because her style was so different because there, you don't have to be at the top of your game as much. There's just less competition.
TH: How does that feeling of competition manifest itself?
SS: Well, I was doing a Montreal audition and someone came up to me before the show and they were like, "Good luck, although I probably shouldn't say that to my competition." And that kinda got to me in my head a little bit because we're not competition. We're totally different in our sense of humour. I just don't see it like that. If someone's sense of humour is totally different than you... you're not competition with each other at all.
TH: Was the UCB competitive?
SS: When I was there, it was still very small. Bobby Moynihan (Saturday Night Live) was my first teacher, as well as Lennon Parham (Veep), doing a show called Playing House. It was very small. It wasn't super competitive... but it was a little competitive. But I'd forgotten just how big it has gotten. I think now it's a much larger institution than it was. And again, I think the community element is important. I'm still close with people from my 101, my first class. Lauren Adams was in my first class and she's on The Unbreakable Kimmy Schmidt. We really try to keep that sense of community and get each other's back. I always try to approach this from a place of enough. There is enough of this to go around and there are enough opportunities for everyone. Even if there isn't, I try to act like there is. It just allows me to be less competitive.
TH: Do you think you'd be doing the podcast if you had not started stand-up?
SS: No, I don't think I would have done the podcast because I didn't see such a need for it until I started doing stand-up. That's because there are just fewer women doing stand-up. There are a lot of women doing improv. But not as many in stand-up. It was only when I started that I really saw the need for it.
TH: How has the scene changed since you started comedy?
SS: These days, people are way more conscious of the things they say on stage and I think people are more open to different forms of comedy. At the start, it was more set-up, punchline stuff. Now, it can be much more alternative.
TH: What's the biggest misconception young comedians have about comedy?
SS: I think people really underestimate how much work is actually required. They just think, "I'm gonna be a comedian and I'm gonna be on Saturday Night Live." I try to comfort myself with the saying that it takes ten years to become an overnight success. I try to tell myself, "No, you're right where you should be. No one does this super quickly. It takes years and years."
TH: You were voted one of Ten Funniest Women in New York by Time Out New York, which has got to be be an amazing honour.
SS: I was really honored to receive that recognition because there's so much self doubt in this industry, and you can feel like your accomplishments are never good enough. But it's a lot of pressure. If I'm working out new material, I try to tell people not to introduce me on-stage with that credit. I've had audiences hear that and just sit there with their arms crossed like, "Oh really? You're one of the Ten Funniest? Prove it." It can be tough if you're working out new material. But when I received that, no matter how much I doubt myself, I can look at this thing, this magazine cover and know they worked hard on this. It wasn't just a fluke. They really believe in me.
(Main photo credit: Mindy Tucker)
Check out Sue Smith's debut EP, Slutty Pretzel, which is now available.
Tags: Sue Smith, Slutty Pretzel, stand up comedy, stand-up
Related Posts
Tony Hinds is a Canadian writer who studied film at the University of Winnipeg. In addition to ShowbizMonkeys.com, Tony has reviewed films for Step On Magazine and The Uniter. You can find Tony on Twitter.
Comments Posted ()
Search SBM Archives