Interview: Heroes star Greg Grunberg on the hit NBC show, his new movie Group Sex, and his charity work
Filed under: Interviews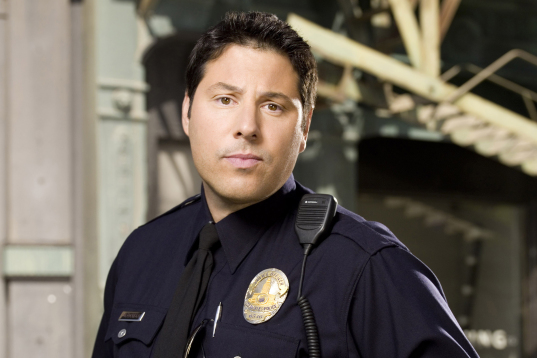 Greg Grunberg may not be a name that you can place, but you most likely know his face and his work. For years playing supporting characters -- including co-starring on his friend JJ Abrams' shows Felicity and Alias -- Grunberg finally got a starring role in the NBC series Heroes, playing Matt Parkman, the L.A. cop who could read minds. Heroes became a huge hit worldwide, which lead to his face on t-shirts, coffee mugs, and billboards.
Grunberg's newfound fame hasn't changed him, though -- he's often called the nicest guy in television. In fact, he's used his celebrity to raise money for charity with "Band from TV", the group he's set up with several other well-known television personalities. Greg was even kind enough to let me join him on the set of his new movie Group Sex, currently filming in Los Angeles, for a ShowbizMonkeys.com interview. He talked about Heroes, the new movie, his charity work, and even a bit about the new JJ Abrams-directed Star Trek.
For more information on Greg's work with Band from TV, visit www.myspace.com/bandfromtv.
Tags: Greg Grunberg, Heroes, Group Sex, Band from TV, Matt Parkman
Related Posts
Paul Little is the founder and Managing Editor of ShowbizMonkeys.com. When not interviewing his favourite musicians and comedians, he can also be found putting on and promoting music and comedy events with The Purple Room in Winnipeg, or co-producing the live comedy game shows Pants on Fire and The Great Patio Showdown. (@comedygeek)
Original Comments Posted (3)
Antalya says...
Who doesn't know who Grunberg is? *is shocked and dismayed* Grunberg is my hero! *is lj-friends with the "girl" mentioned in this article: http://thetvaddict.com/2006/07/25/comic-con-report-heroes-panel/*
Mar 6, 2008 8:24pm
Ariana says...
Seriously, what she said! Swank video, Paul.
Mar 7, 2008 1:25am
phillyeddie says...
GREG IS THE BEST ACTOR TO COME ALONG IN A LONG TIME. I ENJOY WATCHING HIM AS MATT ON HEROES AND LOOK FORWARD TO SEE HIM IN HIS UPCOMING MOVIE, GROUP SEX .....KEEP UP THE GOOD WORK GREG AND YOU WILL CETAINLY BE A SUPERSTAR. GREG ALSO HAS A GIG ON JAY LENO SHOW !
Oct 15, 2009 9:57am
Comments Posted ()
Search SBM Archives