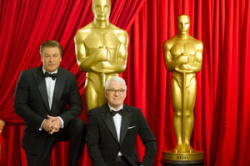 Oscar nominations: Avatar and The Hurt Locker lead the way with 9 nominations each
For the first time in over half a century, there are ten films nominated for Best Picture at the Academy Awards. Many thought that this may dilute the prestigious category, while others hoped it would open up the door to certain types of films that deserved nominations but are often ignored by the Oscars. Now that the nominees have been announced, it probably leans more to honouring deserving films that would normally be ignored, with dark sci-fi film District 9 and brilliant Pixar film Up scoring Best Picture noms.
Avatar and The Hurt Locker are the big winners as far as nominations go, each receiving nine, while Quentin Tarantino's Inglourious Basterds picked up eight nominations and Up in the Air and Precious: Based on the Novel 'Push' by Sapphire each garnered six. Not surprisingly, the directors of the five films leading the nominations are going head to head in the Best Director category (and likely would've been the five films vying for Best Picture had they not expanded that category).
There aren't a lot of surprises amongst this year's nominees, though I was very happy to see the mostly-overlooked In the Loop nominated for Adapted Screenplay. Star Trek only getting a few tech nominations was also a bit disappointing, but it's certainly not surprising. One thing that should be noted is that for only the second time since its inception, the Best Animated Feature category has five nominees (meaning there were at least 16 qualifying films for the category). This year was a very strong year for animation, to the point where there were several films that probably could've been nominated that were left out.
Anyway, below is the complete list of nominations for the 82nd Academy Awards. The awards ceremony take place Sunday, March 7th @ 8E/5P on ABC and CTV, and of course keep visiting ShowbizMonkeys.com, as we will once again provide coverage from the Kodak Theatre in Hollywood leading up to and following the Oscars.
Best Picture
Avatar
The Blind Side
District 9
An Education
The Hurt Locker
Inglourious Basterds
Precious: Based on the Novel 'Push' by Sapphire
A Serious Man
Up
Up in the Air
Best Actor
Jeff Bridges in Crazy Heart
George Clooney in Up in the Air
Colin Firth in A Single Man
Morgan Freeman in Invictus
Jeremy Renner in The Hurt Locker
Best Actress
Sandra Bullock in The Blind Side
Helen Mirren in The Last Station
Carey Mulligan in An Education
Gabourey Sidibe in Precious: Based on the Novel 'Push' by Sapphire
Meryl Streep in Julie & Julia
Best Supporting Actor
Matt Damon in Invictus
Woody Harrelson in The Messenger
Christopher Plummer in The Last Station
Stanley Tucci in The Lovely Bones
Christoph Waltz in Inglourious Basterds
Best Supporting Actress
Penélope Cruz in Nine
Vera Farmiga in Up in the Air
Maggie Gyllenhaal in Crazy Heart
Anna Kendrick in Up in the Air
Mo'Nique in Precious: Based on the Novel 'Push' by Sapphire
Best Director
James Cameron for Avatar
Kathryn Bigelow for The Hurt Locker
Quentin Tarantino for Inglourious Basterds
Lee Daniels for Precious: Based on the Novel 'Push' by Sapphire
Jason Reitman for Up in the Air
Best Screenplay (Adapted)
District 9 (Neill Blomkamp & Terri Tatchell)
An Education (Nick Hornby)
In the Loop (Jesse Armstrong, Simon Blackwell, Armando Iannucci, & Tony Roche)
Precious: Based on the Novel 'Push' by Sapphire (Geoffrey Fletcher)
Up in the Air (Jason Reitman & Sheldon Turner)
Best Screenplay (Original)
The Hurt Locker (Mark Boal)
Inglourious Basterds (Quentin Tarantino)
The Messenger (Alessandro Camon & Oren Moverman)
A Serious Man (Joel Coen & Ethan Coen)
Up (Bob Peterson & Pete Docter)
Best Animated Feature
Coraline
Fantastic Mr. Fox
The Princess and the Frog
The Secret of Kells
Up
Best Foreign Feature
Ajami (Israel)
El Secreto de Sus Ojos (Argentina)
The Milk of Sorrow (Peru)
Un Prophète (France)
The White Ribbon (Germany)
Best Original Score
Avatar (James Horner)
Fantastic Mr. Fox (Alexandre Desplat)
The Hurt Locker (Marco Beltrami & Buck Sanders)
Sherlock Holmes (Hans Zimmer)
Up (Michael Giacchino)
Best Original Song
"Almost There" from The Princess and the Frog" (Music and Lyrics by Randy Newman)
"Down in New Orleans" from The Princess and the Frog" (Music and Lyrics by Randy Newman)
"Loin de Paname" from Paris 36" (Music by Reinhardt Wagner, Lyrics by Frank Thomas)
"Take It All" from Nine" (Music and Lyrics by Maury Yeston)
"The Weary Kind (Theme from Crazy Heart)" from Crazy Heart (Music and Lyrics by Ryan Bingham & T Bone Burnett)
Best Documentary Feature
Burma VJ
The Cove
Food, Inc.
The Most Dangerous Man in America: Daniel Ellsberg and the Pentagon Papers
Which Way Home
Best Documentary Short
China's Unnatural Disaster: The Tears of Sichuan Province
The Last Campaign of Governor Booth Gardner
The Last Truck: Closing of a GM Plant
Music by Prudence
Rabbit à la Berlin
Best Animated Short
French Roast
Granny O'Grimm's Sleeping Beauty
The Lady and the Reaper (La Dama y la Muerte)
Logorama
A Matter of Loaf and Death
Best Live-Action Short
The Door
Instead of Abracadabra
Kavi
Miracle Fish
The New Tenants
Best Cinematography
Avatar (Mauro Fiore)
Harry Potter and the Half-Blood Prince (Bruno Delbonnel)
The Hurt Locker (Barry Ackroyd)
Inglourious Basterds (Robert Richardson)
The White Ribbon (Christian Berger)
Best Editing
Avatar (Stephen Rivkin, John Refoua & James Cameron)
District 9 (Julian Clarke)
The Hurt Locker (Bob Murawski & Chris Innis)
Inglourious Basterds (Sally Menke)
Precious: Based on the Novel 'Push' by Sapphire (Joe Klotz)
Best Art Direction
Avatar (Art Direction: Rick Carter & Robert Stromberg; Set Decoration: Kim Sinclair)
The Imaginarium of Doctor Parnassus (Art Direction: Dave Warren & Anastasia Masaro; Set Decoration: Caroline Smith)
Nine (Art Direction: John Myhre; Set Decoration: Gordon Sim)
Sherlock Holmes (Art Direction: Sarah Greenwood; Set Decoration: Katie Spencer)
The Young Victoria (Art Direction: Patrice Vermette; Set Decoration: Maggie Gray)
Best Costume Design
Bright Star (Janet Patterson)
Coco before Chanel (Catherine Leterrier)
The Imaginarium of Doctor Parnassus (Monique Prudhomme)
Nine (Colleen Atwood)
The Young Victoria (Sandy Powell)
Best Makeup
Il Divo (Aldo Signoretti & Vittorio Sodano)
Star Trek (Barney Burman, Mindy Hall & Joel Harlow)
The Young Victoria (Jon Henry Gordon & Jenny Shircore)
Best Sound Editing
Avatar (Christopher Boyes & Gwendolyn Yates Whittle)
The Hurt Locker (Paul N.J. Ottosson)
Inglourious Basterds (Wylie Stateman)
Star Trek (Mark Stoeckinger & Alan Rankin)
Up (Michael Silvers & Tom Myers)
Best Sound Mixing
Avatar (Christopher Boyes, Gary Summers, Andy Nelson & Tony Johnson)
The Hurt Locker (Paul N.J. Ottosson & Ray Beckett)
Inglourious Basterds (Michael Minkler, Tony Lamberti & Mark Ulano)
Star Trek (Anna Behlmer, Andy Nelson & Peter J. Devlin)
Transformers: Revenge of the Fallen (Greg P. Russell, Gary Summers & Geoffrey Patterson)
Best Visual Effects
Avatar (Joe Letteri, Stephen Rosenbaum, Richard Baneham & Andrew R. Jones)
District 9 (Dan Kaufman, Peter Muyzers, Robert Habros & Matt Aitken)
Star Trek (Roger Guyett, Russell Earl, Paul Kavanagh & Burt Dalton)
Tags: Oscars, Academy Awards, awards shows, nominations, Avatar, The Hurt Locker, Inglourious Basterds, Up in the Air, Precious, Up
Related Posts
Paul Little is the founder and Managing Editor of ShowbizMonkeys.com. When not interviewing his favourite musicians and comedians, he can also be found putting on and promoting music and comedy events with The Purple Room in Winnipeg, or co-producing the live comedy game shows Pants on Fire and The Great Patio Showdown. (@comedygeek)
Search SBM Archives