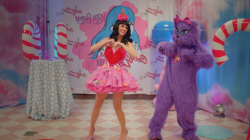 Katy Perry: Part of Me debuts July 2 with Twitter Fan Premieres
Via Press Release:
HOLLYWOOD, CA (June 21, 2012) – Katy Perry: Part of Me from Paramount's Insurge Pictures will get its in-theater debut in the U.S. and Canada on Monday, July 2 with fan sneak premiere events of the 3D film presented exclusively in RealD® 3D in advance of its scheduled theatrical release on Thursday, July 5. Fans who follow @KatyPerry on Twitter were the first to hear from Katy herself about the special screening.
To promote the one-day-only exclusive shows, Paramount and Twitter have designated the hashtag #KP3D Movie Sneak, which Paramount has also sponsored as a Promoted Trend, that will point Twitter's millions of users to a direct link to buy tickets to the advance showings. At each participating location, Katy Perry: Part of Me Twitter Fan event moviegoers will receive pink collectible Katy Perry RealD® 3D glasses and an exclusive pin-up poster.
The promotion continues a unique, never-been-done-before partnership between Insurge Pictures' Katy Perry: Part of Me and Twitter, in which Katy Perry's 22 million Twitter followers have the opportunity to voice their opinions through their own Tweets and be a part of the filmmaking process.
"When we invited Katy's millions of Twitter fans to be part of the movie-making experience, we were overwhelmed by the positive response," said Amy Powell, President of Insurge Pictures. "From Katy's first Tweet announcing the movie, her fans have been incredibly passionate and supportive and we want to make sure they are among the first to see the film they helped shape."
Added Dick Costolo, Twitter CEO: "The use of Twitter throughout the making and release of Katy Perry: Part of Me illustrates the power of Twitter to break down barriers between artists like Katy and their fans."
The Katy Perry: Part of Me Twitter Fan Premieres will play in 100 locations in 64 markets in the U.S. and Canada. Each location will offer two show times daily: 4:00 p.m. and 7:00 p.m. Tickets for the Twitter Fan Premieres are on sale today at https://www.KatyPerryPartofMe.com/Sneak.
Fans can go to www.Twitter.com/KatyPerry and use #KP3D Movie Sneak to share information about the movie with friends.
A 3D motion picture event movie, Katy Perry: Part of Me is a backstage pass, front row seat and intimate look at the fun, glamorous, heartbreaking, inspiring, crazy, magical, passionate and honest mad diary of Katy. Directed by Dan Cutforth and Jane Lipsitz, produced by Brian Grazer, Katy Perry, Martin Kirkup, Bradford Cobb and Steve Jensen, and executive produced by Craig Brewer, Randy Phillips, Michael Rosenberg, Erica Huggins, Edward Lovelace and James Hall.
For more information, go to https://www.KatyPerryPartofMe.com/Sneak.
Follow Katy Perry: Part of Me on Twitter at www.Twitter.com/KatyPerry and #KP3D Movie Sneak
Like Katy on Facebook at www.Facebook.com/KatyPerry.
Tags: Katy Perry, Katy Perry: Party of Me, Twitter
Related Posts
ShowbizMonkeys.com began as CanadaMovies.net in September 2001 and branched out into a second website called MovieContests.com the following year. Beginning in 2007, an expansion of coverage and complete re-branding brought ShowbizMonkeys.com to the world.
Search SBM Archives