Review: Dallas Buyers Club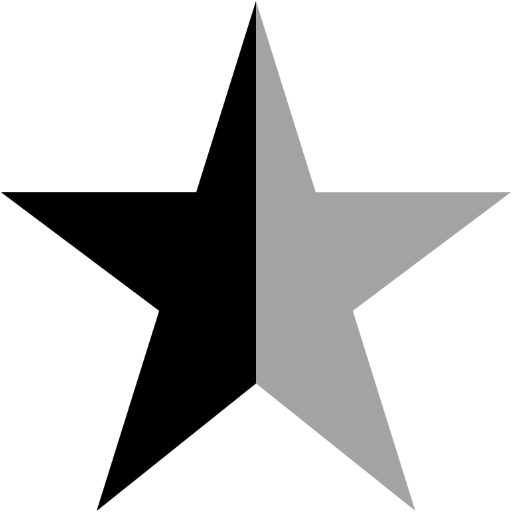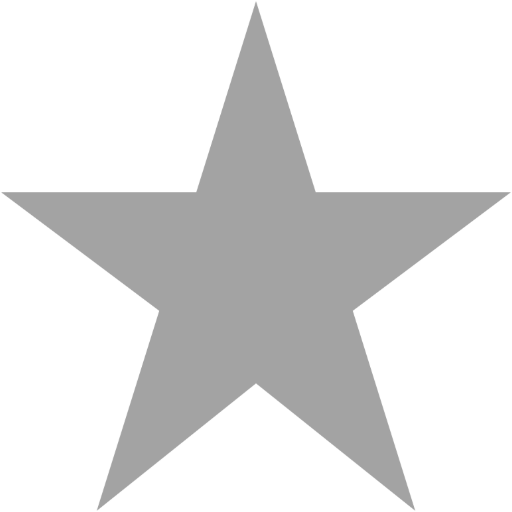 Posted by: Andrew Burns // November 22, 2013 @ 1:05am
If someone were to have told me at the beginning of this year that Matthew McConaughey would deliver two of the best performances in movies this year I would have probably asked if there were a Dazed and Confused 2 & 3 I didn't know about. As disappointing as it might sound there aren't any stoner sequels to the 1993 cult classic, but there are two solid pictures that McConaughey added to his filmography this year in Mud and The Dallas Buyers Club.
Even though he still has multiple scenes with his shirt off Buyers Club is without a doubt the farthest from McConaughey's comfort zone as an actor, and probably as a person for that matter. Far away from his surfer safe zone or his romp-com ruts, McConaughey literally transformers himself into a near human skeleton, dropping a reported 40-50 lbs, for this biographical drama of a Texas man Ron Woodroof who was diagnosed with HIV and AIDS in the mid 1980's. When Woodroof is given a death sentence of 30 days left to live he abandons his hard lifestyle of drugs, booze, and unprotected sex in search for treatment of his degenerative decease. Woodroof quickly learns the only means of his survival are drugs and supplements found outside of the U.S. of A. and he starts a stockpile of non-FDA approved pharmaceuticals. Woodroof even manages to change the option of his own doctor (Jennifer Garner) and has her siding with his method of treatment. With help from a corky transvestite name Rayon the two turn this new inventory into an underground business where Woodroof sells 'memberships' for these drugs, rather than the drugs themselves, and the Dallas Buyers Club is born.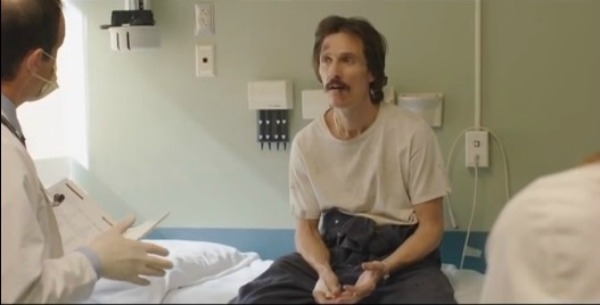 I'll get the obvious out of the way. McConaughey is the best he's been in a long time in this film and much of that can be attributed to the physical transformation he undertook. Because of the level of today's oversaturated celebrity information from places like TMZ, Access Hollywood, and other outlets seeing McConaughey as fraction of his former self wasn't all that shocking initially. Pictures of his dramatic weight loses have been hitting the web for almost a year now, but even though the original shock is lessened it doesn't make the outcome any less impressive. The trade off however is when you see him on the screen portraying a man on death's door audience will know its not just some elaborate visual effects or make-up job; it's the real deal.
As drastic as his physical change was parts of McConaughey's performance is still classic McConaughey southern charm. Woodroof has to be part conman for a large section of the film when he is buying his illegal pharmaceuticals and using loopholes to sell them, so McConaughey was a natural fit for those portions of the movie. It's in Woodroof's realization / adjustment to his disease, and overcoming the homophobic bigotry where McConaughey's performance will impress audiences. McConaughey shares many of those scenes with Jared Leto, who plays Rayon, his transvestite business partner and fellow HIV/AIDS victim.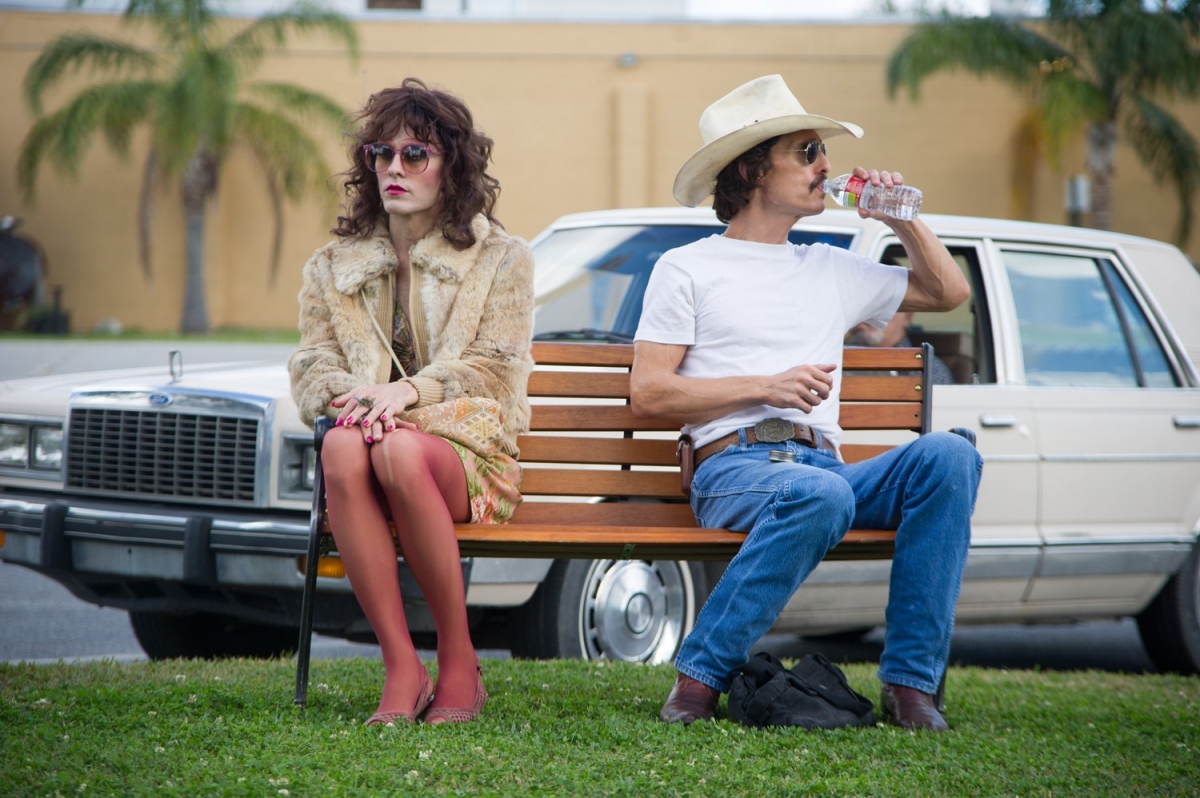 Leto undertook a similar dramatic weight loss for the role of Rayon; pair that with his feminine wardrobe and make-up Leto is practical unrecognizable. Maybe its because Leto is a rockstar and they have a different degree of outrageous than most but it would be hard to imagine any actor/actress filling that role with the same intensity. I'll admit casting the 30 Seconds to Mars front man, and sometimes actor, for pivotal supporting character in a major film on paper sounds like a risky move but after seeing his dedication to the role Leto brought it was the right move. The pairing of the two worked beautifully for the story as Leto's Rayon helps change Woodroof for the better, giving McConaughey's character humour and humanity that felt natural, not just scripted.
The only down side to having amazing performances in a film like Buyers Club is they become better than the story being told. Don't get me wrong the story and its message here are great but because its inspired by true events the film is limited to those non-fictions. The first act of Woodroof discovering his disease and the second act of him forming buyers club are both incredibly interesting, but the events in the third act kind of take all that previous energy out of the film. The film isn't worse in quality for it, yet the gradual conclusion to each of the character's stories completely changes the tone of the film. Again, you can't fault the film's director, Jean-Marc Vallee, or Craig Borten & Meslisa Wallack's script for this, its just the real life events the film ends on aren't very cinematic or entertaining drama but just that's real life for you. Not every true event adaption have the closure that Hollywood endings have.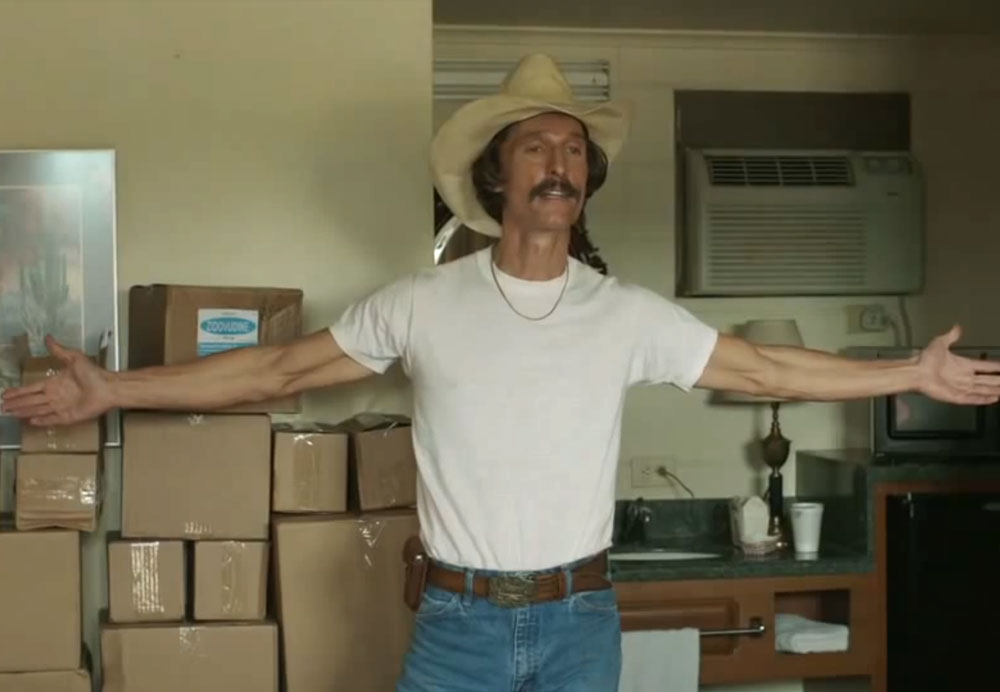 There are moments in McConaughey's performance that warrant those bold movie tag lines that have been all over the trailers and posters. It was truly mesmerizing watching McConaughey speak in his recognizable natural southern twang and not see the actor, just the character of Ron Woodroof. Oscar buzz is a given here, and rightful so, but recent history doesn't guarantee an Oscar win. Tom Hanks got nominations (and one win) for his major weight losses in Philadelphia and Cast Away, but nothing for Matt Damon in Cougar Under Fire or the maybe the most extreme case of Christian Bale in The Machinist. Damon and Bale were lesser known at the time but years later when Bale became a household name like Hanks his transformation and performance in The Fighter won him his gold statue. Granted these are all very different roles, performed in different degrees of excellences by very different actors, but if this track record is any indication of what's to come in March, McConaughey should at the very least garner (no pun intended) an Oscar nod.
Follow Andrew on Twitter
Tags: Dallas Buyers Club, Matthew McConaghey, Jennifer Garner, Jared Leto, Steve Zahn, Denis O'Hare, Jean-Marc Vallee, Craig Borten, Melisa Wallack, Mud
Related Posts
Andrew Burns loves film and comics, and can be found writing about when those worlds converge. You can follow him on Twitter at @myAndrewBurns.
Search SBM Archives