A Walkthrough of New Image College and New Image Entertainment
Filed under: Special Coverage
The first thing you notice when you step off the elevator in Vancouver's Standard Building -- home of New Image College of Fine Arts -- is that this isn't quite the educational learning facility you're expecting. Backed by a lush, almost new age-feeling interior -- which serves as the sign in desk for both the in-house spa and the acting/esthetics school -- I suddenly wasn't sure what to expect. After all, when you're expecting a rather cold and business-like lobby and you get something out of the movies, you tend to be a bit taken off guard.
Immediately upon arrival, I was whisked away to get the full experience, and before I knew it was I sitting front row in a second year scene study class where a friendly group of students were doing cold reading exercises. For those of you unfamiliar with the concept, it's when students or actors take a scene with little to no prior knowledge and read through it cold. In this instance, I witnessed two separate scenes done multiple times with students and teachers from the audience interjecting throughout with their thoughts and feelings as to ways to make it better. The same basic scenes (one of which I recognized from a film or TV show) really showed how tone and emphasis could change the overall trajectory of the scene.
From the study class, it was on to the aftermath of another class where students filmed themselves performing a scene from a famous movie to get "on camera" experience. By the time I reached the make-up department, they were wrapping up for the day, but I still had a chance to look at some of the castings they had done recently for special prosthetic make-up involving fairies and monsters. Next up was a trip a few floors down, where the other side of the New Image family resides.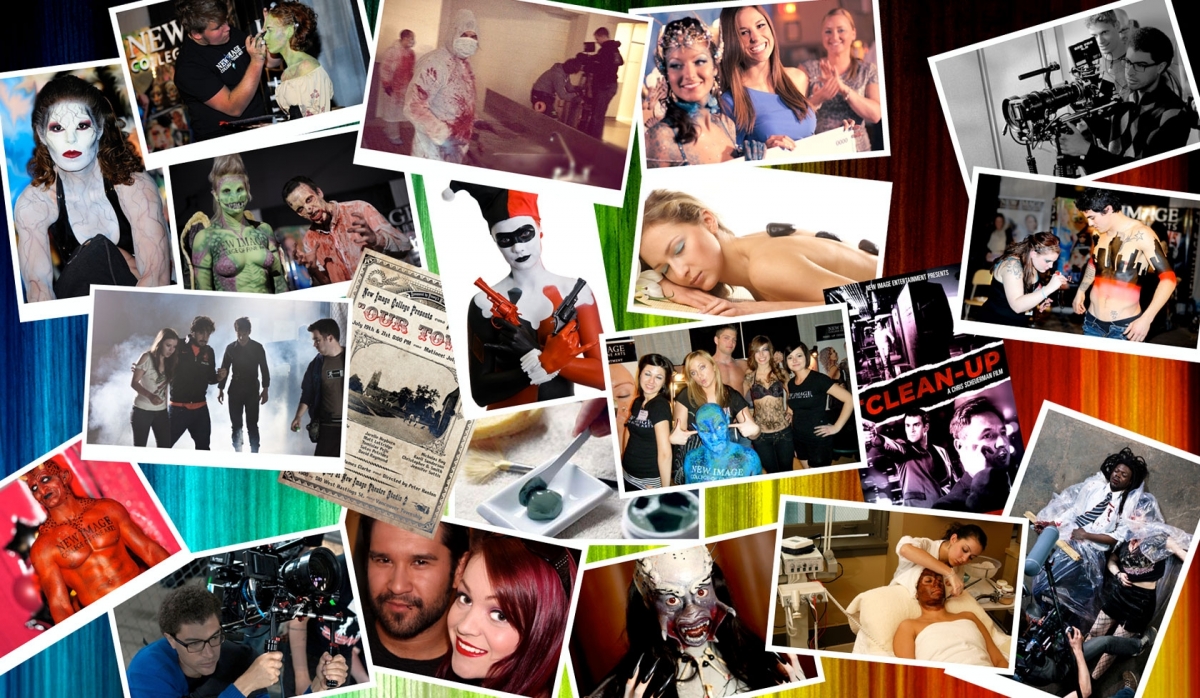 New Image is not just a college for acting and make-up like so many others out there in the world; it also has the added and unique twist of having their own production company housed within the same walls.
New Image Entertainment gives the college's students a chance to get real world experience in the craft they are learning. It's here where practice meets experience. Recognizing that so much of learning is based in practical experience, students in the acting and make-up sections can audition to work on a series of mostly genre-based feature films, from horror to action and everything in between. The students are then mixed with other professional actors and backed by an entirely professional crew to simulate as much as possible the experience one might get elsewhere in the city nicknamed Hollywood North. The budgets are on the low-to-middle side of things, but as I sat back and watched a few trailers and behind-the-scenes videos, I wouldn't have known it from the on screen product.
Now that the tour was over, it was time to head into the office to get some background on the school and what sets it apart from the other acting and make-up schools in the area. I sat down with Charie Van Dyke, President of New Image College, and was joined on the phone by John Craig, Co-President of the college and head of the production company.

MM: When did the school start, and then when did the production company come about?

Charie Van Dyke: The school started in 1980, and we started the production (company) in 2007. The idea was that we wanted a place for the students to go to. So they'd train in acting or make-up, and then be able to use their skills hands on. So it really did start as a method of employment for our own students.
MM: What is the day-to-day activity at New Image Entertainment?

John Craig: We mainly work on make-up-driven movies, genre films, and are in post-production on five features and pre-production on our next two features.
CVD: The idea is to now take things to a new level and take it outside the school. So we've now got people approaching us to handle film production for them. They come in with their budgets and that completely changes the game. The neat thing about that is we can still get our acting graduates involved and they can get union credits and we'll always use our make-up people and now they can make money.
MM: Once the films are done going through post-production, etc., where do they end up?

JC: They go out into the movie world. One is over at Cannes trying to be sold to the European movie market. It goes out into the movie world.
MM: So they try to get into festivals, etc.?

JC: Absolutely. There's a couple of films that have sat on shelves. At the end of the day, they are still students. We've made 10 movies.
MM: How have the programs progressed over the years?

CVD: It's very different now. In the '80s, we primarily taught skin -- and we still do the spa program -- we taught make-up, and we taught acting. And we still teach those three same core programs, but it was all part-time classes (back then). Now, we're more career-oriented, and there are one-year programs, and now acting is two years. It was more of a part-time personal development program (when we started) than the career-focused ones we have today.
MM: How has technology changed the acting program? I mean, when you first started there weren't as many micro or low budget films being made, or web series, or even TV series?
CVD: Back then, it was a lot more scene study. Now, there's a lot more on camera projects for sure. Feature film projects, videos we can put up on YouTubeASHRAE 62.1 . It's a faster-paced program, for sure. We've gone out with it, now they learn how to do ADR.
That wrapped up the afternoon, but I was left with a lasting impression that New Image College of Fine Arts is a school that gets it right. All of my interactions with the staff and students in the nearly 90 minutes I was on site were beyond positive.
Prospective students in Vancouver may be interested in checking out the school's open house this coming Friday, July 25. Their summer teen camps are also in full swing for all three main disciplines (acting, make-up, and esthetics/spa). More information on the school can be found at www.newimage.ca, while the production company can be found at www.newimageentertainment.ca
fifa 14 coins | cheap fifa coins | cheap fifa 14 coins | FUT 14 Coins | fifa coins
Tags: New Image College of Design and Technology, New Image Entertainment, interview, education, entertainment, acting, make-up, esthetics, Vancouver
Related Posts
Mark McLeod has always loved film. In addition to his roles with ShowbizMonkeys.com, Mark also works on many film promotion projects in Vancouver, BC, through his company, Mark McLeod PR.
Search SBM Archives