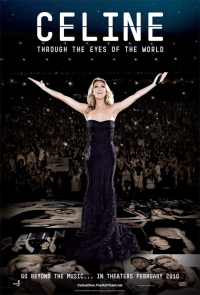 Celine: Through the Eyes of the World
| | |
| --- | --- |
| Release | February 17, 2010 (Wide) |
| Cast | Céline Dion, René Angelil |
| Director | Stéphane Laporte |
| Genres | Documentary, Musical |
| Studio | Pictures Releasing |
| Length | 118 mins. |
| Website | thehotticket.net/celinedion |
Synopsis
Celine Dion, the international superstar and best-selling female artist of all time, has toured around the world and back again, and now, Sony Pictures Releasing's special programming division, The Hot Ticket, will let audiences follow her everywhere. For a limited engagement beginning early next year in wide release, Celine: Through the Eyes of the World will bring Celine Dion's 2008-2009 Taking Chances World Tour to theaters. This special motion picture event gives Dion fans who attended the extremely popular tour—which placed Dion second only to Madonna in ticket sales in 2008—another chance to experience the magical event, this time from a vantage point unparalleled by any ticket.
Join Celine as she travels to five continents and 25 countries, putting on show-stopping performances of some of her biggest hits. However, this world tour is different as Celine is traveling with her husband, her eight-year-old son, her mother, and her extended family. Intercutting concert performances with behind the scenes footage, audiences will get the chance to really know Celine, her family, and her co-performers as well as those fans that she meets and performs for around the world.
Inspirational, moving, honest and surprisingly funny, Celine: Through the Eyes of the World captures Dion's deft balance between the demands of an elaborate and extensive year-long worldwide tour and Dion's top priority—caring for and enjoying time with her family.
Movie Releases by Year
2024 • 2023 • 2022 • 2021 • 2020 • 2019 • 2018 • 2017 • 2016 • 2015 • 2014 • 2013 • 2012 • 2011 • 2010 • 2009 • 2008 • 2007 • 2006 • 2005 • 2004
Search SBM Archives