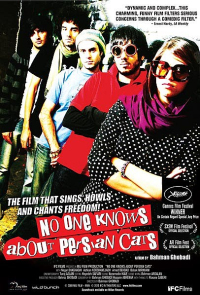 No One Knows About Persian Cats
| | |
| --- | --- |
| Release | April 23, 2010 (Limited) |
| Cast | Negar Shaghaghi, Ashkan Koshanejad, Hamed Behdad, Hichkas, Hamed Seyyed Javadi, Ash Koosha |
| Director | Bahman Ghobadi |
| Writer | Bahman Ghobadi, Hossein Mortezaeiyan, Roxana Saberi |
| Genres | Drama, Musical |
| Studio | IFC Films |
| Length | 101 mins. |
| Website | LesChatsPersans-LeFilm.com |
Synopsis
A vibrant and eye-opening look at the underground indie music scene in Tehran, the film was co-written with Ghobadi by imprisoned Iranian-American journalist Roxana Saberi, and was the winner of the Un Certain Regard Special Jury Prize at the Cannes Film Festival.
PERSIAN CATS follows young singer Negar and her musician boyfriend Askhan, who attempt to form a rock band after being released from prison. Forbidden by authorities to play in Iran, and dreaming of performing in Europe, they plan their escape. The necessary paperwork proves impossible to come by legitimately, so they team up with Nader, a fast-talking music promoter, who may be able to provide the connections they need. With passports and visas being made to order, the trio trawl the Tehran underworld, listening to local rockers, metal-heads, rappers, singer-songwriters, musicians of every sort - all of whom will go to any length to perform their music. But with deadlines looming and authorities on their heels, their hopes of completing their mission may soon be shattered.
Shot in secret and featuring extraordinary performances by real underground musicians (it is estimated there are 2,000 illegal bands in Tehran), NO ONE KNOWS ABOUT PERSIAN CATS is both a serenade to and an indictment of the former hometown of Ghobadi and a vital celebration of an entire generation of Iranians striving towards personal and creative freedom.
Movie Releases by Year
2024 • 2023 • 2022 • 2021 • 2020 • 2019 • 2018 • 2017 • 2016 • 2015 • 2014 • 2013 • 2012 • 2011 • 2010 • 2009 • 2008 • 2007 • 2006 • 2005 • 2004
Search SBM Archives