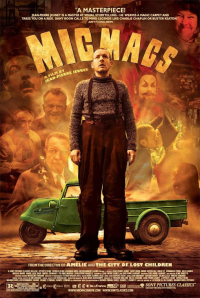 Micmacs
| | |
| --- | --- |
| Release | May 28, 2010 (Limited) |
| Cast | Dany Boon, Yolande Moreau, Jean-Pierre Marielle, Dominique Pinon |
| Director | Jean-Pierre Jeunet |
| Writer | Jean-Pierre Jeunet, Guillaume Laurant |
| Genres | Comedy, Crime, Thriller |
| Studio | E1 Entertainment |
| Length | 105 mins. |
| Website | LoveFilm.com/micro/Micmacs.html |
Synopsis
Is it better to live with a bullet lodged in your brain, even if it means you might drop dead any time? Or would you rather have the bullet taken out and live the rest of your life as a vegetable? Are zebras white with black stripes or black with white stripes? Is scrap metal worth more than landmines? Can you get drunk from eating waffles? Can a woman fit inside a refrigerator? What's the human cannonball world record?

First, it was a mine that exploded in the middle of the Moroccan desert. Years later, it was a stray bullet that lodged in his brain... Bazil (Dany Boon) doesn't have much luck with weapons. The first made him an orphan, the second holds him on the brink of sudden and instant death.
Released from the hospital, Bazil is homeless. Luckily, our inspired and gentle-natured dreamer is adopted by a motley crew of secondhand dealers living in a veritable Ali Baba's cave, whose talents and aspirations are as surprising as they are diverse: Remington, Calculator, Buster, Slammer, Elastic Girl, Tiny Pete and Mama Chow.
One day, walking by two huge buildings, Bazil recognizes the logos of the weapons manufacturers that caused his hardship. With the help of his faithful gang of wacky friends he sets out to get revenge. A gang of underdogs battling heartless industrial giants, they relive the battle of David and Goliath, with all the imagination and fantasy of Buster Keaton...
In French with English subtitles.
Movie Releases by Year
2024 • 2023 • 2022 • 2021 • 2020 • 2019 • 2018 • 2017 • 2016 • 2015 • 2014 • 2013 • 2012 • 2011 • 2010 • 2009 • 2008 • 2007 • 2006 • 2005 • 2004
Search SBM Archives