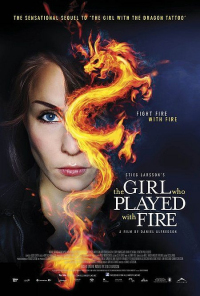 The Girl Who Played with Fire
| | |
| --- | --- |
| Release | July 2, 2010 (Limited) |
| Cast | Noomi Rapace, Michael Nyqvist, Lena Endre, Sofia Ledarp, Georgi Staykov |
| Director | Daniel Alfredson |
| Writer | Jonas Frykberg, Stieg Larsson |
| Genres | Action, Mystery, Thriller |
| Studio | Music Box Films |
| Length | 129 mins. |
| Website | musicboxfilms.com/the-girl-who-played-with-fire |
Synopsis
Two journalists on the verge of exposing their story in Millennium about an extensive sex trafficking operation between Eastern Europe and Sweden are brutally murdered. Lisbeth Salander's prints are on the weapon.
Mikael Blomkvist, alone in his belief in Salander's innocence, plunges into an investigation of the slayings which will implicate highly placed members of Swedish society, business and government. Knowing Salander to be fierce when fearful, he is desperate to get to her before she is cornered and alone but she is nowhere to be found. Digging deeper, Blomkvist also unearths some heart-wrenching facts about Salander's past life. Committed to psychiatric care at aged 12, declared legally incompetent at 18, she is the product of an unjust and corrupt system.
Meanwhile, the elusive Salander herself is drawn into a murderous hunt in which she is the prey, and which compels her to revisit her dark past.
Novelist Stieg Larsson died suddenly in 2004 and left behind three unpublished novels known as the Millennium trilogy. Since his first novel The Girl With the Dragon Tattoo was published in Sweden in 2005, the trilogy has become a major international sensation with an estimated 40 million copies of all of Larsson's books sold worldwide. To say it is unusual for a posthumous work in translation to reach number one on the New York Times bestseller list is an understatement. To see a posthumous work in translation reach number one around the world is unprecedented.
The Girl Who Kicked the Hornet's Nest, the third novel in the trilogy will be published in the U.S. on May 25. The film adaptation will be released by Music Box Films in theatres on October 15.
Movie Releases by Year
2024 • 2023 • 2022 • 2021 • 2020 • 2019 • 2018 • 2017 • 2016 • 2015 • 2014 • 2013 • 2012 • 2011 • 2010 • 2009 • 2008 • 2007 • 2006 • 2005 • 2004
Search SBM Archives