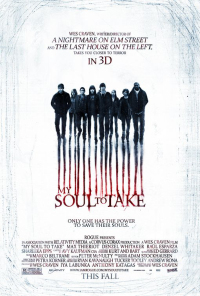 My Soul to Take
| | |
| --- | --- |
| Release | October 8, 2010 (Limited) |
| Cast | Nick Lashaway, Max Thieriot, Denzel Whitaker, Zena Grey, Dennis Boutsikaris |
| Director | Wes Craven |
| Writer | Wes Craven |
| Genres | Horror, Thriller |
| Studio | Rogue Pictures/Alliance Films |
| Length | 106 mins. |
| Website | IAmRogue.com/MySoulToTake |
Synopsis
From writer/director Wes Craven comes a suspense thriller that warns us evil is working 24 hours a day, 7 days a week. And if you have any chance at beating it, you'll have to fight for your life "25/8." Released in 2D and 3D.
In the sleepy town of Riverton, legend tells of a serial killer who swore he would return to murder the seven children born the night he died. Now, 16 years later, people are disappearing again. Has the psychopath been reincarnated as one of the seven teens, or did he survive the night he was left for dead? Only one of the kids knows the answer.
Adam "Bug" Heller (Max Thieriot) was supposed to die on the bloody night his father went insane. Unaware of his dad's terrifying crimes, he has been plagued by nightmares since he was a baby. But if Bug hopes to save his friends from the monster that's returned, he must face an evil that won't rest…until it finishes the job it began the day he was born.
Movie Releases by Year
2024 • 2023 • 2022 • 2021 • 2020 • 2019 • 2018 • 2017 • 2016 • 2015 • 2014 • 2013 • 2012 • 2011 • 2010 • 2009 • 2008 • 2007 • 2006 • 2005 • 2004
Search SBM Archives