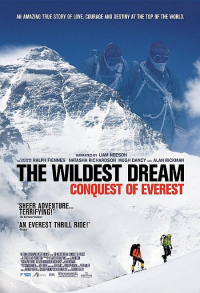 The Wildest Dream
| | |
| --- | --- |
| Release | August 6, 2010 (Limited) |
| Cast | Conrad Anker, Leo Houlding |
| Voices | Hugh Dancy, Ralph Fiennes, Liam Neeson, Natasha Richardson, Alan Rickman |
| Director | Anthony Geffen |
| Writer | Mark Halliley |
| Genres | Documentary |
| Studio | National Geographic Entertainment |
| Length | 94 mins. |
| Website | TheWildestDream.com |
Synopsis
Directed by acclaimed documentary filmmaker Anthony Geffen and featuring the vocal talents of narrators Liam Neeson, Hugh Dancy, the late Natasha Richardson, Ralph Fiennes and Alan Rickman, The Wildest Dream is a breathtaking mountaineering adventure that seeks to provide answers to the enduring mystery of the death of George Mallory on Mount Everest. Foremost among them: Did Mallory succeed in reaching the summit before he and fellow climber Sandy Irvine died that fateful day in 1924?
In 1999, renowned American mountaineer Conrad Anker made a discovery that reverberated around the globe. High in Mount Everest's "death zone," he found the remarkably preserved body of George Mallory—75 years after the British explorer mysteriously vanished during his attempt to become the first man to summit the world's tallest peak.
In the quest for answers, Anker returns to Everest in 2007 with British climbing prodigy Leo Houlding, replicating as closely as possible Mallory's fateful expedition. The men retrace the North East Ridge Route, even removing the 90-foot ladder from the infamous Second Step to "free climb" this terrifying section of the mountain, just as Mallory and Irvine would have done 83 years earlier.
Far more than a documentary about mountain climbing, The Wildest Dream tells the passionate story of a man torn between two overwhelming and competing loves: his wife and the mountain that ultimately took his life. Told through revealing letters between Mallory and his beloved Ruth, the film combines previously unseen archival photos and film footage with the present-day story of Anker's expedition.
Movie Releases by Year
2024 • 2023 • 2022 • 2021 • 2020 • 2019 • 2018 • 2017 • 2016 • 2015 • 2014 • 2013 • 2012 • 2011 • 2010 • 2009 • 2008 • 2007 • 2006 • 2005 • 2004
Search SBM Archives