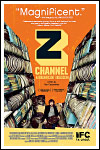 Z Channel: A Magnificent Obsession
| | |
| --- | --- |
| Release | September 17, 2004 (Limited) |
| Cast | Quentin Tarantino, Alexander Payne, Robert Altman, Penelope Spheeris |
| Director | Xan Cassavetes |
| Genres | Documentary |
| Studio | IFC Films |
| Length | 122 mins. |
Synopsis
This riveting documentary is the story of a unique Los Angeles TV outlet – Z Channel (the first movie channel in the US, before Showtime and HBO, to show uncut movies) – and the incredible programming of troubled genius Jerry Harvey, who eventually killed himself. Harvey was a talented but deeply troubled man who introduced the best of world cinema to the city by screening uncut versions of films like Sergio Leone's three hour, 45 minute version of Once Upon a Time in America and Sam Peckinpah's The Wild Bunch.
Launched in 1974 in Los Angeles, Z Channel was one of the country's first pay cable stations. Its prominence was solidified in 1980 when maverick programmer Jerry Harvey took over as head of programming. Z's uniqueness was attributed to Harvey and his staff's determination, diverse taste, and encyclopedic knowledge of cinema. Harvey's programming showcased a combination of classic, international, independent, and Hollywood films. Z was the first to develop programming innovations such as 'director's cuts' and uniquely-themed on-air festivals, while also airing many rare and never-before-seen exclusives and critically-acclaimed films not in the mainstream.
The documentary chronicles Harvey's emergence as a brilliant programmer, but also explores Harvey's emotional and psychological descent, which eventually resulted in a shocking murder/suicide and the eventual demise of Z Channel itself.
Movie Releases by Year
2024 • 2023 • 2022 • 2021 • 2020 • 2019 • 2018 • 2017 • 2016 • 2015 • 2014 • 2013 • 2012 • 2011 • 2010 • 2009 • 2008 • 2007 • 2006 • 2005 • 2004
Search SBM Archives