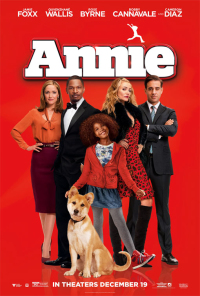 Annie
| | |
| --- | --- |
| Release | December 19, 2014 (Wide) |
| Cast | Jamie Foxx, Quvenzhané Wallis, Rose Byrne, Bobby Cannavale, Adewale Akinnuoye-Agbaje, David Zayas, Cameron Diaz |
| Director | Will Gluck |
| Writer | Will Gluck, Aline Brosh McKenna |
| Genres | Family, Comedy, Musical |
| Studio | Sony Pictures/Columbia Pictures |
| Length | 119 mins. |
| Website | www.Annie-Movie.com/site |
Synopsis
Annie (Quvenzhané Wallis) was left at a foster home by her parents as a baby with a note saying they'd be back for her someday. Since then, she's remained under the care of the mean Miss Hannigan (Cameron Diaz), who makes Annie and the other foster girls work their fingers to the bone.
While running after a dog, Annie bumps into New York mayoral candidate Will Stacks (Jamie Foxx) and falls into the path of an oncoming van. Stacks pulls her out of the way and is hailed as a hero. When his VP, Grace (Rose Byrne) and his campaign advisor, Guy (Bobby Cannavale) find out his heroic move has put Stacks five points up in the polls, they decide it would be a wise campaign move to have him seen spending time with Annie.
Despite Miss Hannigan's reluctance, Grace picks Annie up to take her for lunch with Stacks. When Annie finds out why she got the invite, she suggests if Stack took her to live with him, he'd probably be elected president. He does just that, and Annie's cheerful optimism begins to grow on him.
Related Posts
Movie Releases by Year
2024 • 2023 • 2022 • 2021 • 2020 • 2019 • 2018 • 2017 • 2016 • 2015 • 2014 • 2013 • 2012 • 2011 • 2010 • 2009 • 2008 • 2007 • 2006 • 2005 • 2004
Search SBM Archives