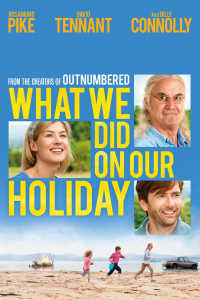 What We Did on Our Holiday
| | |
| --- | --- |
| Release | July 10, 2015 (Limited) |
| Cast | Rosamund Pike, David Tennant, Billy Connolly, Celia Imrie, Ben Miller, Annette Crosbie |
| Director | Guy Jenkin, Andy Hamilton |
| Writer | Andy Hamilton, Guy Jenkin |
| Genres | Comedy |
| Studio | Lionsgate Films/Pacific Northwest Pictures |
| Length | 95 mins. |
Synopsis
Doug (David Tennant) and Abi (Rosamund Pike) are taking their three children on a trip to Scotland to celebrate Doug's father Gordie's (Billy Connolly) birthday. Doug and Abi are in the midst of a difficult divorce following Abi finding out Doug cheated on her. In order not to upset Gordie, who has terminal cancer, they have asked the kids to keep it a secret.
Doug and his millionaire brother Gavin don't get along and as the inevitable feuds kick in, it causes the children to do something completely surprising.
With the repercussions that ensue - hilarious and emotional in equal measure - the family are forced to put aside their differences and work together or else risk losing their children.
Movie Releases by Year
2024 • 2023 • 2022 • 2021 • 2020 • 2019 • 2018 • 2017 • 2016 • 2015 • 2014 • 2013 • 2012 • 2011 • 2010 • 2009 • 2008 • 2007 • 2006 • 2005 • 2004
Search SBM Archives