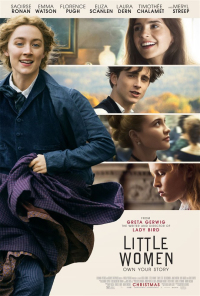 Little Women
| | |
| --- | --- |
| Release | December 25, 2019 (Wide) |
| Cast | Saoirse Ronan, Emma Watson, Laura Dern, Timothée Chalamet, Meryl Streep, Chris Cooper, Florence Pugh, Eliza Scanlen, Bob Odenkirk, Louis Garrel |
| Director | Greta Gerwig |
| Writer | Greta Gerwig |
| Genres | Drama |
| Studio | Sony Pictures/Columbia Pictures |
| Length | 135 mins. |
| Website | LittleWomen.Movie |
Synopsis
During the Civil War in America, four sisters — Meg (Emma Watson), Jo (Saoirse Ronan), Beth (Eliza Scanlen) and Amy (Florence Pugh) — are thrilled to get a new next-door neighbor, Laurie (Timothée Chalamet), who has moved in with his grandfather, Mr. Laurence.
With their father away at war, the girls occupy themselves in different ways, including putting on plays that Jo has written. Jo is also tasked with assisting their great-Aunt March (Meryl Streep), a wealthy widow. As Christmas approaches, the girls face spending the holiday with their beloved mother, Marmee (Laura Dern), but without their father.
Based on the classic novel by Louisa May Alcott.
Movie Releases by Year
2024 • 2023 • 2022 • 2021 • 2020 • 2019 • 2018 • 2017 • 2016 • 2015 • 2014 • 2013 • 2012 • 2011 • 2010 • 2009 • 2008 • 2007 • 2006 • 2005 • 2004
Search SBM Archives