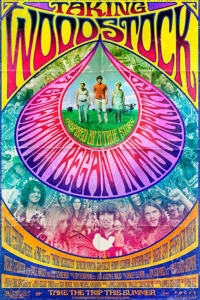 Taking Woodstock
| | |
| --- | --- |
| Release | August 26, 2009 (Limited) |
| Cast | Demetri Martin, Emile Hirsch, Imelda Staunton, Henry Goodman, Jonathan Groff, Mamie Gummer, Eugene Levy, Jeffrey Dean Morgan, Liev Schreiber |
| Director | Ang Lee |
| Writer | James Schamus |
| Genres | Comedy |
| Studio | Alliance Films/Focus Features |
| Length | 110 mins. |
| Website | TakingWoodstockthemovie.com |
Synopsis
A generation began in his backyard... From Academy Award-winning director Ang Lee ("Brokeback Mountain," "Crouching Tiger, Hidden Dragon"), comes "Taking Woodstock," a new comedy inspired by the true story of Elliot Tiber (Demetri Martin) and his family, who inadvertently played a pivotal role in making the famed Woodstock Music and Arts Festival into the happening that it was.
It's 1969, and Elliot Tiber, a down-on-his-luck interior designer in Greenwich Village, New York, has to move back upstate to help his parents run their dilapidated Catskills motel, The El Monaco. The bank's about to foreclose; his father wants to burn the place down, but hasn't paid the insurance; and Elliot is still figuring how to come out to his parents.
When Elliot hears that a neighboring town has pulled the permit on a hippie music festival, he calls the producers, thinking he could drum up some much-needed business for the motel. Three weeks later, half a million people are on their way to his neighbor's farm in White Lake, NY, and Elliot finds himself swept up in a generation-defining experience that would change his life, and American culture, forever.
Movie Releases by Year
2024 • 2023 • 2022 • 2021 • 2020 • 2019 • 2018 • 2017 • 2016 • 2015 • 2014 • 2013 • 2012 • 2011 • 2010 • 2009 • 2008 • 2007 • 2006 • 2005 • 2004
Search SBM Archives