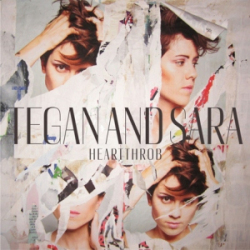 Photo Gallery: Tegan and Sara Live
Filed under: Reviews
Tegan and Sara, the Canadian folk pop twin sister duo, have been performing together for almost 20 years and making records for nearly 15. With six studio releases under their belt, floating mostly between indie folk and rock, the sisters' seventh record (Heartthrob, released on January 29, 2013) takes them head on into a commercialized pop sound. The debut single and album opener, "Closer", makes their intentions clear right from the start.
Of course, as any fan of the duo will tell you, those catchy melodies and hooks have been there this whole time, just often presented in a different package. And even though they've embraced a synth-pop sound with Heartthrob, those killer harmonies and emotionally-resonant themes still remain.
On the heels of their new album, Tegan and Sara are in the midst of a North American tour (including stops on national television, such as this performance on Ellen) taking them to theatres and -- for the first time in their careers -- some arenas. ShowbizMonkeys.com got the chance to attend their stop in Winnipeg at the MTS Centre on February 26, and we brought our camera along to snap a few photos of the twin rockers as they played in front of several thousand adoring fans.
Tags: Tegan and Sara, Heartthrob, Closer, Winnipeg, Canadian music, folk, pop, indie rock, photo gallery
Related Posts
Paul Little is the founder and Managing Editor of ShowbizMonkeys.com. When not interviewing his favourite musicians and comedians, he can also be found putting on and promoting music and comedy events with The Purple Room in Winnipeg, or co-producing the live comedy game shows Pants on Fire and The Great Patio Showdown. (@comedygeek)
Comments Posted ()
Search SBM Archives