2013 Winnipeg Folk Festival: Ongoing live coverage with tweets, photos, videos, interviews
Filed under: Festivals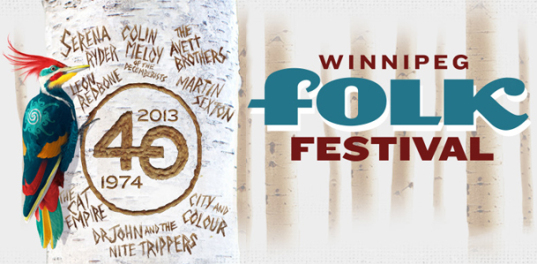 The Winnipeg Folk Festival has certainly undergone some changes over the years. Since the first notes flew through the air 40 years ago, the festival has welcomed tens of thousands more people, seen the length of the festivities go from three to four days (and now five), and seen the inclusion of music not exactly rooted in the Dylan or Guthrie-style folk of the 70s -- world music, rock, pop, and hip-hop have all found their place in one form or another at the festival in recent years.
But a lot has also remained the same, almost remarkably so given how different the world seems compared to the early 70s. Despite the meteoric rise in technology, a society far more accepting of its differences, and countless genres of music coming to existence during that time, many of the things that gave the Winnipeg Folk Festival its identity in 1974 remain: the political undertones and calls for social justice; the workshops which have now become standard at many festivals of its kind; and the community togetherness that sees thousands of people converge on a patch of land at Bird's Hill Park once a year with very little incident whatsoever.
As the festival celebrates its 40th anniversary this Wednesday through Sunday, organizers are bringing back a handful of performers from that first outing, as well as many other longtime festival faves and Winnipeg Folk Fest newcomers. As a primer, we've prepared for you a list of must-see performers if you're lucky enough to be in the centre of the continent this week. And of course, we're far from an authority on matters, so if we missed anybody you think others should be sure not to miss, leave a comment below. Nothing is more quintessentially "Winnipeg Folk Festival" than discovering new artists that are mind-blowingly talented!
Wednesday Favourite: The Avett Brothers
While a lot of people came out to see opening night headliner City and Colour -- especially the younger festivalgoers -- it was North Carolina band the Avett Brothers (headed by siblings Scott and Seth Avett) that truly brought it on the first night of the festival. That's not to say that City and Colour's Dallas Green didn't put on a great performance filled by radio hits and folk-pop earworms -- it's just that the Avett Brothers were that good! Seemlessly mixing some of the heaviest, most rockin' folk we've ever seen at the festival with heartfelt traditional folk ballads that the band may be a bit more known for, it was a show to remember for the thousands who made the trek to Birds Hill Park. Short clips and photos of both shows can be seen below, so you can of course judge for yourselves.
Thursday Favourite: Serena Ryder
Again, this was a case of the night's headliner (Colin Meloy, lead singer of The Decemberists) putting on a wonderful show, but just not quite comparing to Serena Ryder and the incredible energy she brought to the main stage. Thursday night crowds usually don't spend this much time dancing -- that's usually reserved for the funkier bands that hit the main stage later in the weekend -- but she had everyone from the tarp sitters to the chill volunteers up on their feet and moving around. Of course, she also had her band leave the stage midway through her set to perform a few very beautiful ballads, but it was her high-energy numbers that made her the highlight of Thursday. Massive hit "Stompa" was definitely the song that got the biggest response from the crowd, which is understandable not just because it was heard everywhere over the last year, but because it really is a terrific track.
Mention should also be made to a few other acts in this stacked line-up, including the legendary Indigo Girls, the always-engaging Josh Ritter, and short tweener sets from Jason Collett and Winnipegger Del Barber.
Friday Pick: Danny Michel with the Garifuna Collective
There are some fine performers hitting the main stage on Friday at the Winnipeg Folk Festival -- and of course, Friday is the first day the smaller stages open up for workshops and more intimate feature concerts -- but the most anticipated performance for ShowbizMonkeys.com is festival (and Winnipeg) favourite Danny Michel. A performer who has played Winnipeg's West End Cultural Centre so often they could probably name the stage after him, Michel is joined at this festival by Afro-Amerindian group the Garifuna Collective. Recently joining forces for the album Black Birds Are Dancing Over Me, the often stripped-down Michel sees his sound mix with the music of his adopted second home of Belize. The result should be a great time for Friday visitors to the festival.
Also worth checking out on Friday: guitar virtuoso-turned-singer/songwriter Kaki King, throwback folk act The Milk Carton Kids, the incredibly high-energy The Cat Empire, Toronto (and now Nashville-based) country folk singer Lindi Ortega, and the always-interesting Patrick Watson, who we discovered at this festival during our first year of coverage a few years back.
We welcome you to follow us on Twitter (@showbizmonkeys), Instagram (instagram.com/showbizmonkeys), Vine and Facebook (facebook.com/showbizmonkeys) -- or simply check out all the coverage below! And if you're at Bird's Hill Park, we want to hear from you! Leave comments on this page about who you're most looking forward to see or your favourite festival moments as they happen, and be sure to tag us if you're posting on social media so we can include you in our coverage.
Here's to an amazing weekend for music fans, campers, volunteers, performers, Folk Fest staff, and everyone else who isn't here but wish they could be. Happy Folk Fest!
Tags: Winnipeg Folk Festival, folk fest, folk music, singer/songwriters, live music, festivals, Patrick Watson, The Milk Carton Kids, Danny Michel
Related Posts
Paul Little is the founder and Managing Editor of ShowbizMonkeys.com. When not interviewing his favourite musicians and comedians, he can also be found putting on and promoting music and comedy events with The Purple Room in Winnipeg, or co-producing the live comedy game shows Pants on Fire and The Great Patio Showdown. (@comedygeek)
Comments Posted ()
Search SBM Archives