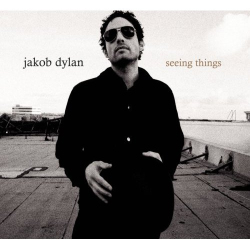 New Music Releases: June 10th, 2008
Jakob Dylan Seeing Things (Amazon)
This is the first solo album from ex-Wallflowers frontman Jakob Dylan. It was produced and recorded by Rick Rubin in a home studio throughout 2007. The album is full of homegrown acoustic songs that showcase Dylan's considerable talent as a singer/songwriter, and prove that the apple doesn't fall far from the tree.
Other releases this week...
Alanis Morissette Flavors of Entanglement (Amazon)
N.E.R.D. Seeing Sounds (Amazon)
Martha Wainwright I Know You're Married But I've Got Feelings, Too (Amazon)
Tags: Jakob Dylan, Alanis Morissette, Martha Wainwright, CD Releases
Related Posts
Original Comments Posted (4)
Ariana says...
I heard the Martha Wainwright album is amazing. I can't wait to check it out! Also Jakob Dylan. I sat under his guitar at the Hard Rock Café in Hollywood once, you know. Yes, I'm that cool.
Jun 10, 2008 1:37am
sarahm says...
Yeah, I listened to a bunch of the Jakob Dylan album today on his myspace and it's actually really good. Not that I'm suprised that I like it, you know how I feel about Bob Dylan.
Jun 10, 2008 3:17am
Ariana says...
Jakob is a totally different horse than Bob, though, i.e., one with melody. Oh yes. I went there.
Jun 10, 2008 1:10pm
Sarahm says...
Oh no you didn't! This album isn't as different from Papa D's stuff as say, the Wallflowers. I like it. It's very contemplative and singer-songwriter-esque.
...I didn't mean to imply that I don't like the Wallflowers.
Jun 10, 2008 4:35pm
Comments Posted ()
Search SBM Archives