36th Annual Winnipeg Folk Festival launches five days of music with Elvis Costello
Filed under: Festivals
The Winnipeg Folk Festival has become one of the premiere outdoor festivals in North America over its 36 year history, attracting crowds of over 45,000 paying customers to see the world's best folk, roots, bluegrass, and traditional music performers. The overall atmosphere of the festival, and the friendliness of the Manitoba volunteers and fellow festival-goers, has also drawn visitors in from across North America to the annual event -- while 50% of last year's attendees were from the Winnipeg area, about 40% were from outside of Manitoba, including 25% from the United States.
The festival's reputation has also helped draw in an amazing collection of performers over the years. Legendary folk and roots performers like Bruce Cockburn, Steve Earle, Ani DiFranco, Pete Seeger, Emmylou Harris, Bonnie Raitt, Great Big Sea, k.d. lang, Randy Newman, Stan Rogers, and Bela Fleck have all played the festival at least once. Younger singer/songwriters and folk artists that have paid a visit to the Winnipeg Folk Fest include Feist, Martin Sexton, Hawksley Workman, Tegan & Sara, Jill Barber, Kaki King, friends of the site Grand Analog, Sarah Slean, Kathleen Edwards, and The Weakerthans. Even a young Oasis hit up the festival back in the late 80s.
This year, the Winnipeg Folk Festival features a mix of new and returning acts, including Iron & Wine, Juno-winner Serena Ryder, the eclectic Neko Case, Folk Fest favourite Xavier Rudd, the legendary Arlo Guthrie, actor and folk icon Loudon Wainwright III, singer/songwriter Josh Ritter, celtic folk queen Loreena McKennitt, and ex-Barenaked Lady Steven Page. But the big "get" for this year's festival happened last night with its first-ever Wednesday night opening (expanding the festival to 5 days), with sets from Martha Wainwright and the incomparable Elvis Costello.
Unfortunately, due to previous committments, I couldn't make it out to the festival grounds until just before Costello's set, so I completely missed Martha Wainwright's set (very disappointing), as well as the night's openers, Georgia's The Lowell Sisters. But fortunately for me, as a fan of the Lowells, they ended up joining Costello for almost half his set, adding a bit of traditional acoustic folk and great harmonies to the already broad and diverse sounds Mr. Diana Krall already has up his sleeve. Costello pulled out a great mix of classic tunes and newer songs, including a brand new song that hasn't yet been released (look for a short clip of that tune in our festival round-up video being posted next week).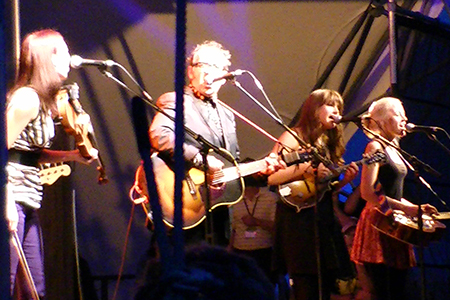 His entire set -- which included the longest encore I've ever seen this side of a prog metal show -- was a delight for all music fans in attendance, and was a great start to this now 5-day music festival. Look for more posts from ShowbizMonkeys.com throughout the rest of the week, and after the festival is over, we'll be posting video interviews with some of the artists performing this year.
Be sure to also stay tuned to our Twitter page, where I'll be updating various thoughts that can be easily summed up in 140 characters right up until Sunday evening.
Tags: Winnipeg Folk Festival, Music Festival, folk, singer/songwriter, bluegrass, Elvis Costello, Martha Wainwright, The Lowell Sisters, Winnipeg
Related Posts
Paul Little is the founder and Managing Editor of ShowbizMonkeys.com. When not interviewing his favourite musicians and comedians, he can also be found putting on and promoting music and comedy events with The Purple Room in Winnipeg, or co-producing the live comedy game show Pants on Fire. (@comedygeek)
Original Comments Posted (3)
ariana says...
Sad about Martha Wainwright... but maybe you'll be able to catch her dad?
Jul 9, 2009 12:12pm
metal2000 says...
Plan to! And crossing fingers on an interview with him, too. Such a great musican, but also a great comedy actor.
Jul 11, 2009 8:08am
sunshine says...
Sounds awesome! Wish I could have been there- maybe next year.....
Jul 12, 2009 1:59am
Comments Posted ()
Search SBM Archives