We used to give away annual awards. That was fun. Here are some of those!
Posted by: Paul Little • August 30, 2010 @ 10:35am
Last night may have been Emmy night in Hollywood, but we all know the internet was clamouring for the real winners of the past season in television: The Crafty Monkey Television & TV Achievement Awards!
Posted by: Paul Little • January 4, 2010 @ 8:00pm
Aren't you excited? A totally trivial list of the top 3 shows/hosts in 5 different categories, picking from a genre of no more than a dozen total shows.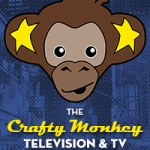 Posted by: Paul Little • September 21, 2009 @ 4:00am
Last night was the 61st Primetime Emmy Awards -- hosted by the hilarious and talented Neil Patrick Harris -- and of course there's coverage of that show and its winners here on our site.
Posted by: Paul Little • January 26, 2008 @ 7:44am
Three sitcoms from the same comedy block; two medical dramas quite different from each other; a couple hour-long comedies looking at opposite ends of the social spectrum; some mysterious people with super powers; a critically-acclaimed but ratings-starved drama; and of course, a serial killer who's actually kind of endearing.
Search SBM Archives