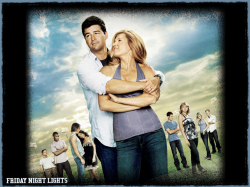 Friday Night Lights: I Knew You When
Filed under: Recaps & Reviews
Welcome back Panther fans! It's the start of the season for Friday Night Lights, and a new season of football for the boys and girls of Dillon, Texas. At the end of last season, the bosses over at NBC came up with an innovative way of keeping the show's lights on, and production costs were split between the network and the digital satellite provider DirectTV. That means that some DirectTV subscribers in the States may have already had a chance to catch season three as it aired throughout the fall.
Season Three picks up a few months after season two abruptly ended due to last year's writer's strike. Tami has been made principal of Dillon High over the summer, and her new job is not going to be a walk in the park. The budget is a nightmare and is due at the end of the week. The AC is broken, the textbooks are out of date and they have even had to lay off a few of the teachers. As Tami is burning the midnight oil trying to sort through the budget problems, Buddy walks in announcing that the boosters have raised funds for a new jumbotron to be installed at the football field. After Friday night's football game in a David-taking-on-Goliath type move, Tami informs Buddy that she will be reallocating the jumbotron funds to academics- to pay for things like chalk and soap and teachers. I smell a war brewing.
Coach is on thin ice after the Panthers 'imploded' during last year's playoffs. With Smash graduating, Tim Riggins has stepped in at tailback, but he and Saracen are having some trouble finding chemistry. The panthers look sloppy and inexperienced in practice, but Coach vehemently denies that the team is in a rebuilding year. Luckily, when Friday night comes, Riggins and Saracen seem to have found some magic. The team manages to pull off an impressive victory, but none of the underlying issues have been addressed so time will tell if the Panthers will be able to maintain their winning streak for a good season.
Meanwhile there's a new quarterback in town, freshman phenom J.D. McCoy. The radio guys are all heralding him as the next Jason Street, but Coach is not convinced. As we all know, you've got to earn your playing time on Coach Taylor's team. But J.D. has not only got a good arm he has a rich dad, the so-called 'Big Bud of Suds'. Mr. McCoy keeps showing up at practices, chatting it up with Buddy and even brining a smoothie truck (complete with music) onto the field so the players can get some booster juice after practice. Coach is having none of it, and Mac orders Mr. McCoy to: "Get that pink-ass truck off the field!" Hey, wait...I wanted one.
Mr. McCoy is nothing if not determined, and shows up after practice to give Coach a bottle of whiskey and some Cuban cigars as an 'apology' for his smoothie blunder. He tells Coach that the reason he and his family moved to Dillon was so that J.D. could be mentored by a great coach. Coach Taylor does not take kindly to brown nosers, and tells Mr. McCoy that he cannot accept the gifts, but it's fairly clear that Mr. McCoy is going to be a thorn in Coach's side for a the remainder of the season. Despite his dad's tactics, on Friday night J.D. only gets to hold a few extra points once Matty and Riggins have secured the lead for the Panthers. But one long offensive drive ending with a beautiful, slow motion 20-yard touchdown pass shows everyone (including Matty) that JD can really throw a football.
Smash busted his knee during last years playoffs and as a result has missed out on his scholarship. He has been working at the Alamo Freeze and working out with Coach Taylor in the evenings. The doctors say that Smash's knee will never be the same, but Coach tells him to keep working at his game and he'll get it back. After a heart to heart with Riggins (Side Note: In that scene TIM RIGGINS IS WEARING A JASPER PARK SHIRT, YO! That is one of my favorite places in the world), Smash decides to walk off the field. He tells coach that he needs to start living his life as 'Brian', because he's never going to be the Smash again. I wonder if this means he is going to stop talking in third person too?
But don't worry folks, Coach Taylor never gives up on anybody. Watching a video montage of 'Great Moments in Panther History' featuring footage of some of Smash's greater performances, Coach becomes inspired. He picks Brian up at the Alamo Freeze and takes him to play squash. As Smash points out, "It's the whitest sport in history" but he still manages to kick Coach's butt, so clearly his knee is fine.
Julie is working at Appleby's to buy a car, and she has arranged her classes so that she can work some extra shifts. Tami is not happy because she thinks that Julie is not getting the best teachers with her crammed in schedule. But Julie pulls a fast one on Coach, asking him to sign her course change forms in the morning, pre-school while he is busy with Gracie-Bell. This is a girl that has her dad wrapped around her little finger, and the poor guy doesn't have a chance in a house with all those women.
Lyla has decided to stay with Buddy in Dillon, despite the rest of her family moving away to California with her mom's new boyfriend. Buddy would like to think that Lyla has chosen him over her mother, but her staying in Dillon probably has a lot more to do with Tim Riggins than her bumbling dad.
Lyla and Tim Riggins are together, but she's not exactly ready to go public. Tim isn't sure what to do about it, as he hasn't exactly had a lot of relationship experience in the past, and certainly none of the myriad of girls he's been with have ever been ashamed of it. In a rare moment of older brotherly wisdom, Billy points out that Lyla will never take Tim seriously because: "She went to bed with Jesus and woke up with you, Tim. You're a rebound from Jesus."
I'd like to take this moment to tell you that Billy and Tyra's older sister Mindy (yep, the stripper) are in love and it's real and it's public. After a whirlwind five weeks, Billy proposes at the Seven Senoritas Cantina. It's beautiful, or something.
Back at school, Lyla catches Tim flirting with a girl who can only be described as a floozy. She gets angry with him for fulfilling everyone's lowest expectations, and he grumbles that she doesn't take him seriously. But Lyla clearly wins the argument with a well placed, "How am I supposed to take you seriously if you don't take yourself seriously!?" Point. Set. Match.
After an inspired performance in Friday night's game, Tim thanks Lyla for kicking his ass, and admits that he needed it. Oh yes, and he's ok if she doesn't want to tell anybody about them as long as their relationship works. And then, right there in the middle of the post-game celebration at Garrity motors, Lyla plants a very public kiss on her man, much to Buddy's chagrin.
Tyra is having issues with the new guidance counselor, who tells her that she doesn't have the GPA to get into college. After running the numbers with Landry, she realizes that she will need a totally impossible 6.4 in her final year to get in to Texas State or TMU. Tyra is ready to give up on her college dreams, but Billy and Mindy's engagement gives her renewed motivation to keep trying for college. At the end of the episode, she marches back into the guidance counselor's office with a college application for Texas State University all filled out and her petition to run for student body president. You go girl!
That's is for this week folks, aren't you glad the good people of Dillon are back? Tune in next week for more war-of-the-jumbotron between Tami and Buddy, and Grandma Saracen's health continues to deteriorate.
Tags: Friday Night Lights
Related Posts
Original Comments Posted (2)
Ariana says...
WHAT! I never noticed the Jasper Park shirt! I bet it's Taylor Kitsch's own shirt. That's cute.
"Rebound from Jesus" is Billy Riggins' shiningest moment.
Jan 24, 2009 5:48pm
sarahm says...
I know. I lol'd. I really think the Riggins brothers need to get their own comedy hour.
Jan 25, 2009 5:39pm
Comments Posted ()
Search SBM Archives