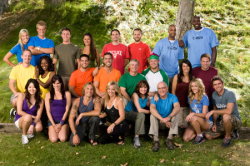 The Amazing Race S.15 Ep.12: Recap & Discussion
Filed under: Recaps & Reviews
Here we are at the finale -- two days past it, at that. I hope by now you've had a chance to see the last episode, or that you've at least heard who won. You're not depending on me for your television news, are you?
Long story short, it turns out it wasn't a big risk this time to predict the winners of six previous legs as the ultimate winners of the race. I did a little research and found that twice in Race history have teams won six legs prior to the final leg. Of these, one team won the whole shebang (Nick & Starr, of two seasons ago), and one did not (Colin & Christie, of "MY OX IS BROKEN" lore). Trivia!
Short story long, teams find out in Prague that their final destination city is Las Vegas. I guess they didn't let them hang out at the last Pit Stop, because both Meghan & Cheyne and Sam & Dan are shocked to see Ericka & Brian at the airport in Prague. Meghan & Cheyne are elated (because they viewed them as lesser competition than the Globetrotters?), while Sam & Dan beg them not to hate them for the cab-stealing.
They ride the same ride through London to Vegas, and then it's all down to cabs and task performance.
First up: an Elvis impersonator at a wedding chapel, whose rendition of "Amazing Grace" (hey, you know what that rhymes with?) teams are forced to wait through while a fake bridal couple stands awkwardly by.
Then, to Mandalay Bay (which teams say many, many times, and it's not at all unfunny), where there is a death- and height-defying Roadblock, in which one team member must rappel face-first 600 feet down the side of the building. Horrors. I mean, I am pretty ok with heights and this looked mad to me. Still, I would think it's that initial leap over the edge that's really freaky. Once you're going, it's no big deal. (Relatively speaking.)
Ericka & Brian get there first, and Ericka takes it. Cheyne takes it for his team, and Sam for his. Ericka finishes before Sam starts, but everyone is overlapped with another team. The only remarkable thing is that Cheyne keeps his eyes closed the entire way down.
The next clue sends teams to the Mirage while we are treated to a series of cuts in what I think is an attempt to make this whole thing seem like an Ocean's 11-style caper. Funsies. At the Mirage, our intrepid racers will be joining the cast of Cirque du Soleil's Love (the Beatles one) to perform this tricky move where one team member launches another up in the air via bungee cords to grab a flower bouquet. Brian & Ericka are big fans of Cirque, Brian informs us, and thus, Ericka is very excited. She soon will not be.
Meghan & Cheyne start shortly after them, but they make quick work of it; whether that's because Meghan is taller or Cheyne is stronger or their teamwork skills are better developed is hard to say. Where I was watching, we noted that Meghan managed to get her feet to hit on her first bounce and that catapulted her high enough to grab the flowers. I don't know why Ericka couldn't manage that. She keeps missing and keeps freaking out more and more until she forces Brian to switch with her. This works even less well, so she goes back up in the bungees. Before long, Sam & Dan pass them as well. Ericka seriously, seriously needs to calm down.
Meghan & Cheyne are now on a hunt for "Monaco's most famous casino," which any good James Bond fan knows is the Monte Carlo. They, however, are not and do not, and they also don't get good information when they ask for help (the Venetian? Bellagio? No), and thus Sam & Dan beat them when they call someone who I think is the concierge at Mandalay Bay. Ericka, meanwhile, is KILLING me with the whining and shrieking. Nonetheless, they get their clue and also beat Meghan & Cheyne to the Monte Carlo.
There, teams must perform what is inexplicably dubbed a Roadblock, despite requiring both members of the team. This Fauxblock requires counting out exactly one million dollars in poker chips from a giant mess of them. What, in your professional opinions, my dear readers, would be the best strategy for going about this? We had a few ideas floating around where I was watching -- should you have one team member sort while the other stacks? Or should you both sort and stack simultaneously? How big should your stacks be?
It seems that maybe when it comes down to it, the trick to this is having a competent casino employee counting your chips. Ouch.
Nonetheless, despite arriving last, Meghan & Cheyne finish first as they are the only team not to require a do-over. (I cheered.) They are given a giant poker chip and a clue, which tells them to deliver the poker chip to Mr. Las Vegas (who moonlights as Wayne Newton) in Suite 88 at the MGM Grand. There, they are in awe of Wayne Newton (yes, the real one) but understandably can't stop to chat for long. He tells them that the finish line is at his house, and that's it for their final clue.
Sam & Dan are hot on their heels and they recognize Wayne Newton's face but have to ask him his name! Poor Wayne Newton. No respect these days.
Cab driving! Lost teams! Freaking out! Most important thing in their lives ever! Pointing! Cabs cabs cabs! We've lost Ericka & Brian! All the other teams lined up cheering at Wayne Newton's house (HI CUTE!JUSTIN)! Cab! Running! It's... MEGHAN & CHEYNE!!!!!!!!!!!!
(Duh.)
They win. Well, I'M thrilled. The remaining two teams cross the finish line with class and Brian pretends to be very shocked when Phil announces that they are third, which is adorable.
Season 16 is currently filming, but I'm afraid I'm hanging up my TAR-capping hat for the foreseeable future and sticking to FOX talent competition shows. It's been a blast, and I'll see you around the site for the rest of SYTYCD and the upcoming season of American Idol!
Tags: tar, the amazing race, race, recap
Related Posts
Original Comments Posted (1)
fujitam says...
Thanks for the recaps Ariana, I will miss the TAR recaps, but will get my fix of Fox talent show recaps :)
Dec 9, 2009 5:58pm
Comments Posted ()
Search SBM Archives