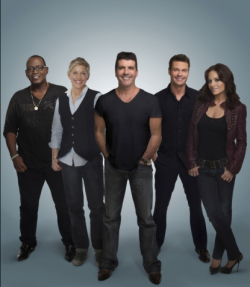 American Idol Season 9: Top 6 Week
Filed under: Recaps & Reviews
All right, it's Shania Twain Week here in Top 6 Land, and I hope somebody sings "You Win My Love." It's my favourite. So many singing into a hairbrush in front of my bedroom mirror memories for me. Wait... actually, I hope no one sings it. It should stay pure in my memory.
Oh man, can you imagine if Aaron Kelly sang "You Win My Love"?
With that mental picture, let's get to the real thing...
...with Lee, singing "You're Still the One." Shania advises him not to rush it. She is ADORBS, and that will be a theme tonight. As usual, his very first line is rough, but the rest is gorgeous. Creative things with the melody, but not song-ruining. I want to kick the backup singers out, but Lee can stay.
Randy says "yo" and "check it out" a lot, as is his wont. Then he says kind of what I said, except less flattering. Ellen liked it even better. Kara says Lee's voice makes everything sound relevant, and she compliments him on how far he's come (my baby). Simon says it was a perfect song choice.
I have a toe cramp, which has now lasted all the way through Lee's numbers, the commercials, and Big Mike's Shania package.
Speaking of him, Big Mike is slow-jamming "It Only Hurts When I'm Breathing." Shania loves his voice, but she tells him that even with a great voice, he has to really feel what he's singing. The toe cramp is now a full-on foot cramp. Ok, I love this song; it is a great song. And you know what Michael has done to it? He has made it so, so boring. Ah well, Shania seems to like it.
Randy says Michael has found his niche: slow-jams. Ellen was nervous about it, but she thought he Luther Vandrossed it up. Kara thinks Michael related to the song well. Simon thinks Ellen's Luther comparison was apt, but the performance was "wet," which he has said before but which no one understands. It's "the opposite of dry," of course.
This foot cramp may be the death of me.
Casey's hair is down again, which makes him look extra giant next to pocket-sized Seacrest. He sings "Don't!" and he does a great job of it, but I am really starting to understand what people mean when they say that he tends to bleat. Still: one of his best.
Randy agrees with me again. What a weird night. Ellen says it felt like he belonged in that song. Kara is very glad he was so vulnerable in that performance. Simon says the Bottom 3 last week was a much needed wake-up call for Casey, and this was probably his best so far. He makes Casey give Shania a big hug (well, he suggested a kiss, but Casey just goes for the hug).
Crystal is singing "No One Needs To Know," YAY! I love The Woman In Me. It is such a dang good album. And Shania is so adorably Canadian. Crystal says this song is a message to her boyfriend: PROPOSE. Man! What if he proposed on the show?!? She'd win FOR SURE. Ok, so the performance: it's good, it's nice, it's bluegrass and front porch like in the video, with the band out on Crystal's magic carpet, and I like the original much better. It isn't Crystal's best, even if I didn't love Shania's version as much as I do.
Randy loves Crystal, but didn't totally love the performance -- but he appreciated that it was country for country week. Ellen pretty much dittos that. Kara says it was believable, if not Crystal's best. Crystal counters that bigger isn't always better, and shush, lady, it's not your turn. Simon thought it was limp and lacked conviction. Nonetheless, Crystal's boyfriend turns out to be pretty adorbs, and far preppier than I would have thought.
Little Aaron will be doing "You've Got a Way," and Shania thinks he is preoccupied with the notes and needs to have confidence in his ability to sing. He sings beautifully, but it's sort of uncomfortable because this song feels too mature for him... at least as Shania does it.
Randy says Aaron did a really good job and this was right in his wheelhouse. Ellen says this week will be a tough elimination because everybody has done so well. HEY! Sixteen-year-old Aaron Kelly had a birthday! He's 17-year-old Aaron Kelly now! Kara says Aaron really seemed to feel the song, and notes that he changed "the way we make love" to "the way you show your love," and Aaron says he was singing the song to his mom. Aw? Ew? Simon says Aaron's really been struggling lately but tonight he was like a different artist.
Siobhan is doing Shania's first number one hit, "Any Man of Mine." YES. Yes! I hope this is wicked awesome. Be awesome, Siobhan. She is... not awesome. There is not enough power in her for this, and far too much awkward. Also she is wearing my mom's couch. By the end, she gets into it almost enough with a big scream, which she hasn't done in a while, but... My roommate and I decided to watch Shania to make up for what Siobhan lacked.
Randy loved the punk-country thing with the big notes. Ellen makes another terrible Twain/train joke. Kara says Siobhan is back! Simon loves that song, surprisingly, but he wasn't totally in favour of Siobhan's song-ending scream, unsurprisingly.
In conclusion: Lee is beautiful, Big Mike continues to jam slowly, Casey has big hair, Crystal was the least good she has been thus far, Aaron sings country ballads well, and Siobhan can do big but not big enough.
It's a night packed with guests. First, Rascal Flatts. Fast-forward!
Idols in vampire-themed Ford commercial set to "Believe," as previously and better done by The Bravery. Vampires are so hot right now, y'all. I won't go into it, but there is garlic pizza involved.
Idols in the new Shrek, which in actuality features Ryan Seacrest at some point.
Then, Antonio Banderas (he is old, yo) and Cameron Diaz are on stage to say hi. Lee is having THE BEST TIME right now.
Some actual results. Ryan informs us he will form three groups of two on the stage. We have Siobhan and Lee on the left, Crystal and Aaron in the middle, and Big Mike and Casey on the right. Ryan then rearranges Siobhan to stand with Big Mike and Casey, and the three of them are in the bottom tonight. Completely unsurprising.
Carrie Underwood shows up to introduce Sons of Sylvia, who apparently herald the advent of hipster country.
And Lady Antebellum with the second most overplayed song currently on radio. (Who owns the first? Adam Lambert.)
Shakira! With Rascal Flatts. Oh. What?
More results. Ryan sends Big Mike back to the couches of safety.
Commercials, and then the person going home is... Siobhan. This surprises me not at all, even though she was given the pimp spot at the end of the show. Once again, just like last season, the girls are dwindling fast. Siobhan sings herself out with "Think."
Next week: Harry Connick Jr. and Sinatra songs.
Tags: american idol, recap
Related Posts
Comments Posted ()
Search SBM Archives