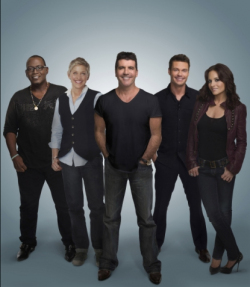 American Idol Season 9: Top 11 Week
Filed under: Recaps & Reviews
I have to watch all three hours of this show on Wednesdays now because I have a class on Tuesday nights. I have thus far remained unspoiled as to the results. No Twitter, Facebook, iGoogle, or email once 5 PM hits on Wednesday. Those Eastcoasters are dangerous folk.
Onward to the performances from Tuesday! Right off the bat, we know Ryan's not in a truthful mood because he says that these kids "rocked" the Rolling Stones last week. No, Ryan. I was there. That is false.
The theme this week is #1 Billboard Hot 100 Hits, and Miley Cyrus is the "mentor." Unironically. The sad thing is that they don't warn the Idols prior to when she walks in the room. Who do you think was the most disappointed? (Ok, disclaimer: I listen to her music. I do. I bop around my house to it. I car dance. I sing along. But that doesn't mean I can take her seriously as an artist. She's a performer, she works with talented people, the kids love her, but she's got little depth.)
Ryan has a cute interview with Miley out in the audience, and I am reminded that she actually is fairly well spoken most of the time. Also, she is still 17. I feel like she has been 17 for at least three years.
So Lee's up first this week, singing "The Letter" by The Box Tops. Lee doesn't seem stoked about Miley, but he is polite. Oh! Oh oh oh! He's singing without his guitar! And wearing a sexy black suit/tshirt combo! I approve! They've brought the horn section and the backup singers down from the rafters to play on stage for this song. Lee's voice is awesome on this, and I have to say the whole thing is unexpected. Well done, sir. (P.S. You are still adorable.)
Randy mixes his metaphors; I think his gist is it was great. Ellen goes for an extended, rambling pen metaphor that actually works (gist: great). Kara is more specific and constructive in that she commends Lee's control, comfort and voice, and also says that he can take it even further. She tells him to believe that he's good. Simon calls it corny, and says that Lee missed his point from last week about the "moment." You know, I get what he's saying, but I know that Lee is safe with this, and he'll continue to be safe if he continues to improve at this rate, and then closer to the end he'll have his ~*MOMENT*~ and it'll win the whole thing for him (or at least take him to the Top 2, since I guess I am officially rooting for Didi to win; who knew?).
On to Paige with Phil Collins' "Against All Odds." Ooh, I heard this was terrible. I can't wait! Ryan tells us as he chats with Paige that former Idol contestants have earned 261 Billboard #1's, which I will admit is mighty impressive, even if most of those are on the obscure charts. (#1 Adult Contemporary Christian/Jazz Fusion! Congrats!) Miley and Paige are a little awkward together, and Miley calls out Paige's pitchiness.
So, ok. First of all, this is a terrible song to sing on this show because it has been done approximately one million times before. Second, this is a terrible song to sing live. It's hard. Third, Paige needs to pick a damn key -- just one! Preferably the right one! And sing in it! She is really struggling. I wish she was better, because she does have some really lovely qualities in her voice.
Randy says that honestly, it was terrible, but takes a really long time to say so. Ellen commends Paige on not falling down from her very, very tall heels -- but that's about it. She turns the music critique part over to Kara and Simon. Kara notes Paige was doing the Mariah version and she could not keep up. She calls it Paige's worst vocal to date, and possibly the worst of the season. Ohh, I don't know; anybody remember "Apologize"? Simon asks Paige how she thinks she did; she admits that she struggled but she had fun and connected. Simon says it was like there were five of her singing it; worse than that, he could tell the exact moment Paige knew she was in trouble.
So there you have it. Verdict: bad.
Tim Urban is doing a Queen song tonight. Oh... why? He sings "Crazy Little Thing Called Love" for Miley, who gives him a hug and says she is all about pushing the limits. She also claims that Tim is not boring. I am here to tell you that he most definitely is. Most of his notes are right, but the performance is so Season 1. He can slide around the stage all he wants, but he and his voice are still not interesting. I would really like for him to go home sooner rather than later. Paige, then Tim and Little Aaron. Yes. This would make me happy. Surely the tweens cannot sustain both Tim and Aaron for much longer.
Randy says the slide was the most dope thing Tim did and his vocals were so boring. Me and Randy, we're likethis. For now. Ellen felt like it was an audition for High School Musical. Kara basically says he doesn't get to be boring until he's more famous, heh. Simon calls it pointless and silly. He seems kind of mad as he tells Tim he has no chance of winning at this point and needs to get more serious about this thing.
Little Aaron's turn. Aaron has laryngitis and tonsillitis. Aaron loves Miley Cyrus. Miley loves Aaron's voice. They share a very chaste hug, pelvic regions at least three feet apart. Aaron is singing Aerosmith's "I Don't Want To Miss a Thing." Of course. So we're 1 for 4, with Lee making the only remotely interesting song choice of the night thus far. Anyway, Aaron sings it... you know, ok. As he does most things. It lacks power, but he is such a nice boy.
Randy remarks on Aaron's couple o' pitch problems, but chalks it up to illness and claims he is a fan. Ellen loves Aaron's voice. In the audience, Miley is stoked for Aaron. Kara is all, "BEST song choice of the night." We're four in, Kara! I PRAY there is a better song choice to come! She talks a lot about Aaron's skill at song choice, but what she really means is, "Way to stay in your box, Little Aaron!" Simon thinks he should young it up a bit, but he knows that Aaron's safe this week. Then I think he says something awkward to or about Miley, but I can't decipher it. Ryan calls Aaron "David Archuleta." The audience ooooohs like this is so scandalous. I don't even know what's going on anymore.
Here we are with Crystal, who has the good sense to pretend she cares about Miley, even going so far as to ask her to sign her guitar. How... entrepreneurial. Crystal is singing Janis Joplin's "Me and Bobby McGee" (an obvious but wise choice) and Miley talks her into raising the key. Scary. So Crystal sings a true-to-the-original version of the song wearing a long hippie dress with all this soft lighting, and really rocks out at the end, almost going honky-tonk. It is so nice, so good, and her voice is maybe the best we've heard it. So it seems Miley was right, if Crystal indeed sang in the higher key. I am far too lazy to rewind and check.
Randy gets really exclaim-y about how awesome it was. Ellen loved it, but she would like to see more responsiveness from Crystal as far as her audience interaction goes. Crystal rebuts that she has "big plans for next week" if she's still here. Kara says that she did feel more from Crystal than previously, but she wonders if Crystal would ever put the guitar down -- and Crystal reminds Kara of what she just told Ellen. Heh. Ok, ok; I am starting to feel the Bowersox love. Simon would not change anything about Crystal's performance. Ryan and Crystal take a seat on Crystal's homey performance rug for the numbers.
This is taking so long. And I am so chatty tonight.
Big Mike and Miley, oh boy. He claims Miley is like his little sister. Already? Big Mike is unsurprisingly singing "When a Man Loves a Woman" by Percy Sledge or Michael Bolton, pick your poison. Mike gets a pianist and a string section on stage with him. This is actually a brilliant song choice for him, I think. It allows him to be theatrical without ruining the song, like he did with "This Woman's Work." And although he brings nothing new to the table, he sings the crap out of it.
Randy likes how Big Mike is who he is every time he hits the stage. Translation: Stay right there in that box, dawg. Ellen loves Big Mike. Kara felt that while it was good technically, it was a bit boring, lounge-y and overindulgent. Simon compares it to wanting one scoop of ice cream and getting eleven. He would have liked a simpler version. Big Mike's face does not take criticism well. (It's ok; mine doesn't either.)
Andrew is next, and he's chosen "I Heard It Through the Grapevine" by Marvin Gaye. Miley suggests that Andrew lose the guitar. And you know, he does a passable job of the song. I think it's the best he's been since we hit the Top 24, which admittedly is not saying much. His voice is interesting on this. It's not life-changing or anything, but I'd rather listen to him than some others we've seen tonight.
Randy says it wasn't good. Know why? "This is not the kind of vocalist you are." BACK IN YOUR BOX, MAN. Ellen doesn't think it was fantastic either, although she loves Andrew. (I can't tell why anymore.) Kara feels like Andrew's need to live up to that moment he had with the Paula song is messing with his head. Simon thinks that maybe that moment was overrated in hindsight. "A cute version of a Paula song," he says. Correct! Simon thinks Andrew doesn't know who he is as an artist; Andrew begs to differ.
Katie meets her peer, Miley Cyrus, and tells her she's singing "Big Girls Don't Cry" by Fergie, which is at least an interesting choice. I don't think it's going to go well for her, though; Katie's tone is so harsh and won't be served well by a song with such a clear, simple melody as this. Man, Katie is another one that I would like to see go soon. Pretty much I want everyone but Casey, Lee, Crystal, Didi and Siobhan gone. Could we kick the other six off in one week and just have a bunch of concerts from those five? But right, Katie: she starts out promising, but by the chorus... ouch. Sharp, harsh, wobbly, many more bad descriptors than I care to think up right now. I personally think this might have been worse than Paige's performance. Also, her outfit is truly horrifying.
Randy does comment on the pitchiness, but he appreciates that Katie is listening and choosing younger songs. Ellen thinks it was Katie's best performance so far. Kara likes the pop/R&B lane for Katie. Simon is glad that Katie met Miley, because the change in her is remarkable. But despite what he calls "a good performance," he's still not sure that she's believable.
Casey and Ryan have a chat, and Casey says he's realized that he needs to move around more on stage; he's used to playing much smaller venues. Casey meets Miley and tells her he's a big fan of her dad. He's singing "The Power of Love," but not the Celine Dion one. The Huey Lewis and the News one. Miley makes some good points about including and engaging your audience. Casey's still got the guitar tonight, but he's playing way less inside himself, if that makes any sense. Great job, Casey. The horn section boogieing in the balcony all have shades on.
Randy and Ellen both didn't like the song choice, but felt that he sang great and was believable. Kara says that Casey is ready to make an album, which is high praise on this show. Simon completely disagrees with Kara and thinks it was old-fashioned.
Didi is up next, and she's doing "You're No Good" (I think it was the Linda Ronstadt version that hit #1). Miley likes Didi's vibrato and encourages Didi on the issue of her nerves. Didi is sans guitar again, and she's got the angry eyes going again. This suits her. Vocally, it's great -- more on than most others tonight -- and the performance is understated and sexy, but I wonder if the judges might call it boring.
Randy loves the idea of it, but he felt she was pitchy. (Cue discussion with my roommate on relative pitch and when "pitchiness" can be a good thing, vis-à-vis Didi versus Katie. I brought Ryan Adams' cover of "Wonderwall" into play.) Ellen didn't think it was the right song. Kara felt like Didi was playing a character, and Simon calls it screechy. Didi asks politely if she can say something, Simon allows it, and she says that she wanted to show a different side tonight and have some fun, which she feels she did. Wow, no one has ever said that before on this show.
Siobhan meets Miley and shares Stevie Wonder's "Superstition" with her. Miley says Siobhan has a swagger in her voice. Huh. That's a good one. I'm starting to listen to Miley like she's a wise sage now... Great. Siobhan is rocking the femullet tonight and cautiously prancing about the stage while of course singing near perfectly.
Randy calls her fearless; he says he never would have thought she would sing that song, and like... Really? No? Ellen wants more Siobhan. Kara thinks Siobhan is more comfortable on stage than anywhere else. Simon thinks Siobhan should maybe try not screaming any of her notes for once, and that her pitch wasn't as good as usual.
And now... the results. Oh boy, the return of the group sing. "Wake Me Up Before You Go-Go." Fast-forward.
During the fast-forward, we mistake Katie for Miley. It's been a long day.
Ford commercial featuring "Every Second Counts" by the Plain White T's.
Chit-chat with the contestants. Lee looks like he might die from nerves.
Some results! Let's found out who's in the Bottom 3. Siobhan? Of course not. Lee or Casey? Well... let's find out about Tim and Paige first. They're both in the Bottom 3, which means that Lee and Casey are safe, I guess, although Ryan leaves them hanging... through the entire next segment. What?
Miley sings "When I Look At You" through her nose while wearing a wedding dress. And I'm sorry; while I am not anxious to slander these particular songwriters as they have both done some fine work, this is a terrible song. Billy Ray's in the audience. Ryan and Miley chat. Miley is kind of hilarious at times. I just... I want to smack her between the shoulder blades until she stands up straight.
Back to the results. At some point, apparently, Lee and Casey were told they are safe, which Ryan now shares with us. Way to hold the suspense, Ryan.
So who's the third person in danger? Is it Little Aaron? Nope. Didi? Nah. Big Mike? Negative. Crystal? 'Course not. Ryan asks Crystal who of the judges she would listen to next week regarding using her guitar, and she immediately replies, "Me." Love it. So is it Katie or Andrew? It's Katie; Andrew is safe.
Well, this is both predictable and reasonable.
One person goes back to safety, and that is... Katie. Whiplash!
Demi Lovato and Joe Jonas! Tween heaven! This ballad they will be singing is apparently called "Make a Wave." Joe got a haircut. I am pleased.
On to the results that matter: the person going home is Paige. Tim's got the power of VFTW behind him, so that's no surprise. Now, will the judges use their save on her? HA HA HA. Simon even tells her that before she sings.
So there you go. The right thing happened. Next week, can we finally ditch Tim or Katie? Will any of these results ever be surprising? Do we want them to be?
Tags: american idol, recap
Related Posts
Comments Posted ()
Search SBM Archives