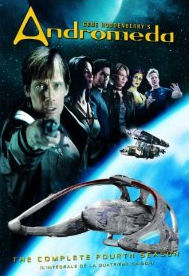 TV on DVD Releases: October 19, 2010
TV on DVD New Releases:
Andromeda: Season Four;
Bionic Woman: Season One;
Top Gear: Season 13;
Real L Word: Season 1;
Psi Factor: Season 4;
The Adventures Of Sinbad: The Complete First Season;
Shaun the Sheep: Season 1;
Clatterford: Season 3;
Psych: Season 4;
Mobile Suit Gundam 00: Season 2, Part 3 (Special Edition);
A Mind to Kill; Series 2;
Betty White in Black and White.
Tags: Andromeda, Kevin Sorbo, Betty White, Clatterford, Sinbad, Top Gear, Bionic Woman, Gundam, L Word, Psi Factor
Related Posts
Original Comments Posted (2)
crimson says...
Betty White in Black and White... good to see the old grey scale make a comeback.
Oct 18, 2010 12:12am
devidsmith says...
WOW!
Thats the GREAT!
Mar 4, 2011 4:27am
Comments Posted ()
Search SBM Archives