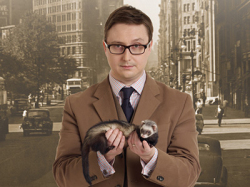 Interview: John Hodgman, author and Daily Show "resident expert"
Filed under: Interviews
If you have not yet picked up Mr. Hodgman's book, More Information Than You Require, I highly recommend you do so now. It's a hilarious follow-up to 2006's The Areas of My Expertise, a "complete world almanac" brilliantly lacking any real facts. Every piece of information came from the incredibly creative and clever mind of John Hodgman who, if you haven't read his books, you may know from his appearances on The Daily Show with Jon Stewart or as the PC in Apple Computers' "Get a Mac" ads. Now he's done it again, with a book The Montreal Gazette called, "Equal parts Jon Stewart, Woody Allen, and Eugène Ionesco..." and to which his "Get a Mac" ads co-star Justin Long stated, "I love this book so much I nearly read it."
It's no secret to any of my friends that I consider John Hodgman the world's greatest "humourist". So you can imagine how delighted I was when back in October, the celebrated author and "famous minor television celebrity" agreed to answer a series of e-mail questions for ShowbizMonkeys.com. Of course, by the time I was able to cobble together enough questions I felt were quality enough for Mr. Hodgman, his nation-wide book tour had already begun. My timing was poor, and he's just now had the time post-tour to sit down and give thoughtful (and quite funny) answers to my silly list of questions. Enjoy, dear readers of ShowbizMonkeys.com...
Paul Little: Your last book, The Areas of My Expertise, repeatedly returned to the topics of hoboes and – to a lesser extent – lycanthropes. What topics can readers look forward to being featured prominently in your new book, More Information Than You Require?
John Hodgman: Greetings, Paul. A simple glance at the table of contents will not surprise the reader: there is diverse information on proposition bets and future telling and how to rid your house of scotty dogs; there is lots of information on how to win at gambling (hint: the autistic card counters the casino offers to rent to you often only have Asperger's); brain sharks AND brain corn, and how to cook an owl.
But there is also quite a bit in my book about the remarkable transformation in my life from professional writer to famous minor television personality, and what I plan to do with my enormous wealth (it involves space dolphins).
PL: Was the "complete world knowledge" purported to be contained within The Areas of My Expertise just the knowledge humanity required at the time? Why would we need more information than we require?
JH: Time passes. New information is being generated every day, and every day I am learning it. Unless I don't have time. Then I make it up.
PL: I read The Areas of Expertise while travelling throughout Europe, mostly on buses and trains. In your humble (or if you choose, boastful) opinion, where would be the best location – and when would be the best time in one's life – to read More Information Than You Require?
JH: It is a good book to read while traveling, as it is designed to be written in short, easily interrupted sittings, and in no particular order. So I think people should read the new book while attempting to perfectly recreate your trip through Europe. That way they will learn a lot about both of us.
PL: What is the best part about touring the country promoting your book? The third worst?
JH: Best=showbiz! The best readings are collaborations with a clever, generous crowd, and there is nothing like it. The hard part=smelling like airplanes.
PL: Describe your relationship with musician Jonathan Coulton in 13 words...
JH: He is my old friend from college and a constant inspiration. Also he...
PL: How did your joining The Daily Show with Jon Stewart as their "resident expert" come about?
JH: Accidentally. I went on the show as a guest to promote my first book, and they asked me to come back and do comedy.
PL: When you make your Daily Show appearances, are the segments written by you, or are they put together by the show's writers and then just given to you to perform?
JH: Generally they suggest a topic, and I write a first draft. Thereafter, we all collaborate, starting with the ritual and appropriate burning of my first draft.
PL: After becoming a lauded author and later, a "minor television personality" via The Daily Show and the PC vs. Mac ads, why did you feel the need to make the jump to film? (Besides world domination, of course.)
JH: I felt no particular need. I was simply asked. The secret to success is wait until you are asked to do something interesting, and then say yes.
PL: How was it working with Ricky Gervais on his upcoming film, This Side of the Truth?
JH: Lovely. He is a very generous and decent person, and obviously a genius. I can only say nice things about him. Whereas he feels compelled to make fun of me constantly. In his blurb for my book, he said I had the head of a giant baby. It's very juvenile. Especially when his own head looks like the face of a french bulldog that's been shaved. Poorly. By another French bulldog.
PL: You blog quite a bit on the official website for your book, and often your posts are political in topic. With the Presidential election mere days away, what are you hoping to see happen?
JH: It already happened. Did you miss it? Where have you been. Oh, I see. You sent me these questions back in October, and I failed to answer them until now. The beauty of the internet is its timeliness.
PL: Since ShowbizMonkeys.com is based in Winnipeg, Canada, what are your thoughts on that country? I know you've done lots of work on CBC Radio One's WireTap, so you must be at least passively familiar with the nation.
JH: Peter Jenne was a Canadian I worked with when I spent some time in London at age 19. He also was obsessed with what other people thought of Canada. What is wrong with you people? Why are you so concerned about what people think of you? You're just fine. Great, even. I mean, even Winnipeg, which I believe is a settlement of some kind, produced Marcel Dzama and the Weakerthans. Be proud!
PL: We've been asked this question a lot since we launched our website in October 2007, but have not been able to give a reasonable answer. Since you possess complete world knowledge, we were hoping for your answer: What exactly is a "showbiz monkey"?
JH: No one knows.
Tags: John Hodgman, More Information Than You Require, The Daily Show, Apple, Ricky Gervais
Related Posts
Paul Little is the founder and Managing Editor of ShowbizMonkeys.com. When not interviewing his favourite musicians and comedians, he can also be found putting on and promoting music and comedy events with The Purple Room in Winnipeg, or co-producing the live comedy game shows Pants on Fire and The Great Patio Showdown. (@comedygeek)
Comments Posted ()
Search SBM Archives