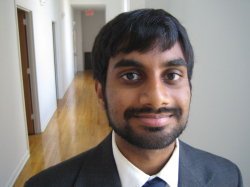 Interview: Comedian Aziz Ansari (winner of our 2008 Genius Monkey Comedy Award)
Filed under: Interviews
At only 26 years of age, Aziz Ansari has already accomplished quite a lot in the world of comedy. He's won accolades for his stand-up comedy, including the Jury Award for "Best Standup" at the 2006 U.S. Comedy Arts Festival. He's received rave reviews for his early collaborations with fellow comedians Rob Huebel and Paul Scheer, and director Jason Woliner at the UCB Theatre in NYC under the name Human Giant, which led to the critically acclaimed sketch comedy show of the same name on MTV. He's appeared in small but hilarious roles in television (Flight of the Conchords) and film (The Rocker), and recently had a larger role earlier this season on Scrubs. He's about to star, alongside Amy Poehler, Rashida Jones, and Aubrey Plaza, in a new NBC sitcom from the producers of The Office.
Most importantly, of course, he was just named the recipient of our 2nd Annual North American* Genius Monkey Comedy Award, given to the brightest young performer in the world of sketch, stand-up, or improv comedy as chosen by the staff of ShowbizMonkeys.com. And it's because of that award, that we reached the man himself (via e-mail) to answer some questions about the past couple years of his career, and what's to come in the next little while.
Paul Little: Hi Aziz! I had a question about the writing process for Human Giant. Besides creating online short videos together, you guys also did a regular show at the Upright Citizens Brigade theatre in NYC. What's the difference between writing for the live show vs. writing for online videos or the TV show? Were any of the live sketches able to be translated to the TV show?
Aziz Ansari: It's a much different process to write something to be performed on stage vs. something that will be filmed for a short. We actually didn't really perform stage sketches at all before getting the show. It was all material that was done as short films. The only live thing that kind of made it in were the headshot jokes in the first Shutterbugs, which was a stage bit Huebel and I had done.
PL: Do you think we'll ever see more Human Giant collaborations in the future –- if not with another season of the show on MTV, then in another form?
AA: Yes, but I can't talk about it yet.
PL: You've been doing stand-up comedy for many years, and you just finished the "Glow in the Dark" Standup Comedy Tour. Is comedy just comedy no matter what, or do you find a significant difference preparing for and performing stand-up vs. working with a group doing sketch work?
AA: In standup, it's nice because you're the boss and you really get to do things your way. Unfortunately, this is also the bad part too, because you are kind of on your own and don't have people to collaborate with. That's why I try to keep up with both.
PL: We saw you earlier this season on Scrubs playing one of the new interns, Ed. How was it jumping into an established show in its 8th season, especially given the prominence the new interns have been given on the show this year? Was it hard fitting in with the cast?
AA: Scrubs was really fun. Bill Lawrence was great about letting me improvise and bring ideas to the character. The show is such a well-oiled machine and everyone there is very nice, so it wasn't hard to fit in. Also, Zach Braff made me a bunch of sentimental mixtapes when I left, which was sweet of him.
PL: You've also got your own brand new show -– Parks and Recreation –- debuting on April 9th on NBC. Have you started filming yet, and if so, how's it coming along?
AA: We started filming (last week) and it's going great. I'm really excited for people to see the show.
PL: Is there anything about it that you can tell us about the show? What part do you play? What can we expect from it (besides awesomeness, of course)?
AA: The show takes place in the Parks and Recreation department in Pawnee, ID. I play Tom Haverford, who is an administrator that works with Leslie Knope (Amy Poehler). I'm really smart, well dressed, and also a prick, especially to Amy.
PL: Given that Amy is one of the four co-founders of the Upright Citizens Brigade, and Aubrey has a history at the theatre, have you had a chance to work with either of them before? How about Rashida, seeing as how you're both in the upcoming film, I Love You, Man?

AA: I had met them all a few times and knew them casually, but we never really worked together. They have all been a delight to work with though.
PL: There's been a lot of buzz about the first film collaboration between former roommates Judd Apatow and Adam Sandler with the upcoming film Funny People. How was it working on the film? Can you learn anything working with such established comedy people?
AA: It was a great experience. I really enjoyed playing my character, Randy, who's basically a really overconfident, filthy, and s***ty comedian. As far as learning from those guys, look, I told Adam, Seth, and Judd that it's clear they haven't figured out how to be successful in this business and that they needed to throw in the towel and get out of the business.
PL: Finally, you were named the recipient of our 2008 North American* Genius Monkey Comedy Award. What are your thoughts on such an honour? Is it as good as winning an Oscar? Giving birth to a child?
AA: WOW! I'm honored. It's the first time I've found out I've won an award over an email Q and A. What a strange ceremony... nonetheless, I'm very grateful to the committee.
* Note: Does not include Mexico
Tags: Aziz Ansari, Human Giant, Parks and Recreation, Funny People, Scrubs, I Love You, Man, Genius Monkey, Upright Citizens Brigade, Interview, Stand-Up
Related Posts
Paul Little is the founder and Managing Editor of ShowbizMonkeys.com. When not interviewing his favourite musicians and comedians, he can also be found putting on and promoting music and comedy events with The Purple Room in Winnipeg, or co-producing the live comedy game shows Pants on Fire and The Great Patio Showdown. (@comedygeek)
Comments Posted ()
Search SBM Archives