2008 North American* Genius Monkey Comedy Award
Filed under: SBM Awards
The North American* Genius Monkey Comedy Award is given to a comedian -- sketch, stand-up, and/or improv -- who is on their way up. It's not necessarily given to the absolute funniest comedian working today, as it's not an award for someone who is incredibly well-known to the general public. The Genius Monkey is meant to recognize young comedic talent who, even if much of the world hasn't yet caught on to their hilarity, we know is likely on the verge of being a household name to comedy fans everywhere.
Deciding who would be the recipient of this year's North American* Genius Monkey Comedy Award wasn't very difficult. The winner is certainly not a complete unknown -- he's been in a few movies, had a cable TV show, toured the U.S. doing stand-up, and even started popping up on network TV before the end of 2008 -- but not enough people know who he is. And with 2009 destined to be a break-out year for this young comedian, it's the perfect time to recognize his incredible comedic talents.
The recipient of the 2008 North American* Genius Monkey Comedy Award is...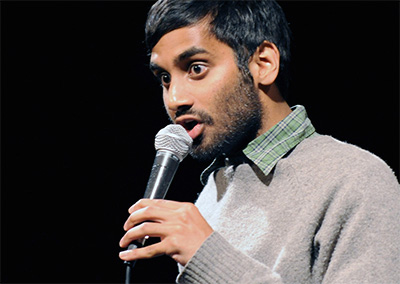 Now for some background info on Aziz. Some of it is courtesy of Wikipedia, so its reliability is suspect at best, but here we go anyway!
Aziz grew up in South Carolina, and moved to New York to study marketing at the Leonard N. Stern School of Business at New York University. While at college, he began performing stand-up around NYC, eventually being named "Hot Standup" for Rolling Stone's 2005 "Hot List". He later received the Jury Award for "Best Standup" at HBO's 2006 U.S. Comedy Arts Festival in Aspen, Colorado.
Moving into the world of sketch, Aziz began collaborating with fellow comedians Rob Huebel and Paul Scheer, as well as director Jason Woliner, to make short films. They were presented at a regular show -- Human Giant -- at the Upright Citizens Brigade Theatre in NYC, which then led to an MTV sketch show of the same name.
Besides Human Giant and a headlining stand-up tour, Aziz has also appeared in several TV shows and movies, including Flight of the Conchords and The Rocker. He recently completed a multi-episode stint on the long-running sitcom Scrubs, and can be seen in the upcoming comedies I Love You, Man with Paul Rudd and Jason Segal (opening March 20th) and Funny People with Adam Sandler and Seth Rogan (July 31st).
Beginning April 9th, you'll be able to see Aziz co-starring with Amy Poehler and Rashida Jones in the much-anticipated new NBC sitcom, Parks and Recreation, from Greg Daniels and Mike Schur of The Office.
* Note: Does not include Mexico
Tags: Genius Monkey, awards, Aziz Ansari, Parks and Recreation, Human Giant, Scrubs, I Love You, Man, Funny People, Flight of the Conchords, UCB
Related Posts
Paul Little is the founder and Managing Editor of ShowbizMonkeys.com. When not interviewing his favourite musicians and comedians, he can also be found putting on and promoting music and comedy events with The Purple Room in Winnipeg, or co-producing the live comedy game shows Pants on Fire and The Great Patio Showdown. (@comedygeek)
Comments Posted ()
Search SBM Archives