Interview: Rising Canadian singer/songwriter James Struthers
Filed under: Interviews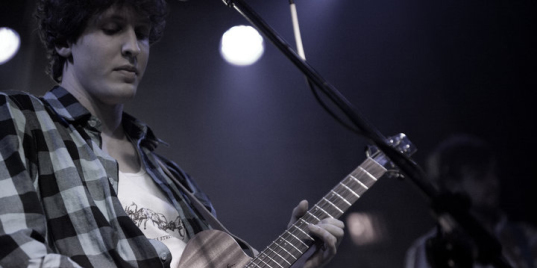 In the relatively short time he's been a full-time musician, singer/songwriter James Struthers has been compared to several established and popular artists. And while the comparisons may be fairly accurate, saying Struthers sounds like Jason Mraz or John Mayer doesn't fairly represent how fresh and original he and his music really is. With an incredibly strong debut EP under his belt (2010's Nadia, featuring the extremely catchy radio hit "You, Me & Optimus Prime") and a cross-Canada tour (dubbed the "House on Wheels Tour") about to begin, the 22-year-old is on the verge of breaking out.
I spoke with James this past summer at the Winnipeg Folk Festival, where he was performing for the 2nd year and mentored by Weakerthans' frontman John K. Samson. He spoke about his influences, his process behind writing the album, and his love for taking songs by unlikely artists and making them his own. Be sure to visit his website, www.jamesstruthers.com, to pick up his CD or get more information, and check out his tour dates and information below the interview.
Tags: James Struthers, singer/songwriter, interview, Nadia, Optimus Prime, Canadian music, Winnipeg, Winnipeg Folk Festival, Music Festival
Related Posts
Paul Little is the founder and Managing Editor of ShowbizMonkeys.com. When not interviewing his favourite musicians and comedians, he can also be found putting on and promoting music and comedy events with The Purple Room in Winnipeg, or co-producing the live comedy game shows Pants on Fire and The Great Patio Showdown. (@comedygeek)
Original Comments Posted (1)
crimson says...
I wonder... does the tub create a better sound?
Feb 19, 2011 11:27pm
Comments Posted ()
Search SBM Archives