Just for Laughs Interview: Adam Hills
Filed under: Interviews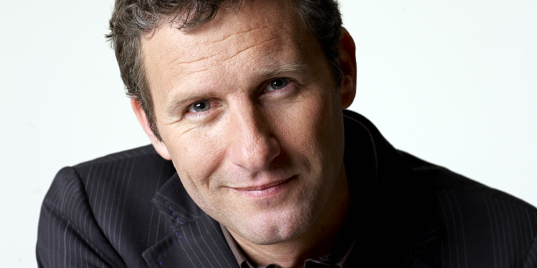 Australia's Adam Hills may not be a huge name in North America, but in his native country, he's pretty much as big as anyone can get. Besides hosting ABC's highest-rated program of the last seven years, Spicks and Specks, as well as the talk show Adam Hills in Gordon Street Tonight, Adam has also released a pair of best-selling stand-up DVDs. The UK is no stranger to Adam Hills, either, as he's a favourite of the Edinburgh Fringe Festival, has appeared on several British TV shows (Never Mind the Buzzcocks, Mock the Week), and even performed for the Queen. He made his U.S. television debut last year on The Late Late Show with Craig Ferguson.
As a 20-year veteran of stand-up comedy, Adam Hills has worked through the dry spell that was 90s stand-up (following the 80s boom) and seen first-hand the re-emergence of the art form over the last decade or so, helped in no small part by the internet. I spoke with him recently about how that change in comedy, along with the evolution of his own act, the mentality behind hosting a talk show, and the differences between performing in Canada, the United States, and overseas.
This year Adam makes a return trip to Montreal's Just for Laughs Festival, where he will be performing his own solo show, "Inflatable", on multiple nights, as well as appearing as part of the "One Stop World Tour" and "Craig Ferguson's International House of Comedy". You can find more information (and get tickets to any of his remaining shows) on the Just for Laughs website.
Mark McLeod: How you got your start in comedy?
Adam Hills: I've loved comedy since I was about 8 years old. I used to listen to Bill Cosby when I was that young. And Peter Sellers. And then graduated onto Billy Connolly and Robin Williams. In fact, I remember being on a long haul flight with my family when I was maybe nine, and heard the in-flight comedy channel, and was just amazed and just listened to it for the entire 13-hour flight. So I've always loved stand-up comedy. And when I was at university I was studying to be a journalist, and a friend of mine used to go to the Comedy Store in Sydney, just to watch, and as soon as I realized that there was an open mic night I just went, "right, I just have to do it." And that's how it started.
MM: So if you weren't in comedy, would you still have gone down that journalism path?
AH: Probably. I don't really think there's too much difference in many ways. I think we're both commenting on life, both kind of socially interested. I think the only difference is that as a comedian I don't have to check whether my facts are correct.
MM: In Australia you do have a current event-themed talk show (Adam Hills in Gordon Street Tonight). How do you prepare differently for the stand-up versus that?
AH: The main difference is that on TV you've got to pretend you're talking to one person, and that one person is in the camera watching on their sofa, where in stand-up you have to talk to a whole room. It sounds like a ridiculous difference, but it's enormous. It means that if I get on camera and talk like I'm talking to a stand-up crowd, it looks like I'm shouting at everyone. And if I get on stage and talk like I'm talking to a TV audience, I feel like I'm not putting in enough energy. So I have to kind of remember -- even though in both I have an audience right in front of me -- I have to remember who it is that I'm actually talking to.
MM: A lot of late-night talk show hosts over here in the U.S. get their start by doing stand-up. What is it about these two fields that make for an interesting crossover?
AH: I think that as a stand-up, you basically have your jokes, you have your monologue, and then if you go off-topic you start chatting to people in the crowd. And I think hosting a talk show is similar. You have your jokes, you have your monologue, but instead of talking to the crowd, you're just talking to some interesting guests. I think stand-up really prepares you for that because it gets your comedy spider senses tingling. Once you do stand-up you're always going to want to need that audience in front of you, hence the monologue that everyone does. But then as you get a little bit older, too, you kind of also want to sit down on a couch and have a bit of a chat.
MM: That was the thing with Conan O'Brien when he got booted off NBC -- and I recently saw his tour documentary. He just didn't know what to do when he didn't have somebody there to communicate to.
AH: Well that's the thing, I think communicate's an excellent word. As a stand-up, you do want to communicate. It might start off being just about "everyone laugh at me" but then eventually you think "no, I wonder what it is that I've got to say to a room full of people". You start off being about "laugh at me, laugh at me, I want to be famous" and then after a while I think you kind of go "you know, I want a bit more -- I want to communicate with people". So with Conan, especially doing it every night, my God, I'd go a bit mad. If I do a massive stand-up tour, and then I have a few nights off, I find the time that I'm normally on stage I get a little bit hyperactive.
MM: How would you describe your style of comedy?
AH: I would describe it as conversational. It may be because I'm Australian, but I've had a lot of reviewers say it's like being at the pub with one of your mates who's just being really chatty. For me, that's probably the best way of describing it. It's like a party but I'm the only person allowed to talk.
MM: So you've done a lot of stuff over in Australia and Europe, and a little bit in North America. Do you have to change your style for different countries?
AH: Not too much. The only difference I find is that in Australia the audience, it's a weird thing, but Australian audiences don't like you to be trying too hard. There is actually a term in Australia for someone who's trying too hard and that term is 'a try-hard'. And only in Australia have I ever heard that term, and it's such an Australian thing. Now in North America, it's a good thing to be trying really hard. So when I'm on stage in Australia, I almost have to pull back a little bit -- just be a little bit more relaxed and not perform quite so much. But then when I come to North America, especially in the States, I find that you have to show that you're performing. It's can't just look like you're a guy who is just having a chat in the corner of the room. Canada's slightly different again. Canada's a little bit quirkier and a little bit left of centre, so I find in Canada they quite like something that's a little bit different, as well. It's somewhere in that thing -- I come from Australia, somehow I have to perform a little bit more, but also I have to look at everything a little bit more skewed to get into that Canadian sensibility.
MM: You've been doing comedy for a while. How has your act evolved since you started?
AH: I think, when I started, it was all about "just tell and joke and get a laugh", and that was all I was trying to do. Just do whatever I could to get a laugh. And then gradually, I mean I've been doing it for 21 years. Someone once said to me, "it takes 10 years to find your voice but then your voice starts changing". And I think early on, probably it took me about 10 years to realize you know what? I want to make the audience feel good. I don't want people to walk out feeling dirty because I've been negative for an hour. So after that 10 years I decided I wanted to try and be as positive as I could when I was on stage. And then -- I've heard songwriters describe it as searching for the "perfect song", and I guess I'm kind of almost searching for the "perfect show", that hour of comedy where I walk off stage and go "oh that was nice -- that was exactly what I wanted to say". And I think every year that I do it I get a little bit closer to that.
MM: How has comedy itself changed over the time that you've been doing it?
AH: Well certainly in Australia, probably here as well, it's become a business. When I started out, it was 1989, the Sydney Comedy Store had an open mic night on a Wednesday that had 10 spots available, and some weeks they were struggling. Some weeks we'd turn up and they'd say, "we've only got six people can you do an extra five minutes?" Now, at the same Comedy Store, it's a 3-month waiting list if you want to get on to do open mic. And I think the thing is stand-up, especially in Australia, has become a career. If you do really well, and then you get a TV show or a radio show, it's a business. And a lot of people are getting into comedy now from the age of 17 and 18, which is ridiculous. When I started I was 19, and I was the youngest in Sydney by a longshot on stage. Now it's a job, and people are really looking at it as a career and planning out how they're going to trade it. And it's great, because they're a lot more professional about it. When I started, a lot of the comedians were just doing that because they just couldn't be actors.
MM: Do you prefer doing longer sets or shorter sets?
AH: I think I prefer doing longer. I mean, it's a different art form. It's like a single versus an album. And as lovely as it is to get out there at a gala, for instance, and do seven minutes and just go "bang", get on and get off, I think I prefer the connection that you get with an audience over an hour. When you can really build a relationship with them and kind of get them on a bit of a journey.
MM: How important do you feel the internet is to the comedy scene now a days?
AH: The internet's amazing! I mean, Twitter for a start becomes like a mini-gig. I can sit at home and I can think of a joke and I can put it out there to 40,000 followers. And sometimes it has a bit of an ongoing discourse. Two months ago I was sitting at home watching Master Chef in Australia, which is a reality cooking program, and it was followed by Glee. And I tweeted the idea of combining the two into a show called Gleester Chef. I think I tweeted something like, "All you have to do is put food into a lyric of a song and you've got Gleester Chef". And then people started tweeting back with, "I've Got 99 Problems But a Peach Ain't One", putting food into song titles. And then it became a trending topic worldwide. It was the #2 trending topic on Twitter for a couple of hours. So for that moment I felt that even though I was in my own lounger, I created my own little mini-gig. But then TouTube changed it as well. For instance, I'm going to be performing at a Just for Laughs gala. And normally, I would do material at the gala that I've never done in Canada before, but because of YouTube anyone around the world can watch that. Or, anyone in Canada might have already seen that material, because I did it in England on a TV show and it's up on YouTube. It's made my stand-up more accessible, which is both a good and a bad thing, I think.
MM: Somebody else I talked to once said that now with the internet, it forces them to have more new material ready to go at anytime, because they can't just play the same act for years and years.
AH: Yeah, definitely. That's the upside of it. It forces you to come up with new material. I did a show in England a couple years ago on tour and these people in the audience requested that I do some material that they had seen me do on YouTube. It does open you up to a whole different audience, but it changes the way you write material.
MM: Yeah, 'cause back in the early days, the only way someone would hear something would be to buy and album, and then that could last for a couple of years, and a comedian could maybe tour that for a while. But now-a-days, just touring the same old stuff, people will move on quicker.
AH: Oh exactly. And YouTube is insatiable. I've had people on Twitter that have told me they're sitting at home and they've got nothing to do so they'll just basically spend the night watching clips of me on YouTube. And eventually, they're going to see the same material over and over, because some of the jokes that I did -- I'll do certain jokes on television in Britain, and then I'll come to Canada and think, "well I haven't done them on tele in Canada, I'll do them here". And then what's weird is, you look down at the comments, and people are going, "oh man, I can't believe you're trotting out the same material". I did a spot on Craig Ferguson's show last year. I've never been on American television before, so I thought I'd bring out my best four-and-a-half minutes. Of course on Ferguson, it's your first time in the States, you're going to do your best four-and-a-half. And then there were comments from people in Australia going, "Man, he's been doing these jokes for about 10 years". I feel like writing back and going, "Yeah but what do you want me to do? Try out, on Ferguson, a joke I've never done before?" It's changed everything. But then you get people like Bo Burnham, who become big stars because of the internet, so you can use it for good as well as for evil.
MM: There are a lot of shows to choose from at the Just for Laughs Festival. Why should audience members choose yours?
AH: Oh man I hate that question. I never know what the right answer is. Because I think it's the that best show I've ever done. So I'd hate them see me do something that I thought was a bit crap.
MM: If you had to describe yourself in one word what would it be and why?
AH: "Happy" would be the word. And why? Because I force myself to be. I've worked very hard on trying to be happy.
MM: Well thanks for your time this afternoon.
AH: Thank you very much. I really appreciate it.
Tags: Just for Laughs, Adam Hills, Spicks and Specks, Adam Hills in Gordon Street Tonight, Australia, Conan O'Brien, Craig Ferguson, stand-up, comedy festival, JFL2011
Related Posts
Mark McLeod has always loved film. In addition to his roles with ShowbizMonkeys.com, Mark also works on many film promotion projects in Vancouver, BC, through his company, Mark McLeod PR.
Comments Posted ()
Search SBM Archives