Winnipeg Comedy Fest Interview: Local Winnipeg comic Chantel Marostica
Filed under: Interviews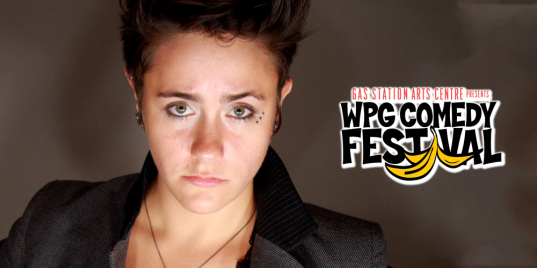 Chantel Marostica has been a part of the Winnipeg Comedy Festival for several years running. A veteran of the local Winnipeg comedy scene, she's a frequent performer at local rooms such as Comedy at the Cavern (Sunday nights) and the Free Laughs Series at King's Head Pub (Tuesday nights), and Soap Scum (a long-running live improvised soap opera, currently Mondays at the Park Theatre). If that wasn't enough, she also joined the writing team this season on the Shaw TV comedy talk show, The Week Thus Far, which tapes Mondays at King's Head and airs on Tuesday nights.
This year, her Winnipeg Comedy Festival slate is enormous, appearing on five different bills throughout the fest. She is part of "The Winnipeg Show" at the Gas Station Arts Centre (Friday, April 13, 10:30pm) with a host of other great local talent (including Ryan Ash, who we interviewed last year). Then on Sunday, April 15, she appears on two back-to-back shows at the Gas Station: the "Make It Better" panel, a discussion about childhood bullying (specifically as it relates to LGBTQ-identifying kids); and the "All Girl Gay Show", which is, as you guessed it, an all girl gay show!
For more information on these and other Winnipeg Comedy Festival shows, including how to get tickets, visit www.winnipegcomedyfestival.com.
Tags: Chantel Marostica, Winnipeg Comedy Festival, Winnipeg, All Girl Gay Show, Make It Better, stand-up, improv, WCF2012
Related Posts
J.D. Renaud is a writer, comedian, producer, and visual artist originally from Oakville, Ontario. You can follow his weird thoughts on Twitter at @jdrenaud.
Comments Posted ()
Search SBM Archives