Interview: Harold Perrineau on 'Seeking Justice'
Filed under: Interviews
Harold Perrineau's work on screens both big and small has cemented him as an undeniable talent. He began his career doing theater in New York City but, quickly found himself working alongside the likes of Christopher Walken, Wesley Snipes and Laurence Fishburne in Abel Ferarra's cult masterpiece King of New York (1987). He got his first starring role in '97, portraying the wheelchair bound lifer Augustus Hill (also the show's narrator) on HBO's groundbreaking hit, Oz. More recently, you might know him as Michael Dawson, the harried father of a boy with mysterious powers on ABC's juggernaut hit Lost.
His credits do not end there. He was nominated for an Independent Spirit Award for his role in Wayne Wang's Smoke (1995), a fact that I had to remind him of during the interview. No joke.
Face it: You know you've had a fantastic career when you forget that you were nominated for an Independent Spirit Award.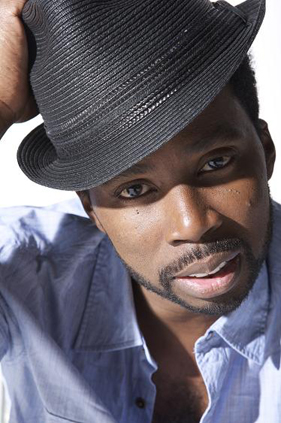 Recently, I got a chance to speak with Mr. Perrineau as he was doing press for the new Roger Donaldson suspense thrill-ride, Seeking Justice, available on DVD, Blu-ray + DVD Combo Pack, and Digital Download on Tuesday, June 19th. The film stars Nicolas Cage and the lovely January Jones (Mad Men; The Three Burials of Melquiades Estrada) as a married couple whose lives are rocked by a vicious tragedy. Guy Pearce (Memento, Prometheus) plays a stranger who approaches Cage with an offer: He can make it right. He can find the men who committed this crime and... I will stop my description there.
This is a dark, Hitchcock-ian thriller, full of twists and turn that I would never want to spoil. Donaldson (The World's Fastest Indian, Cocktail, Species) is a masterful genre filmmaker, making him the ideal choice to make such a film. After The Bank Job (the second most bootlegged movie of 2008, behind The Dark Knight) Donaldson proved that he was still at the top of his game.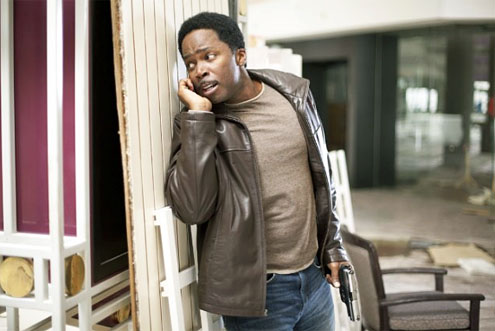 In Seeking Justice, Perrineau plays Cage's friend and confidant. That was where we began.
Harold Perrineau: I play Nick's friend, Jimmy. Jimmy is the principal of the school (Cage's character) teaches in. He's a guy who has a few secrets that we find out about in the film but, originally he is just a very big supporter of Nick and January's characters.
Tony Hinds: Their story is a pretty dark one. Was it the story –the script- that initially attracted you to the project?
HP: If I'm being honest -- I was like, Nick Cage? I'm in! (Laughs) I just wanted to work with him. He's a guy that we've seen on that screen for years now. He's like an actor's actor.
TH: Totally. Nicolas Cage also has a reputation for making somewhat eccentric acting choices. Would you agree with that?
HP: Hmm. Some people call 'em eccentric choices. I would actually call Nick full-on brave.
(On closer exanimation, Perrineau is absolutely right. The last decade alone, Cage has worked with some of the most brilliant and innovative filmmakers in the business. The list is impressive, to say the least: Matthew Vaughn, Werner Herzog, Ridley Scott, Neil LaBute, Spike Jonze, Rob Zombie, Andrew Niccol and Gore Verbinski. I'll admit-- my opinion quickly changed.)
HP: But I really did dig the story. The way that it moved. In particular, I liked my character's participation in that story. And I was really excited to get in there and figure out how we were gonna do this.
TH: This feels like a return to form for director Roger Donaldson. I mean, this is the guy who made No Way Out, for Pete's sake!
HP: Yeah, Roger is the kind of guy who can really tell these stories. Like, No Way Out (1987) is such a classic example of... like its mystery and intrigue, and you don't know whose side people are on... but you're in for the ride! You're in for the whole ride. I think Roger has this really great short-hand with that kind of material. He was a very big draw for me.
TH: You were nominated for an Independent Spirit Award for the Wayne Wang film Smoke, which is a fantastic flick.
HP: Oh yeah, you know what? I think I was nominated, wasn't I?
TH: According to the internet, you were.
HP: (Laughs) That was a while ago. Its definitely one of those things you forget but, yeah...
TH: What was it like making that film-- working with guys like Forest Whitaker, Harvey Keitel and William Hurt?
HP: That was my first chance after all these years of studying and studying and studying to be an actor. This was my first chance at a real role, you know? Not just a thug leader. Like, Thug Leader #1...
TH: ...in King of New York, which I was gonna mention later.
HP: (Laughs) But yes, that was my first real chance to work with actors whose work I've respected. William Hurt had two Academy Awards, at the time. Forest Whitaker-- Fast Times at Ridgemont High (1982) and Bird (1988). All this amazing stuff. All these really iconic folks. And I was just the New Jack, you know? (Laughs) The new dude on the block and I was just really excited to be there. And it was the first time... and I said this to someone earlier. After I finished (Smoke), I said to myself: I'm never ever gonna judge another actor or a director ever again. I used to be like, 'Ah that sucks', or 'Ah he's alright, that's cool.' But you just don't know the amount of work, or the circumstances that people are in-- whenever they're filming. Now? I'll either like the film or I won't like it, but you can't really judge it. I mean-- that was the first time I got to actually experience: 'Wow, this is way harder than I thought it was.' (Laughs)
TH: And since it was already mentioned, I gotta bring up King of New York.
HP: (Laughs) It was a forgettable role. The only reason I remember it is because my brother –for years- made fun of me. "Watch and wallet, Blood!" (A reference to Perrineau's dialogue in the film) "Who says 'Blood', man?!" (laughs)
TH: (Laughs) But I love that movie. It's a total cult classic. Was that your first acting gig or...?
HP: That was my first big movie role. I had been doing a lot of theater, like regional theater and off-Broadway stuff. But that was my first role in a film. And it's (director) Abel Ferrera and Laurence Fishburn and Wesley (Snipes)... and Christopher Walken, for crying out loud! (Laughs) Like, I would have said anything!
TH: Was Walken intimidating on set?
HP: He was so cool! So gracious and so nice! He was like: "Its okay, kids. Don't worry about it. Let's just go. Let's just swing." And he was there for every second of it. Such a committed actor. And he really treated me with respect. Real respect-- in a way that I felt he didn't necessarily have to, you know?
TH: Wow, yeah. That's so cool. And before we wrap up I just wanted to point out that your Wikipedia bio contains the following sentence: "He was eaten by a bear in 1997's The Edge."
HP: (Laughs) Yes, I was. And he was a very famous bear. It was cool. (laughs) That's pretty funny, man. Look, I figured-- it's Anthony Hopkins and Alec Baldwin. And plus-- I got to meet Bart the Bear. How bad could it be?
Seeking Justice is available on DVD, Blu-ray + DVD Combo Pack, and Digital Download on Tuesday, June 19th. Perrineau can be next seen in the new season of FX's Sons of Anarchy, and Katherine Bigelow (The Hurt Locker)'s upcoming 'kill Osama Bin Laden' movie, Zero Dark Thirty.
Gigantic thanks goes to Harold Perrineau and everyone involved with Seeking Justice for taking the time to speak with us.
Follow Tony on Twitter.
Tags: Seeking Justice , Harold Perrineau, Nicolas Cage, Guy Pearce, Roger Donaldson, January Jones
Related Posts
Tony Hinds is a Canadian writer who studied film at the University of Winnipeg. In addition to ShowbizMonkeys.com, Tony has reviewed films for Step On Magazine and The Uniter. You can find Tony on Twitter.
Comments Posted ()
Search SBM Archives