TV Rants & Raves: Comedy Round-Up 2013
Filed under: Rants & Raves
In prepping this article, I had one goal in mind: Shed a bit of light on some of this year's finest work in TV comedy. But many of the current TV comedies are already so popular, why would they need any more light shed upon them? So, Get Your Laughing Gear 'Round This (that's a saying, right?) and strap in for some of the best and most under-praised, under-loved and under-seen TV comedies of 2013.


The Jeselnik Offensive


Despite unwarranted comparisons to Tosh.0, The Jeselnik Offensive inspired laughter from some of the sickest, darkest, most offensive (tee hee hee) subjects on the planet.

Hosted by comedian Anthony Jeselnik (his sets on The Roasts of Donald Trump and Charlie Sheen were magnificent) who is joined each week by two fellow comics for a panel discussion, dubbed simply: Panel. ("When the going gets tough, the tough gets panel! It's time for more panel.") Highlights from this year's 2nd season included Brian Posehn, Doug Benson, Amy Schumer, Dave Attell, Joan Rivers and TJ Miller.

And now, there's even more reason to celebrate the show as Jeselnik recently took to his Twitter account to inform his fans that Comedy Central had canceled the program. The network has yet to formally announce this but, I think we can trust the word of the show's star and creator. It was great while it lasted. The Jeselnik Offensive had more genuine edge in one joke than most shows have in their entire series. To quote an overused comedic saying: "Too soon."

The Heart She Holler

About a year ago, I predicted that The Heart She Holler would not be getting renewed for a second season. Well, I was wrong. And frankly, I have never been happier to be wrong in my entire life. Patton Oswalt stars as Hurlan, the ill-begotten leader of a redneck compound, a holler, populated by incestuous psychos and bible thumping nimrods.

Like a violent, stream of consciousness soap opera, the hillbilly drama unfolds in frightening yet hilarious ways. Sprung from the minds of Wonder Showzen creators John Lee and Vernon Chatman, the second season ups the ante in every possible manner: More blood, more deaths and more weird sex. One might categorize it as horror comedy but if that is the case, it's closer to the work of Harmony Korine than Eli Roth or Edgar Wright. In fact, the second season features wonderful little excerpts from Errol Morris' sunburned-hayseed documentary Vernon, Florida (the finest redneck documentary ever filmed).

Featuring cameos from Amy Sedaris, Amber Tamblyn and David Cross, The Heart She Holler continues to be one of the most unapologetic, original comedies on television. Please Adult Swim, bring on season three!

The Eric Andre Show

Trying to describe The Eric Andre Show is like trying to describe the smell of freshly baked cookies to a person born without a nose. (One of the weirdest things I've ever typed.) You might be able to piece together some approximation but, the essence will surely be lost. Like a psychedelic drug, it is better experienced than described.

It's an absurd fever dream, disguised as a talk show. Each episode opens with Andre going berserk and smashing his set into a million pieces. He then collapses onto his chair, panting with exhaustion, and suddenly, the entire set regenerates, fixing itself, trapping him, forcing Eric to continue hosting this insane show. His co-host, the brilliant comic Hannibal Burress' laconic delivery is the perfect contrast to Andre's manic comedic exhibitionism.

The finale of the second season reaches insane new heights, as the show seems to overload, tossing the audience breathlessly into a brain-melting bath-salt trip, not unlike the Stargate sequence from Kubrick's 2001: A Space Odyssey.
Amidst the vast sea of forced weirdness found on Cartoon Network's Adult Swim, Eric Andre is breath of surrealistic fresh air. Bird up!

Hello Ladies


This is not a ranked list but, if I were forced to choose a favorite, it would be Stephen Merchant's Hello Ladies. Stuart (Merchant, who co-created The Office with Ricky Gervais) is a wealthy web designer living in Hollywood, on a single minded yet totally misguided mission to find the right woman. Or any stunningly beautiful woman, really. Stuart is none too picky when it comes to supermodels.

And that's one of his problems. Stuart's standards are so high and his values so horrendously shallow that often the very technique that he employs to entice women becomes the very thing that repels them. Achieving Curb Your Enthusiasm levels of comedic awkwardness, Merchant and his co-writers Lee Eisenberg and Gene Stupnitski capture a percise contemporary feel.

But despite the fact that it is very much a show of the moment, Hello Ladies manages to feel rather timeless as well. It's rare to come away from a new comedy with the sense that it's creators were influenced by both Kevin Smith and Billy Wilder. Hello Ladies is the smartest and funniest show on TV right now. Oops, I mean, it's not TV. It's HBO.

The Pete Holmes Show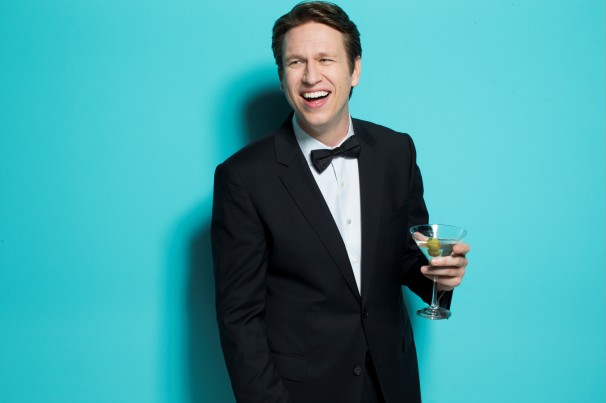 Into the darkly competitive world of late night talk shows comes a refreshingly charming and goofy young man named Pete Holmes. His podcast You Made It Weird has been popular for years, and now, he finds himself thrust into the mainstream spotlight, under executive producer Conan O'Brien. Holmes has the distinct ability to be simultaneously TV clean and still remain somehow edgy-- surely a difficult balancing act. Unlike a vast majority of PG-rated hosts, Holmes is never boring or milquetoast.

Featuring sketches like Holmes' Badman, a loving parody of Christopher Nolan's Batman or the charming silliness of New Material Seinfeld, a Muppet-esque Jerry Seinfeld puppet, voiced by up-and-coming comic Joe DeRosa, the show stands out amongst it's peers. It's an eclectic and odd mixture of tones, which Holmes blends together rather nicely.

His choice of guests is continually top notch as Holmes holds out for folks who are (thankfully) funnier than they are famous-- a novel approach. Instead of a bevy of Kardashians, why not a Kumail Nanjiani, a John Mulaney or a Bill Burr? There is truly nothing else quite like The Pete Holmes Show in the world of late night, which is why I enjoy to so gosh darn much.

A Young Doctor's Notebook


For comedy fans with a darker sense of humor, I give you A Young Doctor's Notebook. Based on a semi-autobiographical medical journal, Milkhail Bulgakov's A Country Doctor's Notebook, this UK produced show does not appear from the outside to bear great comedic potential. Set in early 1900's Russia, Jon Hamm (Mad Men) and Daniel Radcliffe (Harry Potter himself) play the older/ younger versions of the titular doctor.

The Older Doctor sits in his office, reflecting on his life via a recently rediscovered journal that he kept during his early days practicing medicine, beginning in 1917. As we flashback to his early days of medical practice in Russia, Hamm walks in and out of Young Doctor's (Radcliffe) life, stopping only to bum a cigarette, offer some morphine or casually insult his younger self. We've all seen our share of situation comedies but, rarely is the situation so specific or unusual. Creator Shaun Pye (The Increasingly Poor Decisions of Todd Margaret) has pulled off a towering feat: A delightful and utterly unpredictable sitcom.

Shockingly, the show contains nearly Quentin Tarantino (or a young Sam Raimi) levels of gore, leaving scenes splattered with blood and in some cases, even eye-puss, so be warned. A Young Doctor's Notebook is indeed hilarious but, perhaps not for the faint of heart.
Honorable Mentions: Girls (HBO), Karl Pilkington's The Moaning of Life (Sky1 UK), Bob's Burgers (FOX), Arrested Development (Netflix) and Larry David's HBO movie, Clear History.
Tags: Pete Holmes , Eric Andre, Hannibal Burress, Anthony Jeselnik, Stephen Merchant, The Heart She Holler, A Young Doctor's Notebook, Jon Hamm, Hello Ladies
Related Posts
Tony Hinds is a Canadian writer who studied film at the University of Winnipeg. In addition to ShowbizMonkeys.com, Tony has reviewed films for Step On Magazine and The Uniter. You can find Tony on Twitter.
Comments Posted ()
Search SBM Archives