JFL42 Reviews: Chris Gethard, 'Beautiful/Anonymous', and Andy Kindler's 'Alternative Show'
Filed under: Reviews, Festivals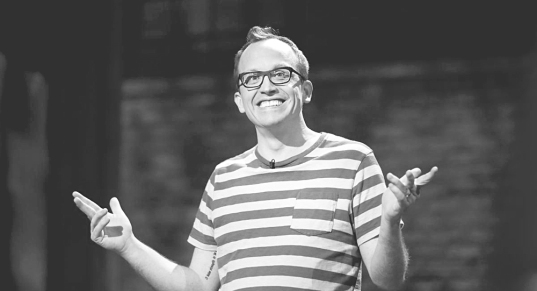 Beautiful/Anonymous and Chris Gethard
September 28, 2018 • 5:00 PM @ TIFF Bell Lightbox • 9:00 PM @ Winter Garden Theatre
Chris Gethard has a connection with his fans that can not be understated. At the recording of his Beautiful/Anonymous podcast at TIFF Bell Lightbox, a full house of audience members listened attentively to him talk with a very open and honest caller from Montreal about her recent weight loss, motherhood, and society's pressures on body image. While definitely more serious fare than most JFL42 events, I would describe the audience's attention as captivated, and the moments of laughter and joy found in the conversation to be some of the most cathartic of the whole fest.
His stand up set later that evening at the Winter Garden Theatre was him getting to engage with them purely as an entertainer and storyteller, which are strengths he has in spades. While dancing with darker subject matter, he always brought the energy back to optimism and inspiration, which is no easy task when the tendency can often be to just drop horrible truths and rest on shock. Gethard clearly has a lot of heart, though, and knows his ability to relate to an audience is something he possesses more than most comics today.
A professional, a real talent, and just a real enjoyable person to spend an hour with.
Andy Kindler's Alternative Show
September 28, 2018 • 11:59 PM • The Second City
Night three of the Alt Show saw some heavy hitters mixed in with some underdog favorites, as headliner Anthony Jeselnik opened up the show (which he took great efforts to assure us he knew was beneath him), and was joined by Sean Cullen, Mo Welch, Pat Thornton, and Chris Gethard. Another impressive showing all around, but a special gold star must be given to Gethard, who used the opportunity being on stage at Second City to do a ten minute long solo improv scene, where his only acting partner was a water bottle. Difficult to explain, but trust me, it was magical.
Aside from the show being obviously great, let me bring up something that ought to be addressed that has nothing to do whatsoever with the JFL performers. Last night the show didn't start 'til nearly 12:30 AM, and audience members were stuck out in the rain for a really ridiculous amount of time. The audience for the previous show didn't exit until around 11:30 PM, meaning the staff of Second City had what I'm sure was the genuinely difficult task of cleaning up the room, settling bills, and all the essential housekeeping for a venue.
Still, the line was rightfully annoyed, as this has started to become something of a habit. I'm not sure who exactly is to blame for this, whether it be the previous shows going long, or the scheduling people not realizing turnaround time needs to be given more consideration, but please, JFL42, fix this. The Alt show is something die hard fans of your festival look forward to and attend religiously every year. Don't punish them for it.
Individual tickets for the final night of JFL42 can be found at jfl42.com/choose-your-pass.
Tags: JFL42, Chris Gethard, Andy Kindler, Anthony Jeselnik, Sean Cullen, Pat Thornton, The Second City, alt comedy, stand-up, Toronto
Related Posts
J.D. Renaud is a writer, comedian, producer, and visual artist originally from Oakville, Ontario. You can follow his weird thoughts on Twitter at @jdrenaud.
Comments Posted ()
Search SBM Archives